Buildings were burned during protests in a town in southern Chile on Friday, as angry demonstrators reacted to the fatal police shooting of a street juggler. The shooting took place Friday afternoon in the town of Panguipulli after police officers tried to check the juggler's identity, ADN Radio Chile reported.
The regional government later said on Twitter that the man had died as a result of the shooting.
By Friday night, video footage was circulating on social media that appeared to show burning buildings and barricades in Panguipulli. A local official, Carlos Durán, posted a video on Facebook showing several fires across the city, with thick plumes of smoke rising into the night sky.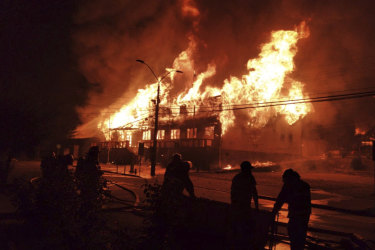 Firefighters work to fight a blaze at the mayor's office set on fire during a protest against the shooting of a street juggler.Credit:
News reports indicated that several government buildings were among those set afire.
There were also confrontations between protesters and police in the capital, Santiago, hundreds of miles north of Panguipulli.
Some Twitter users posted footage of the blazes in Panguipulli with the hashtag, "He didn't die, they assassinated him."
"It happened in broad daylight in a moment of complete peace and without any threat to public safety," the Chilean writer and literary critic Pedro Gandolfo wrote on Twitter. "A shameful act with a tragic result."
Authorities had not identified the juggler as of early Saturday morning. The mayor of Panguipulli, Rodrigo Valdivia, told CNN Chile that he was a "peaceful person" who was in his mid-20s and lived on the street.
ADN Radio Chile published on its website what it said was a video of the shooting. The 25-second clip shows a man standing at an intersection, holding what appear to be several knives and yelling at two police officers who have approached him with guns drawn.
After one officer fires two shots, the man chases the officer into the intersection. Three more shots are heard, and the man appears to fall to the ground.
ADN quoted a police official, Lt. Col Boris Alegría, as saying on Friday that the juggler had been carrying machetes and that the officer who shot him had acted in self-defense.
Just before midnight, the station reported that the officer who shot the man had been detained and that his arrest would be formalised Saturday.
New York Times
Most Viewed in World
Source: Read Full Article