Save articles for later
Add articles to your saved list and come back to them any time.
Students were asked to analyse the alleged dangers of drones in untrained hands in this year's VCE English exam, which was sat by more than 50,000 students on Monday morning.
But the three-hour exam was a straightforward affair this year, one expert in English teaching said, and should have left most students with confidence that they had done well.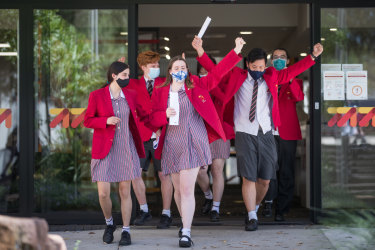 Students at Auburn High School celebrate after finishing their English exam on Monday. Credit:Jason South
"If ever there was going to be an exam year without surprises, it's this year," said Emily Frawley, president of the Victorian Association for Teaching English and a VCE teacher at Maribyrnong College.
"That's the purpose of the exam anyway; it's always trying to give students an opportunity to reward them for what they know, it's never about trying to trick them, but I didn't think they wanted to risk any students walking out of there feeling like they'd had another hard done by experience this year."
It was pens (and face masks) at one and a half paces as an estimated 41,690 students took the exam at 521 venues across the state.
COVID-safety protocols, including spaced seating arrangements and a limit of one student per four metres, were in place.
The exam is split into three sections – an analytical interpretation of a text, a comparative analysis of two texts and an analysis of how argument and language are used in an unseen text.
The analytical written exercise in Section C is notorious for throwing curveballs students' way, with subjects including a mountain of rubbish bags, a posh grocer's decision to dump cash transactions and a cartoon watermelon in recent years.
But this year it was straightforward as students were asked to analyse fictional young Victorian farmer Warwick Bandle's speech at a meeting of the Byways Shire Council, appealing for a ban on tourists using drones in the area unless they had a licence.
"It's time our council started to defend the farmers rather than the tourists," Warwick said, arguing that while drones had benefits, their growing popularity made them a threat to farmers' safety and livelihoods in the hands of recreational users.
Dr Frawley said students seeking a higher exam score would have had to work to find the nuance in the fictional farmer's arguments.
"A less complex exam does mean it's potentially easier for more students to get in that middle band, so students who are aiming high might have had to really look for those moments where they could show that they are able to extend their knowledge," she said.
The speech transcript was accompanied by two black and white images, the first of two fallen drones lying in a field with a woman in a flowing coat walking up to them, the second a simpler image of a flying drone marked with a medical cross.
It predictably sparked a slew of irreverent memes on social media within minutes of students exiting exam halls, including video footage of an angry farmer shooting a drone out of the sky and a link to CASA's application form for a remote pilot licence.
A collective sigh of relief emanated from Auburn High School as year 12 students completed the English and English as an Additional Language (EAL) exams.
Principal Maria Karvouni said students had done more practice exams this year and were well prepared.
Teachers had also put in extra hours for one-on-one help while their students were learning remotely.
"I know that the English teachers in particular have put in a lot of extra effort," Ms Karvouni said. "The lines between work and life have sometimes been blurred this year because of remote learning."
Student Ethan Ngo said his pre-exam nerves evaporated when he entered the exam space.
"I couldn't sleep last night, that's for sure," he said. "But I felt completely calm when I went into the exam room because everyone else was freaking out and that just made me calm."
Sasha Matthew said she was relieved and would sleep well tonight.
"The teachers have been pretty incredible. Obviously no one expected this year to happen, but it was amazing how quickly the teachers adapted."
With Sean Tarek Goodwin
Most Viewed in National
Source: Read Full Article