US President Joe Biden has enlisted the help of New Zealand Prime Minister Jacinda Ardern as he attempts to tackle gun violence and online-fuelled extremism in the wake of this month's mass shootings in Uvalde and Buffalo.
As America mourns the victims of the attacks, Biden met with Ardern at the White House on Wednesday (AEST) to discuss the tragedies, along with climate change, Russia's invasion of Ukraine, and the rise of China in the Indo-Pacific.
President Joe Biden meets with New Zealand Prime Minister Jacinda Ardern in the Oval Office of the White House.Credit:AP Photo/Evan Vucci
"Your leadership has taken on a critical role," Biden told Ardern, as he noted the sweeping gun bans and tech-platform policies New Zealand introduced after the Christchurch massacre three years ago.
"We want to work with you on that."
The Christchurch attack took place in March 2019, after a white supremacist shot dead 51 worshippers at two mosques and livestreamed the carnage on the internet.
Following the incident, New Zealand banned almost all semi-automatic weapons and assault rifles, and the country has also sought to counter terrorism and violent extremism by identifying content online and collaborating with tech platforms to remove it.
Jacinda Ardern hugs a woman at a mosque in Wellington, two days after the Christchurch mosque shootings.Credit:Getty Images
US policymakers, on the other hand, are once again at loggerheads as the country reels from two mass shootings in as many weeks.
The first took place on May 14 when 18-year-old gunman Payton Gendron, inspired by the Christchurch attack, opened fire at a supermarket in a predominantly black neighbourhood in Buffalo and livestreamed his attack, which killed 10 people and wounded three others.
The second took place 10 days later when another 18-year-old gunman, Salvador Ramos, shot dead 19 children and two teachers at Robb Elementary School in the South Texan town of Uvalde last week.
The tragedy was the worst school mass shooting to take place since the Parkdale Elementary massacre a decade ago, when Biden was vice president in the Obama administration.
"I've been to more mass shooting aftermaths than I think any president in American history, unfortunately," he said as he addressed Ardern in the Oval Office ahead of a private meeting that lasted more than an hour.
"Much of it is preventable and the devastation is amazing."
In response, Ardern gave the president New Zealand's "sincere condolences", telling him: "Our experience, of course, is our own, but if there is anything that we can share that would be of any value, then we are here to share it."
"Well the work you're doing with tech companies is really important and I want to work with you there as well," Biden answered.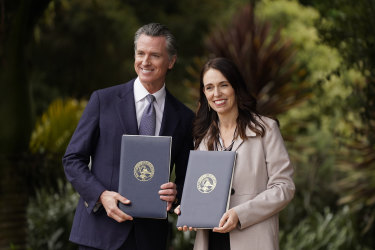 California Governor Gavin Newsom and New Zealand Prime Minister Jacinda Ardern pose with agreements they signed in San Francisco.Credit:AP
Ardern's meeting was the first time a New Zealand prime minister visited the White House since 2014, capping off a whirlwind US tour that also included a Harvard University commencement speech, an appearance on The Late Show with Stephen Colbert, the signing of an International Climate Partnership with California Governor Gavin Newsom and a meeting with UN Secretary-General Antonio Guterres over sustainable meat exports.
But her White House appearance taken on heightened importance in recent weeks, not only because of the mass shootings in Buffalo and Uvalde, but also because of China's growing presence in the Pacific.
Beijing signed a security pact with the Solomon Islands in late April and since then, China has made a concerted effort to bolster its influence in other Pacific nations, with Foreign Minister Wang Yi embarking on a 10-day blitz of the region.
New Zealand and Australia have joined Washington in lobbying others against signing up to a proposed 10-country Solomons-style trade and security pact with China, which could fundamentally shift the balance of power in the region.
A White House administration official, speaking anonymously to provide frank details of Wednesday's meeting, said there was "not a specific discussion" about China's latest blitz, although the president acknowledged that "we need to make sure that we step up our efforts and our cooperation" when it comes to the challenges faced by the Pacific.
There had also been earlier reports that the AUKUS security partnership between Australia, the UK and the US could be expanded to include other allies such as New Zealand or Japan.
However, the senior official said this was not on the table today, "although there is an awareness of the potential that AUKUS offers as a platform for cooperation in the future."
Biden also spruiked the Indo-Pacific Economic Policy for Prosperity – a framework that New Zealand has signed up to, but like several other countries in the region, does not believe goes far enough.
President Joe Biden and first lady Jill Biden visiting a memorial at Robb Elementary School in Uvalde on Sunday.Credit:AP
At the White House, Ardern referenced the Comprehensive and Progressive Agreement for Trans-Pacific Partnership (CPTPP), the multi-country trade deal that Washington withdrew from in 2017 under then-president Donald Trump, but which New Zealand has stuck with.
"Of course, we are significant advocates for the CPTPP but the [Indo-Pacific framework] presents a significant opportunity to build economic resilience in our region. I look forward to having a bit of a discussion about that opportunity," she said.
Get a note directly from our foreign correspondents on what's making headlines around the world. Sign up for the weekly What in the World newsletter here.
Most Viewed in World
From our partners
Source: Read Full Article