Despite the momentum of the MeToo movement, many critics have argued that sexism is still rampant in Hollywood. The days in which a journalist like Matt Lauer could get away with his ill-advised approach to Anne Hathaway's unfortunate wardrobe malfunction may seem like the relics of a bygone age, but female celebs are still frequently asked inappropriate questions by both reporters and the public alike. 
For instance, during a press conference for "Avengers" in 2012, Scarlett Johansson took aim at the disparate questions posited to herself and co-star Robert Downey Jr. "How did you approach this role, bearing in mind that kind of maturity as a human being [when] it comes to the Tony Stark character, and did you learn anything throughout [the] three movies that you made?" the reporter asked Downey Jr. Meanwhile, Scar-Jo was asked about her diet. "How come you get the really interesting existential question, and I get the 'rabbit food' question?" Johansson quipped.
As an outspoken woman who does not conform to Hollywood's restrictive beauty standards, Amy Schumer is a prime target for online trolls, as well as sexist reportage from seemingly reputable publications. From jibes about her weight to those who resent her sex-positive sensibilities, Schumer has been routinely subjected to misogynistic remarks. Although a divisive, often contentious figure, the comedian is a passionate critic against chauvinism. Accordingly, she's not afraid to shut down a sexist comment and throw in a healthy dose of empowering self-love while she's at it.
Amy Schumer superbly exposed this fatphobic critic's hypocrisy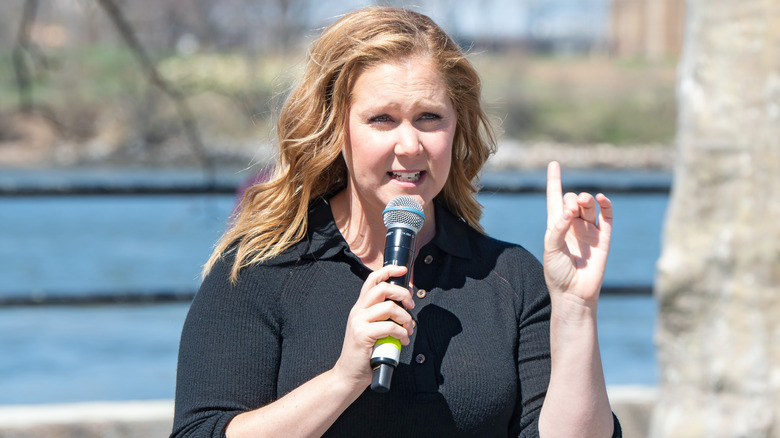 Hollywood is a notoriously body-negative industry in which women are routinely reduced to the sum of their parts. For decades, Hollywood films have inculcated the notion of thinness being tantamount to a woman's value. Let's not forget that the supposedly rotund Bridget Jones weighed just 136 lbs. Yes, seriously.
In Amy Schumer's case, her physical appearance has been the target of misogynistic mockery. Film critic Jeffrey Wells employed a series of fatphobic barbs in his review of 2015's "Trainwreck." Writing for his blog, Hollywood Elsewhere, Wells claimed that "Schumer's wide facial features reminded me of a blonde Lou Costello around the time of 'Buck Privates,' or Jennifer Aniston's somewhat heavier, not-as-lucky sister who watches a lot of TV." Schumer shut down Wells' body shaming invective by illustrating the absurdity of his observations. "I am a size 6 and have no plans of changing. This is it. Stay on or get off. Kisses!" she wrote in a since-deleted tweet (via Shape Magazine).
In a comical turn of events, it seems Wells ended up asking Schumer out on a date afterwards. "With 'Trainwreck' coming out, I was like, "Everyone's going to say, 'She's not pretty enough to be in this movie.'" And then only one dude wrote that… and then he redacted that and wanted to date me," she told The Hollywood Reporter without specifically naming Wells. No doubt if he was the tail-tucked suitor, he was declined, and we wouldn't blame Schumer for rejecting him in acerbic fashion. 
If you heckle Amy Schumer, be prepared for her savage response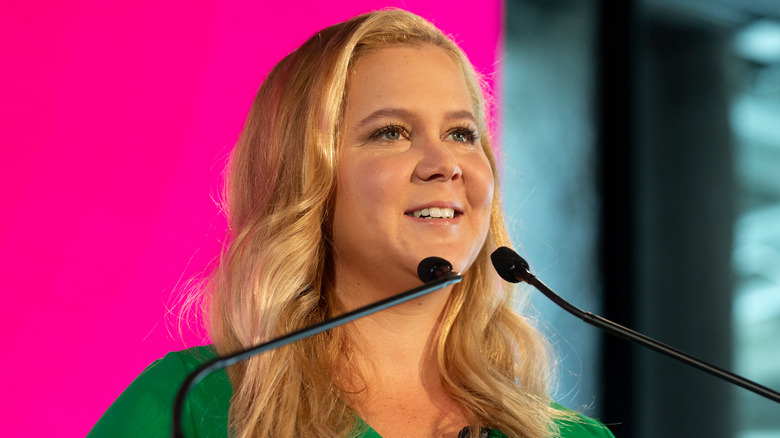 Female comedians still struggle to be taken seriously in the male-dominated world of stand-up comedy. As such, women who take to the stage are frequently faced with a different kind of crude heckling than their male counterparts experience.
During a 2016 stand-up gig in Stockholm, Sweden, all was going well until a heckler hollered "Show us your t**s!" mere minutes into the set. Sadly, this is an all too common jeer hurled at women in the limelight ("show us your t**s" was pretty much the mantra of Woodstock '99). But Amy Schumer was not letting the sexist taunt slide. 
The comedian reacted by stopping the show and instructing the audience to point out the heckler in question, leading to his palpable, excruciating embarrassment. As the spotlight shone on the man's mortified face, Schumer proceeded to interrogate him. Asking the heckler about his job, Schumer joked, "Sales? How's that working out? Is it going well? Because we're not buying it."
But the audience member tried his luck one more time, heckling Schumer again, which resulted in him being thrown out of the show. "We're going to miss you so much. I already miss you," Schumer sighed sarcastically before encouraging the audience to applaud as the man was removed. Evidently, the heckler could dish out the misogyny, but couldn't handle being called out.
Amy Schumer's comeback left this young, slut-shaming reporter groveling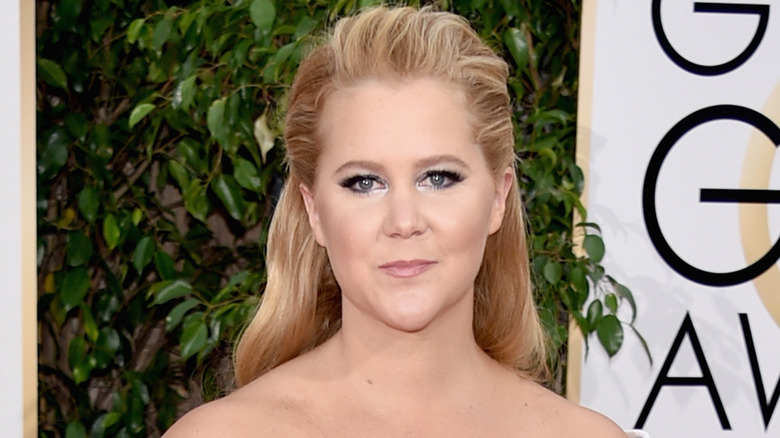 At the 2016 Critics' Choice Awards, teen entertainment reporter Jackson Murphy, also known as Lights Camera Jackson, took a seemingly innocent selfie with Amy Schumer. The pair were smiling and appeared to be in good spirits. But things took an unpleasant turn when Murphy posted the snap on Twitter. The then 17-year-old unleashed his inner frat boy when tweeting about his encounter with Schumer. In a since deleted Twitter exchange (archived by ET), Murphy wrote, "Spent the night with @amyschumer. Certainly not the first guy to write that," to which the comedian replied, "I get it. Cause I'm a w***e? Glad I took a photo with you. Hi to your dad." 
Murphy was left red-faced and swiftly deleted his post, writing a groveling apology: "Thought you'd like the joke. I should leave the comedy to you! Thanks for the photo. Glad you won last night!" Murphy's reliance on slut-shaming is a tactic habitually utilized by young men attempting to appear "edgy," but Schumer's astute appeal to his familial sensibilities, via the reference to his dad, highlighted the inherent hypocrisy of slut-shaming jibes. Men are rarely, if ever, referred to as sluts. Accordingly, Time branded the incident "a lesson for fathers and sons."
This wasn't the first time Murphy made offensive remarks about a celeb; he previously made a calamitous "slave" pun on his selfie with British actor and "12 Years a Slave" star, Chiwetel Ejiofor.
This reporter resorted to sexism, but Amy Schumer hit him where it hurts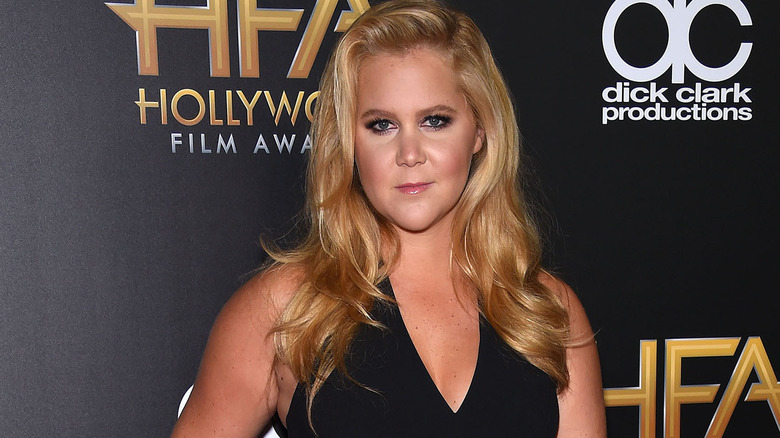 In 2016, Amy Schumer released her book, "The Girl with the Lower Back Tattoo." The memoir sees her reflecting on a sexist reporter she encountered in Berlin. When promoting "Trainwreck," Schumer highlighted the heterogeneous questions that she and co-star Bill Hader were asked.
She explained that the interviewer "asked Bill if he liked playing a doctor, and then he asked me what I was like to have sex with." This led Schumer to explain "that it was like being with one of those performers who stand on boxes on street corners spray-painted entirely silver. You can't tell if they're statues or not but every couple minutes they move slightly. The only difference, I said, is that no one ever gave me a dollar." Unfortunately, it is all too common for interviewers to ask male actors meaningful questions, while reducing female actors to sex objects. Schumer handled these questions with wit and poise.
But shutting down this sexist interviewer didn't end there. Schumer soon noticed that the cocksure journalist had accidentally exposed himself thanks to a hole in his pants near his crotch. "I looked him in the eye and said, "I don't want to embarrass you, but I would like you to cover your lap,'" Schumer wrote, concluding, "He looked down, crossed his legs, regained his composure, and said, "Where was I?" I said, "You were asking me why I thought it was okay to make people uncomfortable."" We salute you, Amy Schumer.
You can't fat-shame someone who feels 'zero shame'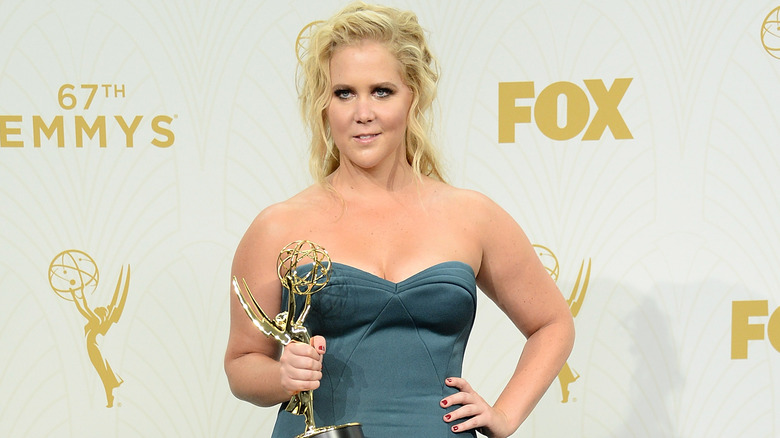 Barbie has long been upheld as an emblem of unrealistic Western beauty standards. So, when it was widely reported in 2016 that Amy Schumer would be playing the iconic Mattel doll in a live-action movie, the casting choice seemed like the ideal means of dismantling the harmful stereotypes that the doll had inculcated into the minds of young girls for decades.
The casting choice did, however, thoroughly displease Barstool Sports writer "Nate," who argued, "Barbie is the definition of perfection. Mattel is completely ruining her image by letting Amy Schumer be a Barbie." Thanks to the South Shore Eating Disorders Collaborative, however, we know that if the supposedly "perfect" Barbie were a real person, her body would be an anatomical impossibility and she would "walk on all fours due to her proportions." Perhaps Barstool's  misogynist view of women's anatomy is why Deadspin's Drew Margary described the it as "a site for boys who wanna grow up to be Donald Trump Jr." 
Although her schedule eventually caused her to drop out of the role, Schumer still found time to slam her haters. "Is it fat shaming if you know you're not fat and have zero shame in your game? I don't think so," she wrote on Instagram, adding that her "deepest sympathy goes out to the trolls who are in more pain than we will ever understand." She continued, "I want to thank them for making it so evident that I am a great choice."
Amy Schumer had the best comeback to this rude Australian presenter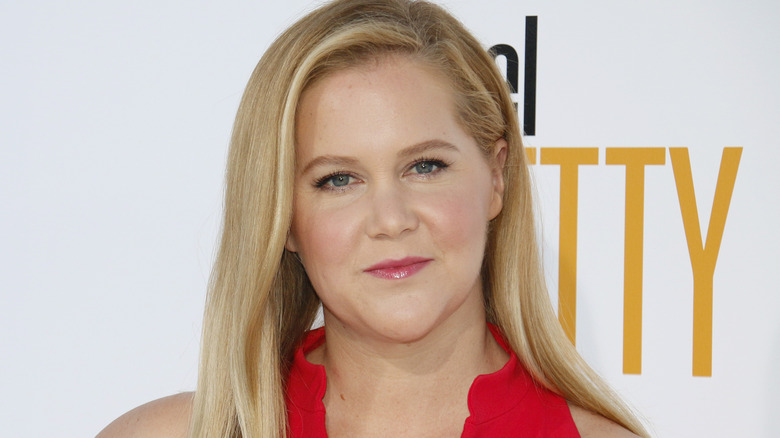 During the Australian promotional tour for "Trainwreck," Amy Schumer had to deal with the seemingly misogynistic sensibilities of KIIS 101.1 FM presenter Matt Tilley. The thoroughly cringeworthy and awkward interview saw Schumer face a slew of inappropriate questions. "Do you have the word skanky in America?" Tilly queried. "Come on, that's the character in the movie. I'm not trying to offend you," he continued, much to Schumer's discernible chagrin. "Whatever you are trying to do, you are [doing]. That's a rude question," she replied.
It is unclear how Schumer's "Trainwreck" protagonist, journalist Amy Townsend, is "skanky." The insult is one levied at women who engage in casual sex, as Amy does in the movie, but the same epithet is rarely assigned to men who have sex with multiple partners. Instead, critics argue that men who do so are awarded the more favorable appellations of "player" or "ladies' man." We can't help but wonder if Tilly would have asked the same question to, say, Daniel Craig when promoting his latest installment as the notorious serial womanizer James Bond.
Noting Schumer's visible discomfort, Tilley even admitted he was provoking her in order to get a "car crash moment" from the star, to which Schumer quipped, "You're gonna have to get it from your wife when you get home." Ouch!
Amy Schumer went undercover to shut down this sexist YouTube comment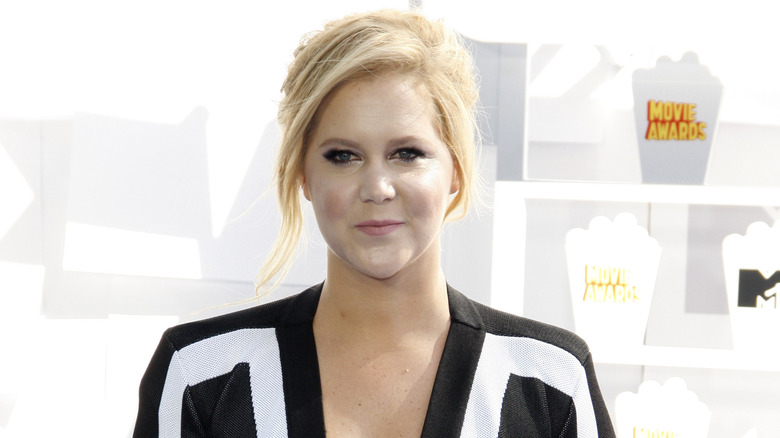 The YouTube comment section is a breeding ground for the most eye-wateringly vile observations. It is women and minorities who are most often subjected to these outbursts of mindless trolldom.
As part of GQ's "Actually Me" series, in which celebs embark on online sleuthing, Amy Schumer went undercover on social media to answer the public's questions. It didn't take long for the sexist comments to surface. Subsequently, Schumer exposed the double standards faced by female comedians — in her own unique way, of course.
One YouTube user commented, "Don't get me wrong, Amy is very talented. But I wonder, if sex didn't exist, would Amy have any material?" Schumer replied, "It's funny, if anybody really broke down my jokes, it would be about 10 or 15% about sex. But because it's a chick, I think people are still, like, 'Women aren't supposed to enjoy sex. Like, you just do it because you want to make babies.' It's like, no, we would also like to c**e."
Schumer makes a valid point: most of her jokes aren't actually about sex, but being a woman, she has been delineated as a hyper-sexualized comic, whereas men who make the occasional carnal reference are not pigeonholed by their sexual content. As she quipped to Esquire in 2015, "I get labeled a sex comic. But if a guy got up onstage and pulled his d**k out, everybody would say: 'He's a thinker.'"
Misogynistic audience member? Beware the wrath of Amy Schumer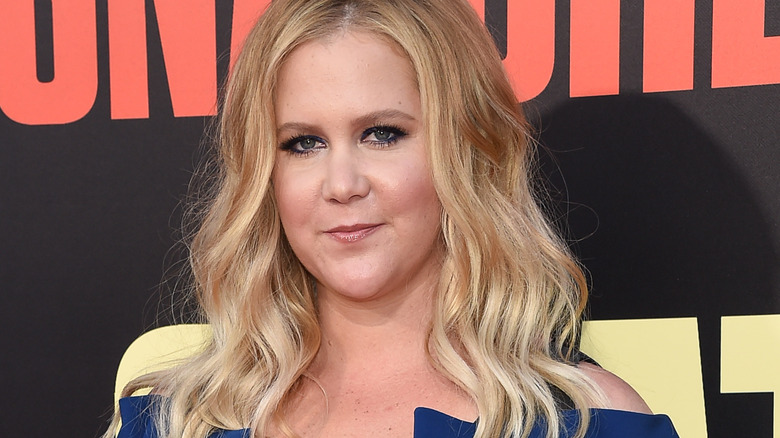 Anyone who has watched Amy Schumer partake in the Comedy Central roasts knows that she can deliver a brutal insult. From nonchalantly shutting down Mike Tyson's misogyny to her savage takedown of "Jackass" star Steve-O, Schumer is unabashed in her ability to hit right where it hurts. 
Ever since she first stepped forth into the world of stand-up in the mid 2000s, Schumer has been unafraid of taking on hecklers. In 2011, a young Schumer performed at The Punchline comedy club in Atlanta, Georgia on New Year's Eve. Towards the end of Schumer's set, an audience member decided to slut-shame her when she made a risqué joke. "You f**k everyone!" the man called out. It seems that the comic has been targeted by misogynistic spectators since the very beginning of her career, which is woefully typical for women in stand-up, but Schumer is prepared to take down haters through ferocious means.
Following the taunt, Schumer entered the crowd and gave the heckler a taste of his own medicine, subjecting him to a savage roast. When the man seemingly made another lewd remark, Schumer replied, "No, I have standards you fat piece of s**t," before defiantly heading back on stage. While Schumer's use of the word "fat" as an insult is somewhat inharmonious with the body positivity she would later adopt, she nonetheless made it clear that slut-shaming has no place in her stand-up routine. 
Moral of the story? Don't mess with Ms. Schumer.
Mom-shaming Amy Schumer was never going to work
When a man reaches celeb status, he is rarely, if ever, asked how he manages to juggle his career with being a father. However, this question is constantly thrown at women. In fact, Tina Fey once wrote in The New York Times, "What is the rudest question you can ask a woman? 'How old are you?' 'What do you weigh?' … No, the worst question is: 'How do you juggle it all?'" The notion of the career woman struggling to balance work with motherhood has led to innumerable sexist fallacies. Worst of all, it is sometimes other moms themselves who judge women for their supposed failure to conform to societal expectations of motherhood. 
Accordingly, Amy Schumer was shamed by fellow moms (and, of course, some men too) for returning to work weeks after giving birth to her son in 2019. In a slew of offensive comments, many of which are too graphic to repeat here, Instagram users questioned Schumer's decision to return to stand-up, as per Today. "Let the stitches dissolve first. I'm still on the couch and my youngest is three," opined one keyboard critic in a flagrant display of internalized misogyny.
In a now deleted Instagram post (via Today), Schumer threw a shady dig at the haters who shamed her for returning to work: "Sending out love to the moms shaming me for doing standup last night!"
Body haters beware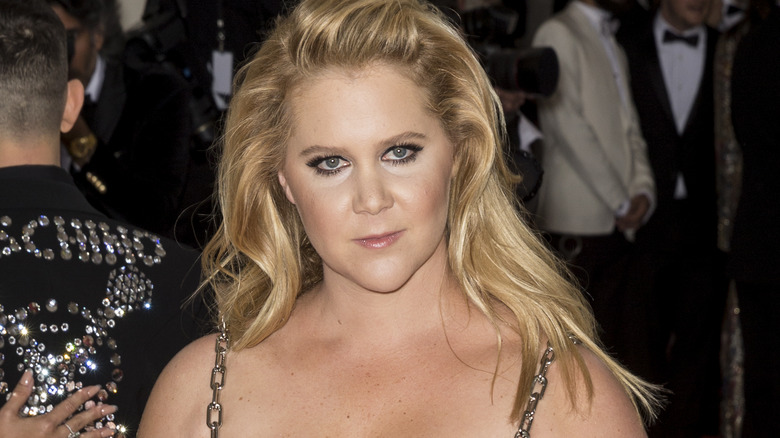 According to a study published in the International Journal of Fashion Design, Technology and Education, the average U.S. woman is estimated to wear a size 16-18. But Hollywood beauty standards have warped the public's perceptions of women to the point that Amy Schumer, who has stated on social media that she wears a size 6-8, is inexplicably regarded as plus-sized. Outside of the insular Hollywood industry, where most female celebs are tiny in contrast to the average U.S. woman, Amy Schumer is by no means plus-sized.
In 2017, Schumer participated in a swimsuit photoshoot for InStyle. The shoot roused the ire of swimwear designer Dana Duggan, who commented on Instagram (via Us Magazine), "Come on now! You could not find anyone better for this cover? Not everyone should be in a swimsuit." But Schumer had the best response to Duggan's unfathomable hate: she posted a series of bikini snaps on her Instagram story, writing "I feel great. No haters can f with my baseline."
The following year, Schumer opened up about having to deal with body-shamers, explaining that the constant barrage of hate ultimately made her stronger and fearless. "In boxing, you know how you're scared of getting punched and then you get punched and you're like, 'Oh, I'm OK?'" she told the Los Angeles Times. "I've been told I'm fat. I'm ugly. I've seen memes of me being the grossest woman in the world — me as Jabba the Hut. The fear is gone."
Source: Read Full Article