While the internet knows every possible detail about Clare Crawley's upcoming season of The Bachelorette including who she ends up with (spoiler alert: it's Dale Moss), Tayshia Adams' half of the season remains shrouded in mystery.
Things we do know: Tayshia took over as Bachelorette after a couple weeks thanks to Clare quitting the show to be with Dale. Things we don't know: who Tayshia ended up with and what their relationship status is current. But! Fans are coming through with some pretty iconic conspiracy theories based on important things like donuts, so let's get right to it.
First of all, meet Bennett Jordan:
Bachelor Nation has been speculating that Bennett made it to the end of Tayshia's season just based on when he re-activated social media, but more importantly, this is his current Insta bio: "Clear Eyes, Full Hearts (+doughnuts and green juice), Can't Lose."
And apparently Tayshia just posted some delicious-looking donuts to her story, prompting fan account @bachelor.realitea to drop a conspiracy theory that this could be a subtle hint he won her season.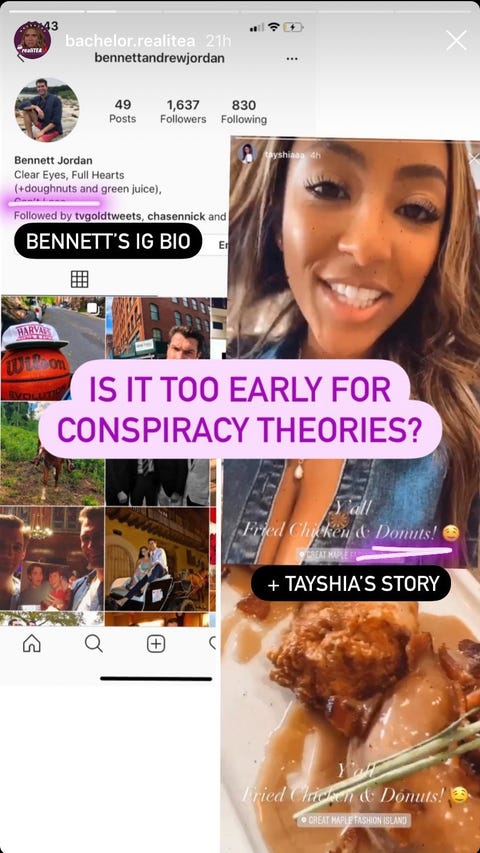 Again, Bennett re-joined Instagram pretty late in the game—potentially indicating that he made it to Tayshia's finalists. Fan account @bachdetective also noticed that he made some ~updates~ to his account, removing two photos and unfollowing several people 👀 .
Not to jump to conclusions, but Insta clean-up of this nature does kinda indicate that this guy knows he's about to be thrust into the spotlight…just saying!
Source: Read Full Article