In early 2020, Netflix released the first season of "Love Is Blind," just in time for viewers to binge-watch during the COVID-19 lockdown that began in March. Since the first season of what Vox described as a "beautifully disturbed piece of reality television" ended, fans have been eagerly awaiting a second season.
If you're unfamiliar with "Love Is Blind," the concept is simple. A bunch of people go through rounds of speed dating, but rather than being face to face, they are isolated in a pod and communicating through a wall. Instead of basing a relationship on physical attraction, the participants have to develop connections through conversation, in a similar vein to "Too Hot to Handle." Only after getting engaged do the couples finally get to see each other.
As you can imagine, this formula provided some golden reality TV moments and left the fans wanting — no, craving — even more. So what's the scoop on Season 2? Keep reading to find out.
When does it come out?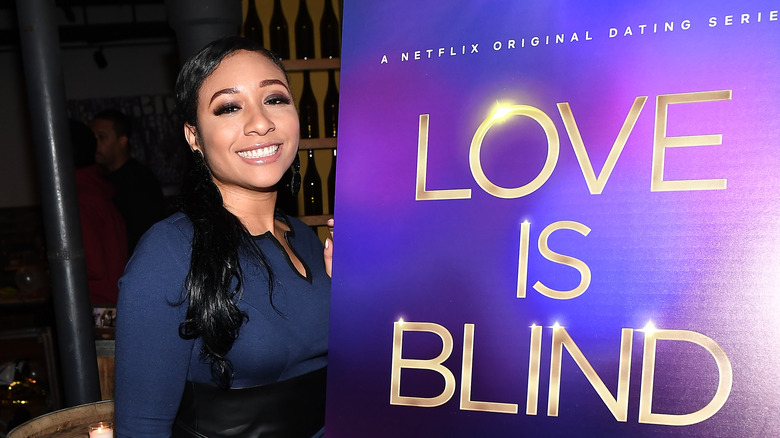 Unfortunately for eager "Love Is Blind" fans, there is no official release date for Season 2 despite it being well over a year since season one ended. But we can be sure that it is coming, as Entertainment Weekly reports that Netflix ordered a second and third season of the show.
Luckily, Netflix is tiding us over with a three-part reunion special called "Love Is Blind: After the Altar," set for release on July 28. The cast of season one is coming together again in the wake of the successful couples' two-year anniversaries. While Lauren and Cameron Hamilton and Amber and Matthew Barnett are still married, we'll get to see what everyone else has been up to. 
Netflix dropped the official trailer on July 8, and while some fans were excited, others were not impressed with the lack of Season 2. "​​Love is blind is literally the easiest dating show to make during COVID," wrote one commenter. "How is there still not a season 2?" Another wrote, "Hmmm…this is cute and all but I was hope [sic] for a real season 2 with NEW PEOPLE! There are TONS of single people who need to find love too." Looks like those fans will just have to hang on a bit longer. 
Who will be on Season 2 of 'Love Is Blind'?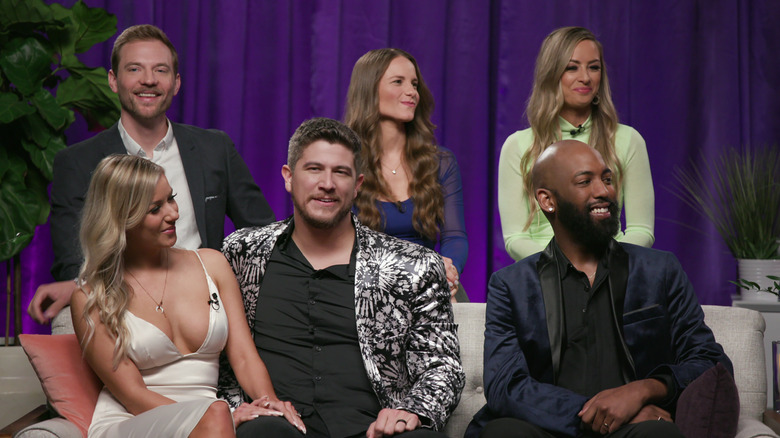 The show's official Twitter posted an open casting call for Season 2 back in March 2020, though the entire production process was presumably delayed due to COVID-19. Aside from that, casting info for season two has been pretty mum. However, we do know that the entire cast of the second season will still be heterosexual. "This is not a show that is particularly about sexuality," Chris Coelen, one of the show's producers, told Metro. "But with that said… I do think that, based on the setup of it, a LGBTQ+ version of that has some logistical difficulties in the current setup." While he did not elaborate on the "logistical difficulties," he left the door open for a potential queer season. "But do I think there is some sort of variation that might ultimately work? Potentially! I would love to figure that out."
As for "After the Altar," everybody from season one — even Diamond and Carlton, who had an explosive breakup shortly after getting engaged — appears in the trailer except for Mark. Mark, as you remember, was involved in a love triangle along with Jessica and Barnett. Jessica got engaged to Mark despite having stronger feelings for Barnett, while Barnett got engaged to Amber. Barnett and Amber got married, while Jessica and Mark did not. It remains to be seen whether Mark actually appears at the reunion or if his absence from the trailer is just a stunt to get people talking.
Bring on the drama!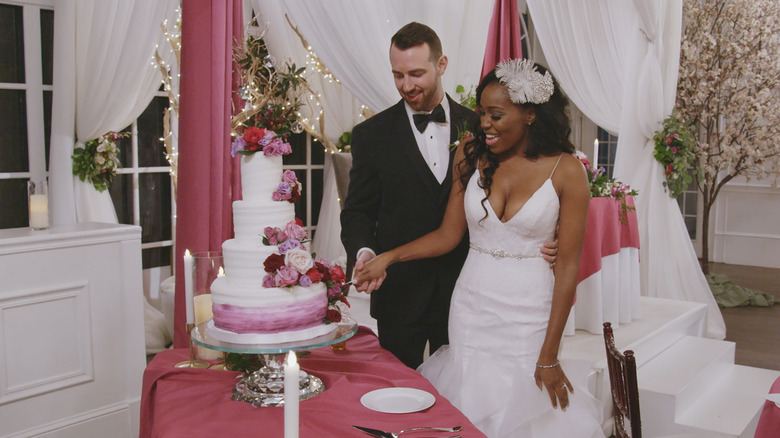 The trailer for "After the Altar" alludes to plenty of drama. At the end, Cameron said, "When we get the group together, it's always a fun time," to which his wife Lauren replied, "I hope so."
Obviously, the biggest elephant in the room is the aforementioned love triangle with Mark, Jessica, and Barnett. In the trailer, Jessica admits, "Going through the experiment, I really kind of crashed and burned in front of the world." When a producer asks Barnett what he thinks about seeing Jessica at the reunion, Barnett replies, "Next question." Another clip shows Jessica tearfully saying, "He had been fooling me the entire time," while a flashback to her wedding with Mark appears onscreen. (Is it still a wedding if no one actually gets married?)
Based on the sheer nature of the experiment, it is safe to say that we can expect more love triangles on Season 2, whenever it comes out. Maybe this time there will be two love triangles. Or even three!
Source: Read Full Article