Jennifer Lopez and Ben Affleck are continuing to show off just how serious they are about one another. The two were spotted house hunting in July after Lopez reportedly made the decision to move from Miami to Los Angeles to be closer to her boyfriend following them rekindling the romance in late April.
Understandably, Lopez, who's a multi-millionaire, doesn't seem to be scrimping when it comes to her new L.A. base, as TMZ reported she and Affleck toured a whopping $65 million mansion in Holmby Hills on July 15. Yes, that's $65 MILLION. A few days later, Lopez was clearly still on the hunt for a new place when Daily Mail shared snaps of her and Affleck looking at houses in Santa Monica. 
The sightings came after E! News reported in June that the star had decided to leave her rental property in Miami (where Lopez was often spotted with her former fiancé, Alex Rodriguez) and was "excited about a fresh start and pursuing things with [Affleck]" on the West Coast. Lopez and Affleck have been spotted there on multiple occasions since, even spending time together with their kids who also seem to get on pretty well.
The big move also means looking for schools for her twins, Max and Emme – but how does their dad feel about it all? Scroll on for what Marc Anthony reportedly thinks about Lopez and Affleck's rekindled romance and his former wife changing coasts with their kids.
Marc Anthony reportedly wants Jennifer Lopez 'to be happy'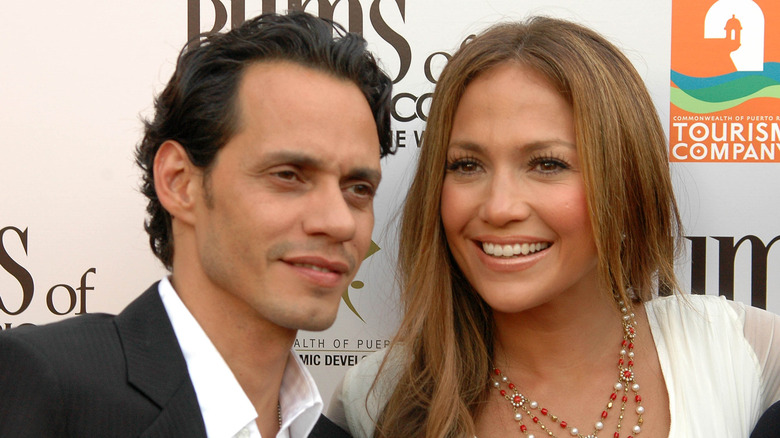 It sounds like Jennifer Lopez and Marc Anthony have this co-parenting thing down, as a source told Hollywood Life the Latin superstar is "fine" with Lopez and their kids moving to Los Angeles. "They'll have an arrangement for the kids that works," the insider claimed, noting the former couple "support each other's wants and needs and make it work."
"[Anthony] just wants [Lopez] to be happy. He doesn't care who she is with or where she is living," the insider noted. They also claimed J-Lo and Anthony have remained "very close" following their 2014 divorce and still "act like the best of friends" who have "a healthy, open relationship and tell each other a lot."
Lopez and her ex-husband proved that in May when they were spotted having lunch together in Miami (via TMZ), and although it's not clear if Anthony has plans to spend more time with his kids in California, he too sold up one of his properties in the Sunshine State. The same month he was spotted with his ex-wife, he sold his sprawling Miami mansion after listing it for $27 million (via The Wall Street Journal).
Lopez and Anthony were married from 2004 and 2014. They actually tied the knot mere months after Lopez and Affleck officially called off their wedding plans in January 2004, as Lopez went on to secretly wed Anthony, who she'd first met a few years earlier, in June 2004 (via People).
Source: Read Full Article