Spoilers for GoT season 8 episode 5 "The Bells" lie ahead. Tread carefully.
Even though Game of Thrones aired days ago, people are still seething via Twitter memes about how the show did our faves dirty—especially Dany, who is the "Mad Queen" now, I guess. And after eight years of being invested in her fate, that's not really sitting well with the fans.
A new change.org petition is circulating from a Night King-loving fan named Dylan D, calling for HBO to remake the entire season "with competent writers" instead of Thrones showrunners (and future Star Wars bosses) David Benioff and D.B. Weiss.
"David Benioff and D.B. Weiss have proven themselves to be woefully incompetent writers when they have no source material (i.e. the books) to fall back on," Dylan's call to action reads. "This series deserves a final season that makes sense. Subvert my expectations and make it happen, HBO!"
This thing's been up for less than a week, and it's already gotten almost 15,000 signatures from equally annoyed fans.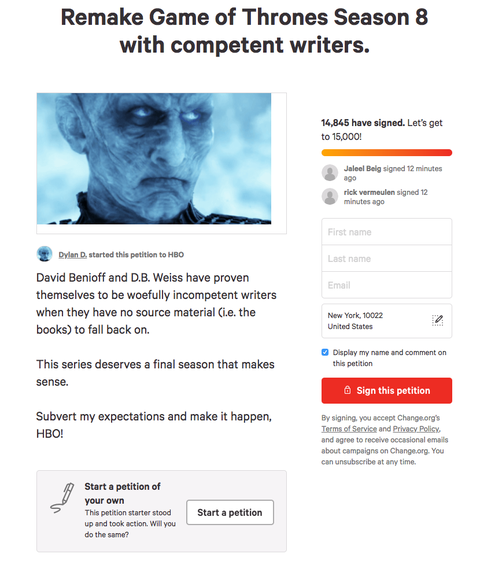 Okay, so I get the impulse to be like, 'Scrap the whole thing and try again,' but there are a few reasons this is straight-up not going to happen (sorry, angry fans 😞).
(1) HBO would have to shell out an actual fortune to redo it, including the massive cast salaries. Lena Headey, for example, made $48,000 per minute she was onscreen—that's not something HBO is bound to repeat lightly.
(2) Even if they redid it, it still wouldn't satisfy everyone. Actor Pilou Asbæk (who plays Euron Greyjoy) said as much to The Wrap, saying "I would be very, very surprised if we end up with a happy ending next week. I know how it's gonna end, so I'm not gonna say a word. But Dan and David have delivered for seven seasons admirable content and I would say they have delivered extremely well again this season. But again, you can't please everyone."
(3) Even with all the backlash, "The Bells" set records as the most-watched episode in Game of Thrones history. Soooooo HBO's probably psyched about that, all things considered.
Anyway, if you're still reeling about Dany's abrupt character turn and want to lend your name to the cause anyway, here's the link to the petition. Do what you will.
Source: Read Full Article