90 Day Fiancé: The Other Way fans compare the two opinionated Potthast sisters, Becky and Jenn, with Evelin Villegas' sisters, Lipsy and Lesly. Fans can't help but see the similarities between the two sets of 90 Day Fiancé sisters and the way they treat their brothers-in-law.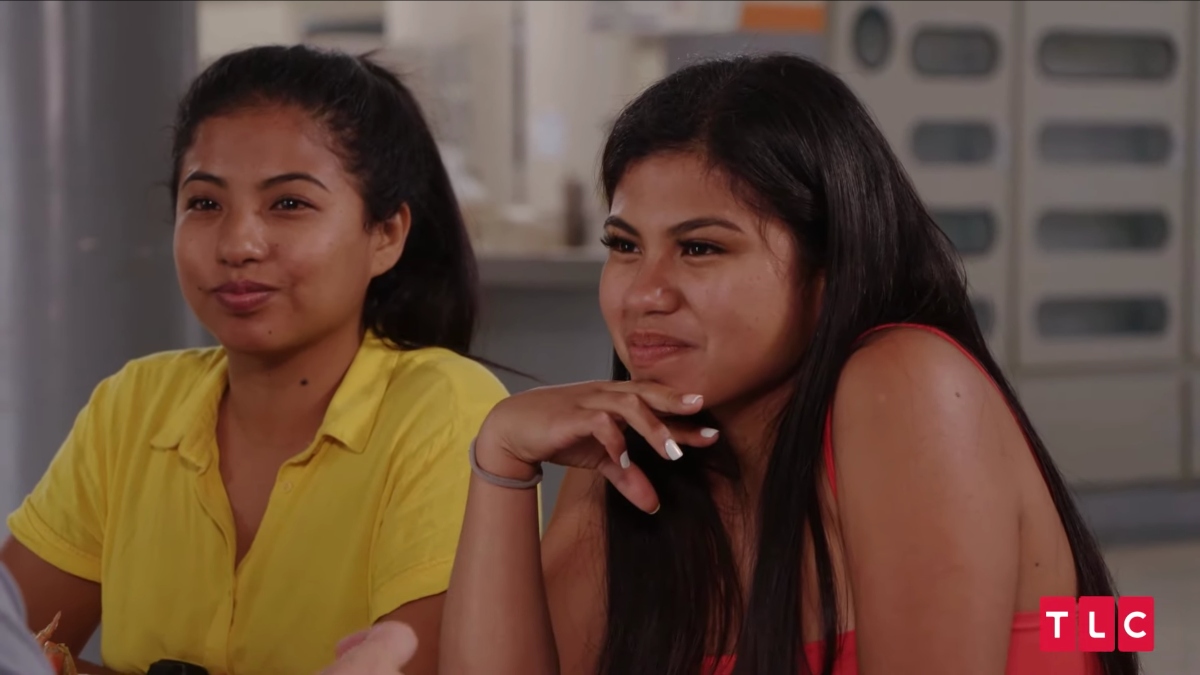 Evelin's sisters Lipsy and Lesly trick Corey
On the Sept. 19th episode of 90 Day Fiancé: The Other Way, Corey Rathgeber met with his wife, Evelin, and her two sisters, Lipsy and Lesly, for lunch. The sisters just found out about Evelin and Corey already being married. They also found out about Corey's fling in Peru. The sisters were looking to get back at Corey for cheating on Evelin.
The sisters order Corey a special meal, a traditional Ecuadorian dish called "tronquito." The soup "makes you a man," according to the sisters. After he began eating it, the sisters started laughing. Corey asks them, "Is this a joke? Are you messing with me? I don't understand." The sisters reveal that the meat that Corey is eating is a bull's penis. They proceed to laugh at Corey when he gets upset that he got tricked into eating a dish made out of the genitals of a bull.
'90 Day Fiancé' fans think Lipsy and Lesly are this season's Becky and Jenn
90 Day Fiancé fans think that Evelin's sisters, Lipsy and Lesly, are this season's Potthast sisters. Jenn and Becky were the villains of 90 Day Fiancé: Happily Ever After? Season 6. On Reddit, fans are comparing the two groups of sisters. One fan posted a photo of Lipsy and Lesly, writing, "Evelin's sisters the new Becky & Jenn?"
Many fans agreed with the statement. On Reddit user wrote, "Except for the fact that Elizabeth takes up for Andrei and Evil-in just trashes Cory." Another fan commented, "They're awful, but Becky and Jen are worse."
How Evelin's sisters are similar to Elizabeth's sisters
Looking back on 90 Day Fiancé: Happily Ever After? Season 6, Elizabeth's sisters were the primary sources of drama. They were constantly starting fights about the family business with Andrei, who was trying to get in on the family business of flipping houses. The sisters were jealous that Andrei was getting more money and favor from their father, Chuck Potthast, than they were.
Evelin's sisters, who were nearly non-existent on The Other Way Season 1, have become a staple in this new season. The sisters have been by Evelin's side, helping her plan her dream wedding to Corey. While Evelin's sisters are the biggest fans of Corey, they have been making Corey's life a living hell. The difference between the two sisters is that Elizabeth would defend her husband when Jenn and Becky were attacking Andrei. Evelin, on the other hand, joins in with Lipsy and Lesly bullying Corey.
Similar to Jenn and Becky, Lipsy and Lesly have quickly become the season villains. It will be interesting to see what's going to happen between Corey and Evelin's sisters this season. Fans will have to continue watching 90 Day Fiancé: The Other Way to see how it all plays out.
Source: Read Full Article