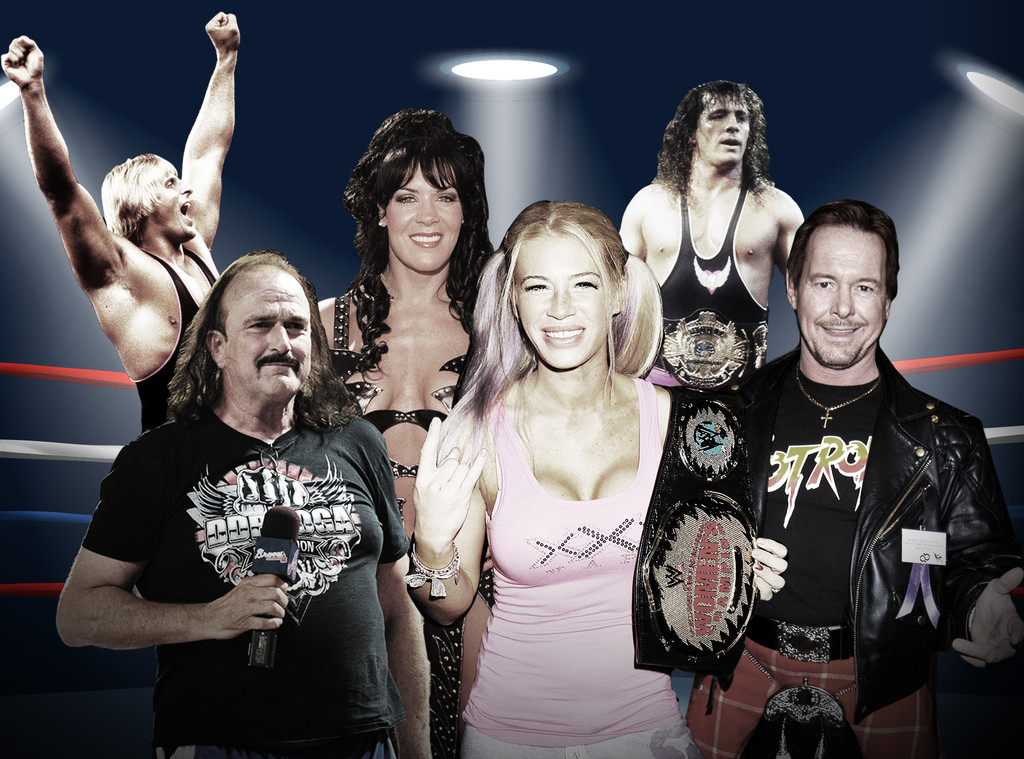 Getty Images; Shutterstock/E! Illustration
The popularity of professional wrestling is undeniable.
Millions of fans look forward to annual extravaganzas like WrestleMania and pack arenas to see their favorite heroes and villains go at it in the ring. Since its debut in 1985, Wrestlemania has featured appearances by everyone from Aretha Franklin and Muhammad Ali to Pamela Anderson, Kid Rock and the current president of the United States, who's a long-time friend of World Wrestling Entertainment owner Vince McMahon. Fox signed a $1 billion, five-year deal with the WWE for rights to air Smackdown starting this fall.
The WWE (previously the WWF) has also proved an impressive launchpad for stardom outside the ringt, too, with WWE icon Dwayne "The Rock" Johnson now one of the highest-paid actors in Hollywood, Dave Bautista a beloved member of the Marvel Universe and John Cena proving he's a comic heavyweight, too, in movies like Trainwreck and Blockers. On the flip side, after retiring from UFC, Ronda Rousey is now enjoying a second chapter as a WWE star.
But also deniable is the fact that wrestlers, no matter how staged or carefully choreographed the action is, put their bodies at risk every time they enter the ring—as many athletes do, only with the guarantee that they'll be doing outrageous stunts.
Owen Hart was 33 when he died after an equipment malfunction caused him to fall 78 feet during his ring entrance during WWF's Over the Edge pay-per-view event in 1999. The WWF settled a lawsuit filed by the family for a reported $18 million in 2000. Meanwhile, the show had continued, and when it was re-aired for the first time 15 years later on the WWE Network, Owen was entirely edited out of the broadcast.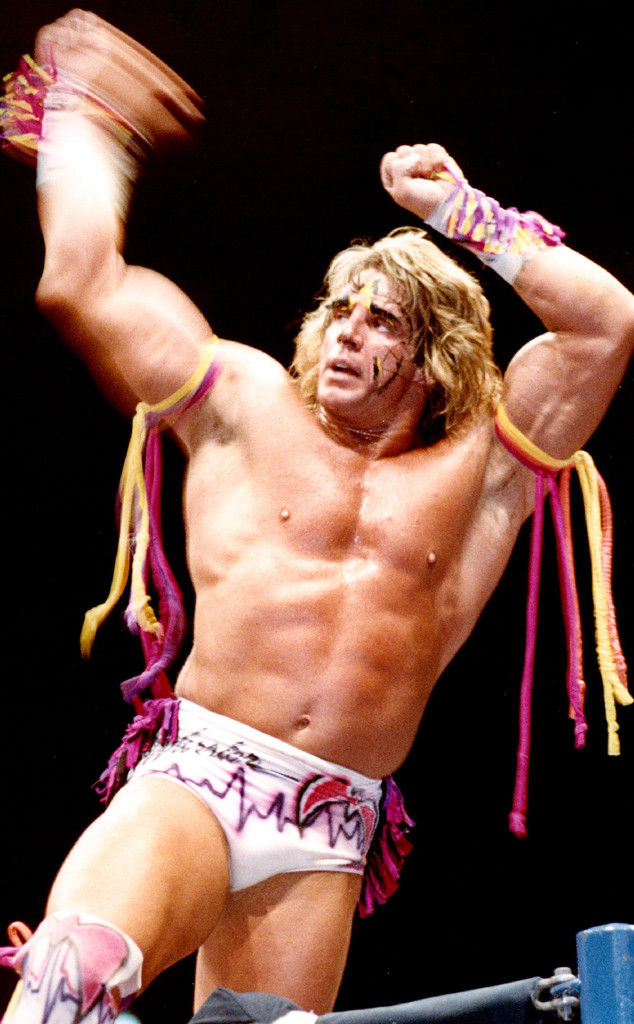 The Denver Post via Getty Images
To be sure, Hart's fatal accident during a live show was a freak occurrence, but injuries are a given.
Last year, speaking as part of the Lakers Genius Talks series, where the L.A. Lakers have superstars from different industries come speak, Johnson recalled powering through the most heinous injury of his career while battling Cena during WrestleMania 29 in 2013.
"At the 15-minute mark, 'bang!' I feel something pop and I'm like 'What the f–k?'" the Hobbs & Shaw star recalled. "I'm laying there and both of us are out. I said 'Oh f–k, something is going on.' 85,000 people and I sort of roll over and stick my hand down in my trunks because I wanted to make sure no bone was sticking out."
With no bone sticking out and having a split-second to decide, Johnson of course kept going.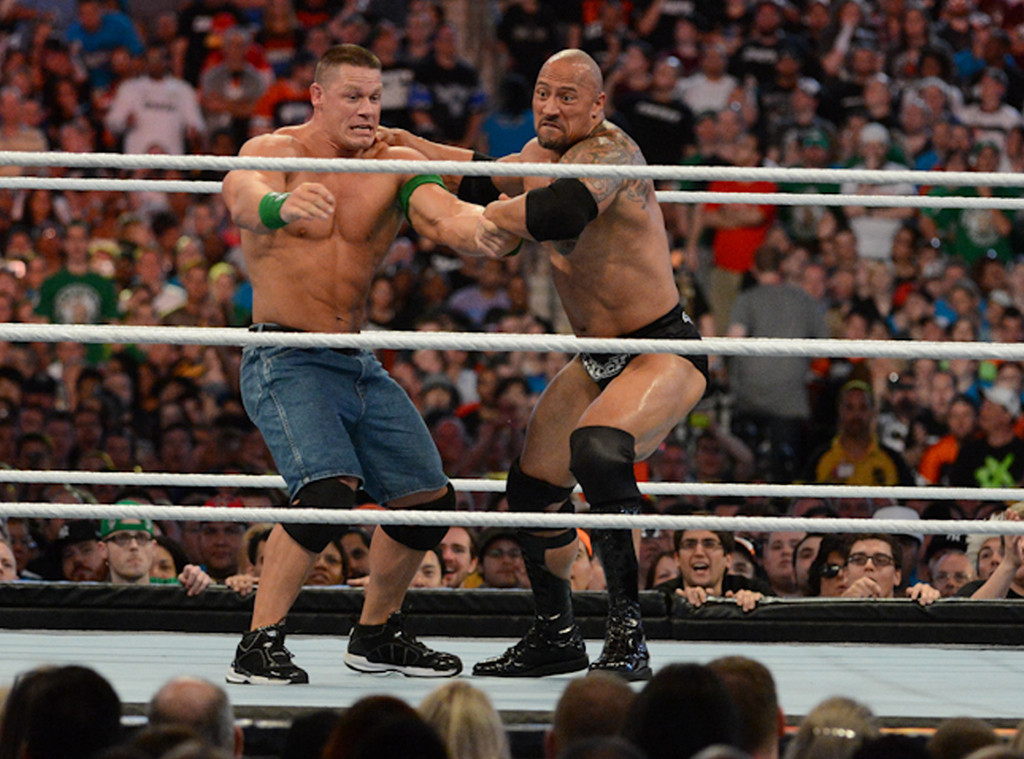 Ron Elkman/Sports Imagery/Getty Images
"In the world of wrestling, when you have a big show like this, a big main event that the entire show is based around," he explained. "The wrestlers will come up to the two people in the main event, at some point, all throughout the night in the locker room and be like, 'Hey, thank you for the house.' What that means is thank you for drawing—helping draw 85,000 people—and putting a lot of f–king money in my paycheck. We got a lot of 'Thank you for the houses' that night."
The Rock is obviously one of the biggest success stories in Hollywood. But the pain that many wrestlers suffer through over the course of their careers, and the things they do to deal with the pain, can't help but overflow into their lives outside the ring.
When Mickey Rourke played Randy "The Ram" Robinson, a broken-down onetime star with a personal life in shambles, in Darren Aronofsky's 2008 film The Wrestler, he said at the time that he didn't base the whole of his character on a real-life wrestler, but there was a persistent rumor that The Ram was inspired by Jake "The Snake" Roberts, who battled substance abuse during and after his '80s-'90s heyday and ended up estranged from his kids.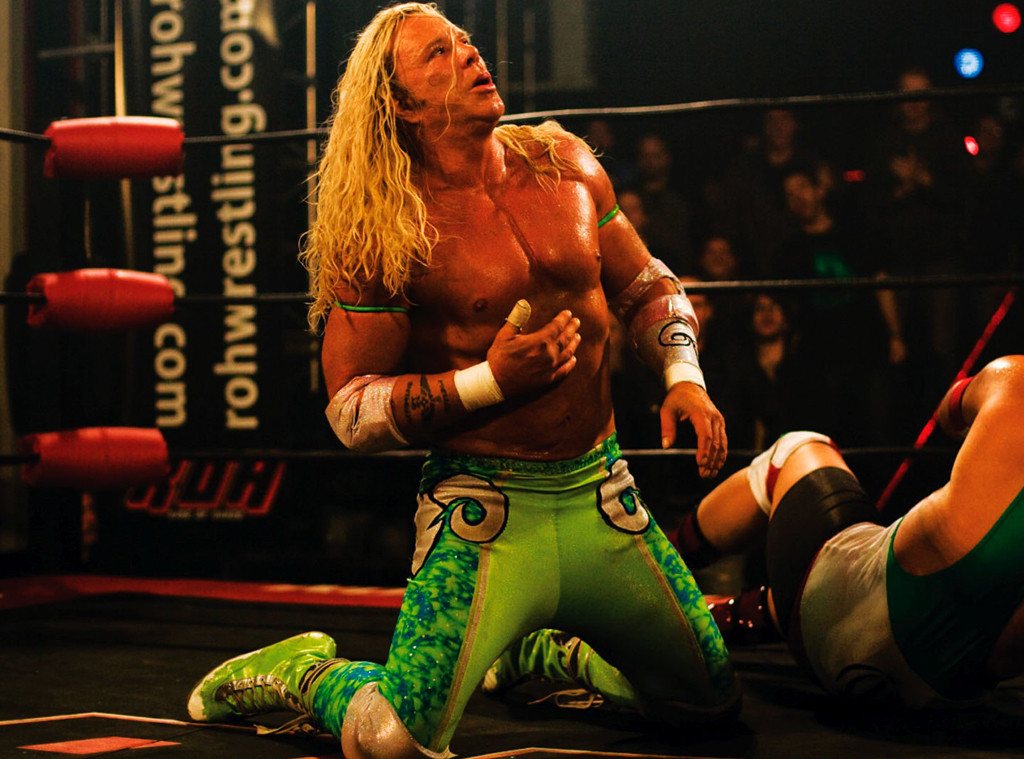 Saturn/Kobal/Shutterstock
"That is kind of a myth that the movie is based on Jake Roberts," producer Evan Ginzburg told Wrestle Zone in 2018. "What happened was I took Darren Aronofsky and the executive producer, the money guy, and the screen writer to a convention. At the convention there were probably 20 wrestlers: Albano, Moolah, Mae Young, Iron Sheik, Nikolai Volkoff and so on and… there was nobody there. It was sad. There was like, literally, a dozen or two dozen people there. There was probably more wrestlers than fans. Iron Sheik's head was down on the table sleeping, literally sleeping in the middle of all of it. We just saw some very sad things along the way."
"It's sad to say what has happened to Jake is not that original a story for pro wrestling," Aronofsky said on NPR's Day to Day in 2009. "We met so many guys who had similar journeys, who were big stars and just didn't take care of themselves and ended up in really, really terrible situations."
Ultimately, Randy the Ram "was a composite," Ginzburg told Wrestle Zone.
"Anyone who makes the kind of money that they make can easily afford their own healthcare," McMahon told the Connecticut Post in 2010. "Most independent contractors have their own healthcare."
Featured in the Last Week Tonight piece was WWE Hall of Famer Bret "Hit Man" Hart (who, incidentally, Evan Ginzburg referred to last year as one of the wrestlers "who did do well" financially, as opposed to some), who said, "All these wrestlers that have broke their backs making this living for years end up with nothing when it's over, and then they sort of take you out back and they put a slug in the back of your head and dump you out in the—," he paused. "But that's the life of a professional wrestler."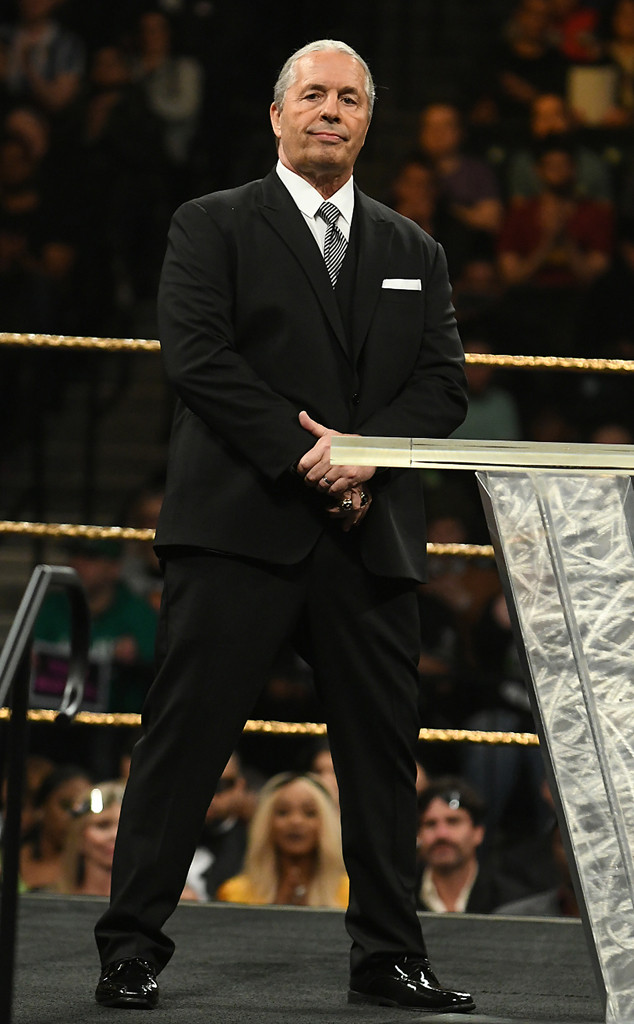 MediaPunch/Shutterstock
Bret, 61, and Owen Hart were among the 11 children of late professional wrestler Stu Hart and his wife, Helen. (Stu, incidentally, lived until he was 88.) All of the seven brothers either wrestled or were involved backstage, and their four sisters married pro wrestlers. Bret's 2007 autobiography Hit Man: My Real Life in the Cartoon World of Wrestling utilized hours upon hours' worth of audio diaries he kept during his pro career, which started in the late '70s. He worked on it for years, getting waylaid by a stroke he suffered in 2002 following a bicycling accident.
Hart's had a tumultuous relationship with the WWE, which he left in 1997 (when it was still WWF) for the rival World Championship Wrestling. Hart officially retired in late 2000 but returned to be inducted into the WWE Hall of Fame in 2006, and then again this year with his team, The Hart Foundation. (WCW folded in 2001 and McMahon eventually bought the rights to its archive.)
Hart told A.V. Club in 2009 that he didn't miss the physical act of wrestling in the least, but he missed the camaraderie and the fans. Asked about what was then the recent movie The Wrestler, he said he thought the acting was great, but it chose to focus on one particular perspective.
"When I watched it, as good as the acting and story was, I thought that people would think there was no high end or reward," Hart said. "There's a lot of better stories. Wrestling was a good life for me. I had some bad things happen, but the truth is, I had a great time."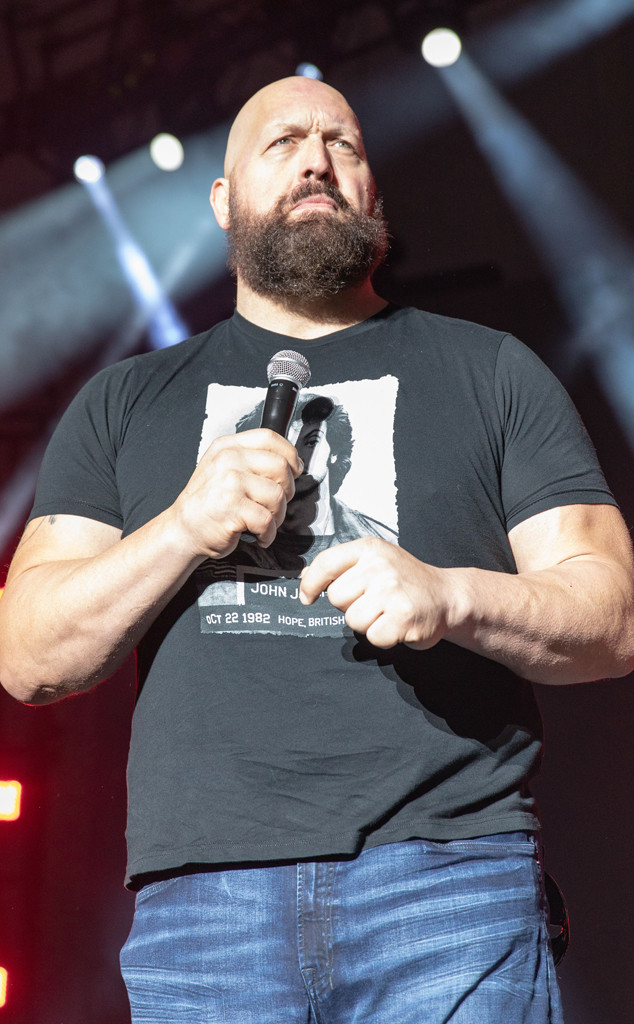 Rmv/Shutterstock
Meanwhile, the WWE slammed Oliver's report as inaccurate and invited him to WrestleMania 35 the following weekend to see for himself what sort of operation they were running. He didn't attend, but at the end of his own show he ran a clip of an old wrestling commercial spliced with a voice encouraging whoever gathered at 82,500-seat MetLife Stadium next Sunday to chant in favor of the talent's access to retirement accounts, worker's comp and family and medical leave.
"I'm not saying the fans should do that, or make signs, or make lots of signs. I'm just saying, I really hope they make their voices heard on this," Oliver urged.
While the Last Week Tonight segment was wildly applauded by some, especially by those who have no interest in wrestling whatsoever, the reaction was mixed in the community, with lots of outrage coming from online pundits but the stars themselves sounding more measured.
"Everybody's entitled to their own opinion," Paul Wight, the WWE star known as Big Show, told TMZ Sports after Oliver's piece aired. "Everybody's got their own experiences and how they feel. I've had a hell of a career. I've had a lot of injuries. I knew from day one, stepping through the ropes, that it was not an easy job, it was a job that I was going to put myself at risk. And, you know, I took the paychecks, I took the fame, I took the fortune, and those are the risks that happen.
"That's just part of the industry, and the industry's changed," he added. "It's done everything it can to protect the athlete and create longevity for the athlete. I'm 47! I'm still rockin' and rollin'. They're doing something right!"
"Prior to airing, WWE responded to his producers refuting every point in his one-sided presentation," the WWE also stated. "John Oliver simply ignored the facts. The health and wellness of our performers is the single most important aspect of our business, and we have a comprehensive, longstanding Talent Wellness program."
Source: Read Full Article