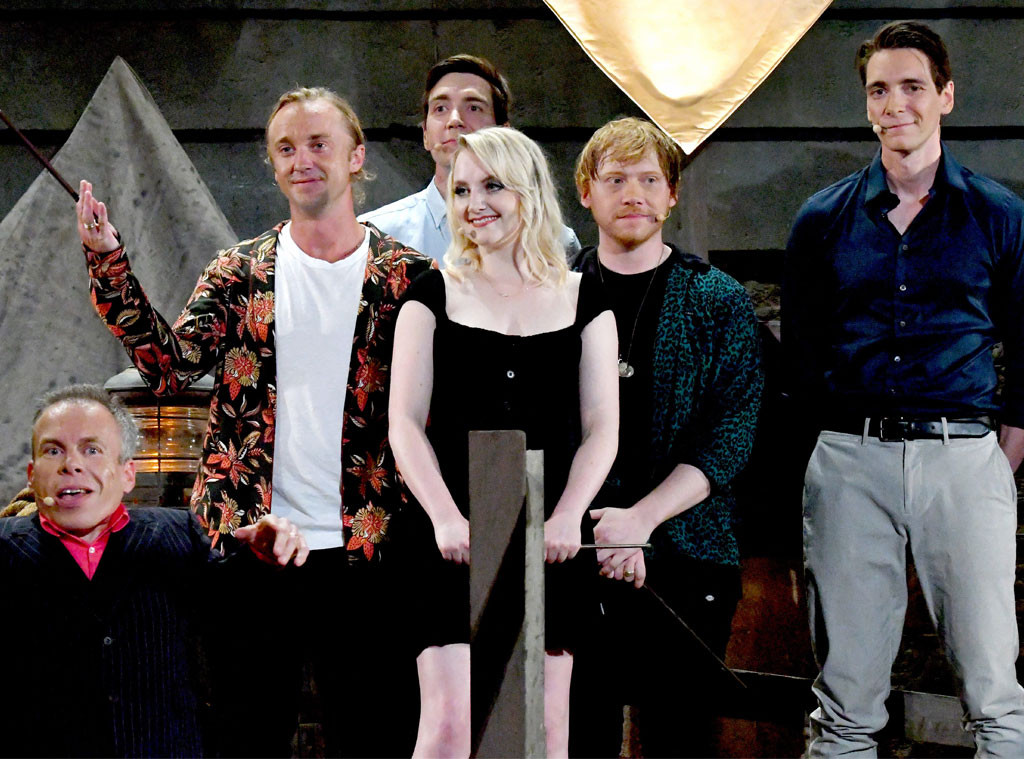 USA Today Network/Sipa USA
Tom Felton, Rupert Grint and Evanna Lynch walk into The Wizarding World of Harry Potter…
The stars of Harry Potter had an epic reunion on Tuesday, June 11, while appearing at an exclusive preview of Hagrid's Magical Creatures Motorbike Adventure in The Wizarding World of Harry Potter – Hogsmeade. Felton, Grint and Lynch—who starred as Draco Malfoy, Ron Weasley and Luna Lovegood in the iconic series—traveled to Universal Orlando this week for the special occasion. James Phelps and Oliver Phelps—who played Fred and George Weasley—also appeared at the Florida event, as did Warwick Davis (Filius Flitwick).
The Harry Potter stars even took part in casting the levitation spell with fans, getting their wands at the ready and chanting "Wingardium Leviosa."
During their trip to Orlando, Felton and Grint were also spotted at the Jurassic Park River Adventure at Universal Studios Island Of Adventures.
View this post on Instagram
Not cool Blue
A post shared by Tom Felton (@t22felton) on
Watch the hilarious video Felton posted to Instagram from the experience above! And check out all of the Harry Potter cast reunions below!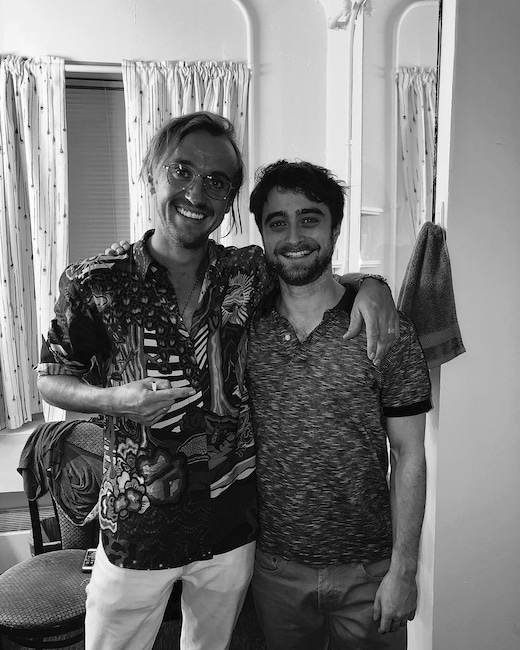 Instagram
Broadway Bound
Tom Felton supported his former co-star Daniel Radcliffe on Broadway at the Studio 54 Theatre during previews for The Lifespan of a Fact with co-stars Bobby Cannavale and Cherry Jones.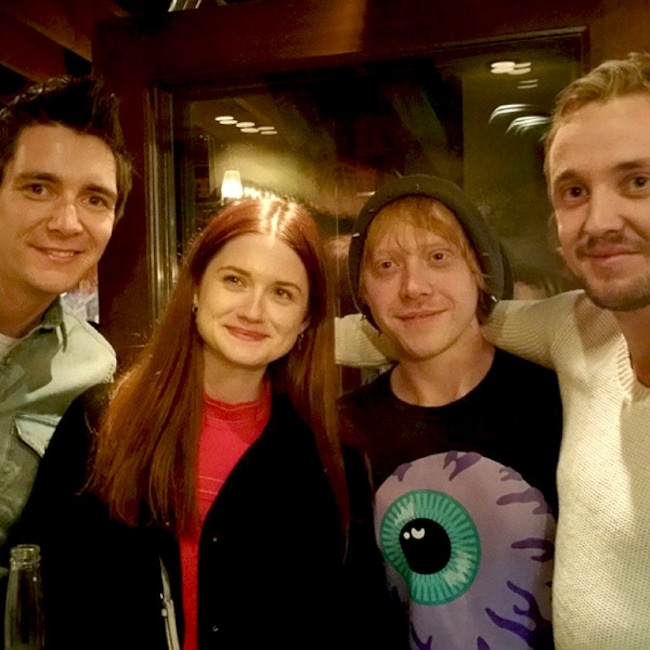 Instagram
Cheers Mates
Joined by Ruper Grint (Ron Weasley), Bonnie Wright (Ginny Weasley) and James Phelps (Fred Weasley), Tom Felton (Draco Malfoy) enjoyed an unexpected reunion at State Social House on the famous Sunset Strip.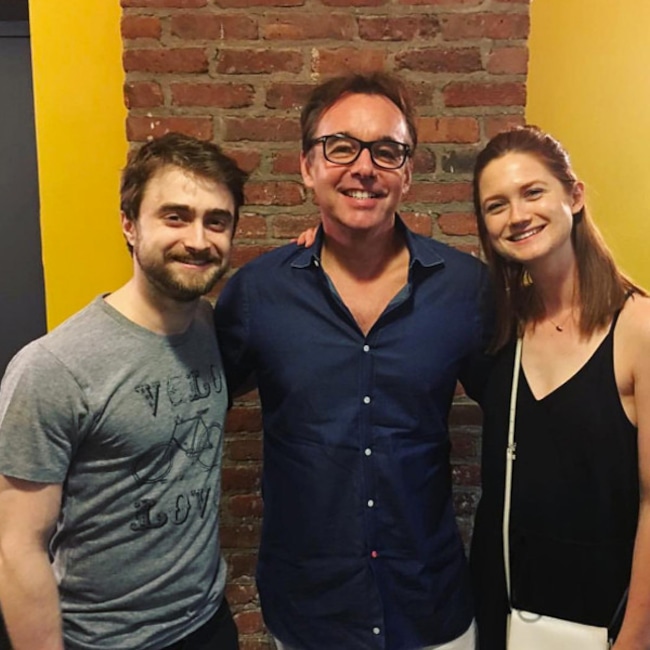 Instagram
Night Under the Stars
Harry Potter and Ginny Weasley, a.k.a. Daniel Radcliffe and Bonnie Wright, reunited in July 2016 after the actress wanted to see her co-star at his off-Broadway play, Privacy.
Article continues below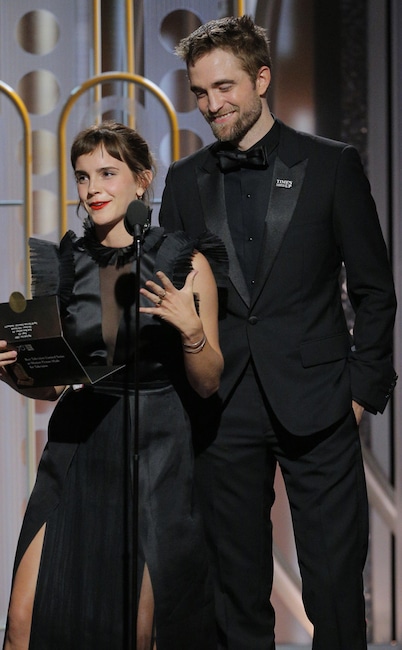 Paul Drinkwater/NBC
And the Winner Is
During the 75th Annual Golden Globe Awards, Emma Watson and Robert Pattinson presented the Best Limited Series or TV Movie category together. And for those who don't recall, the Twilight star appeared as Cedric Diggory in Harry Potter and the Goblet of Fire.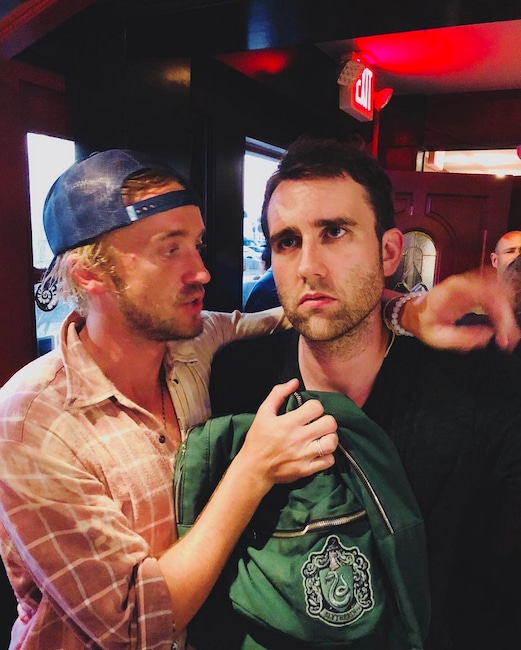 Instagram
Slytherin's Sass
Tom Felton (Draco Malfoy) and Matthew Lewis (Neville Longbottom) reunited in Los Angeles for a friendly reunion. "Take your Slytherin paws off me, you damn dirty ape!" Matthew joked on Instagram.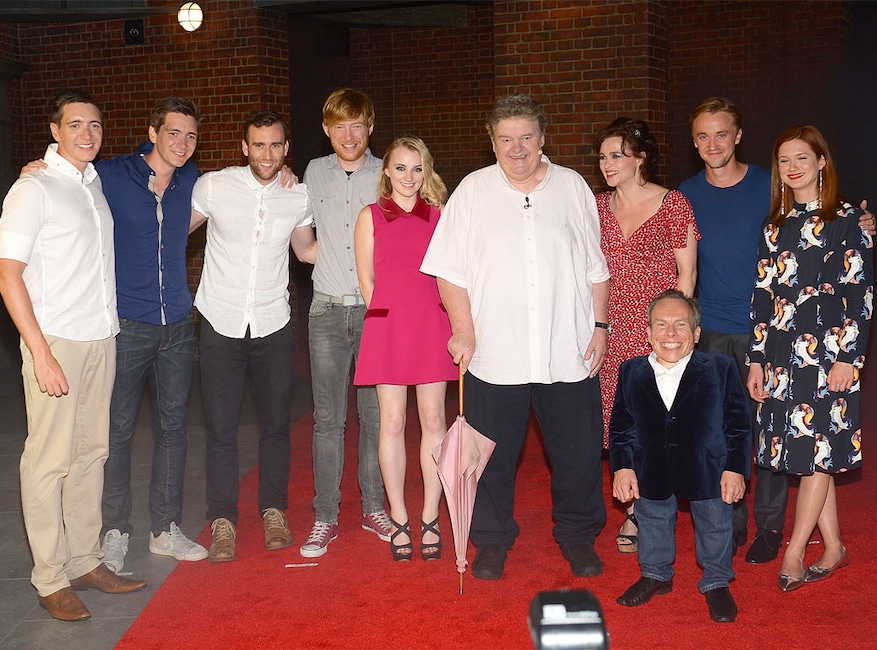 Gustavo Caballero/Getty Images
Wizarding Reunion
Oliver Phelps, James Phelps, Matthew Lewis, Domhnall Gleeson, Evanna Lynch, Robbie Coltrane, Helena Bonham Carter, Warwick Davis, Tom Felton and Bonnie Wright attended The Wizarding World of Harry Potter Diagon Alley Grand Opening at Universal Orlando back in June 2014.
Article continues below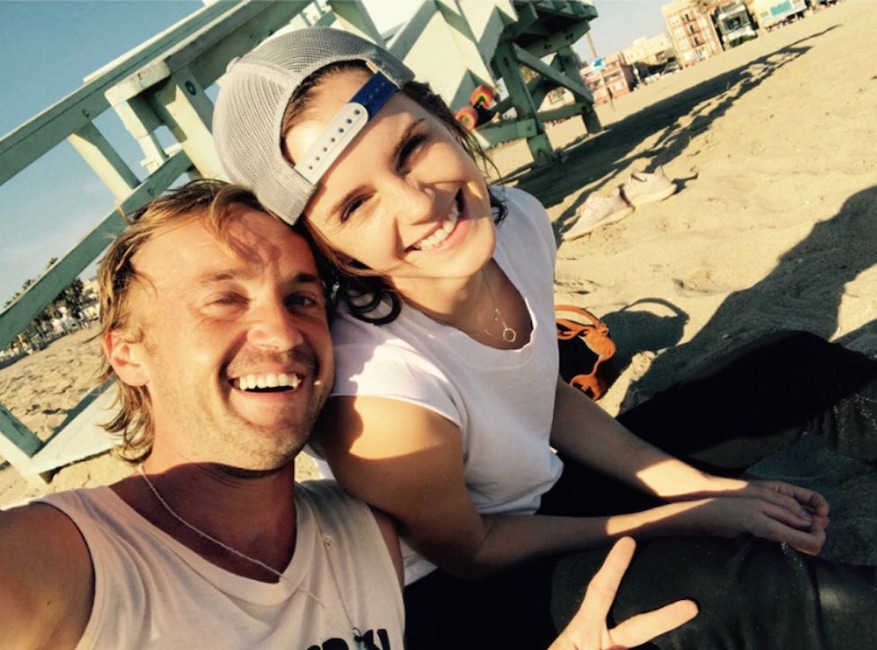 Twitter
Friendly Support
Before Tom Felton's new series Origin premiered on YouTube, Emma Watson showed her support by sharing a selfie with her co-star. "Tom's @OriginSeries is out on 14th November. Congrats dear friend," she wrote.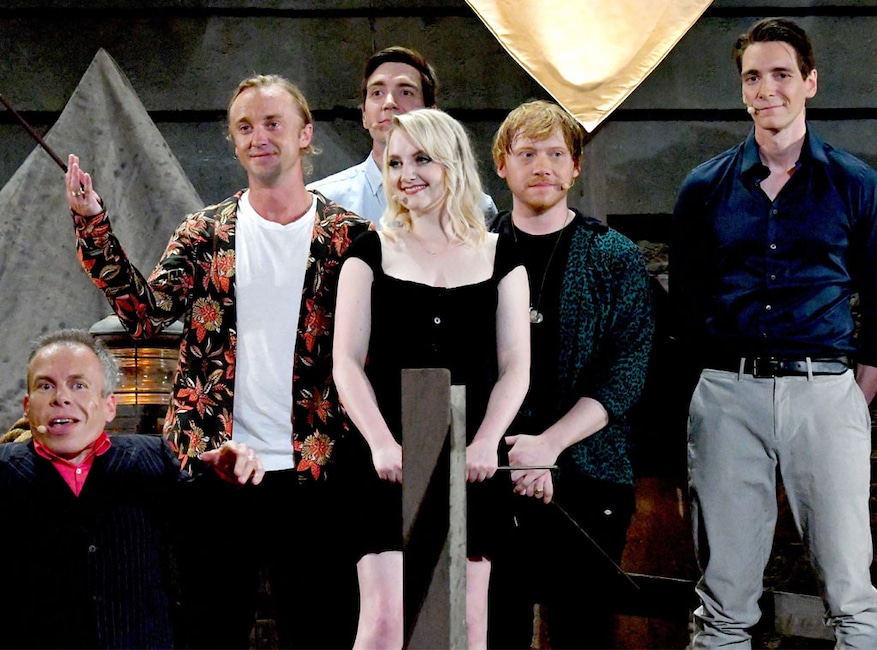 USA Today Network/Sipa USA
Wands at the Ready
Tom Felton, Rupert Grint, Evanna Lynch, James Phelps and Oliver Phelps and Warwick Davis reunited at Universal Orlando for an exclusive preview of Hagrid's Magical Creatures Motorbike Adventure.
Don't miss E! News every weeknight at 7, only on E!
Source: Read Full Article