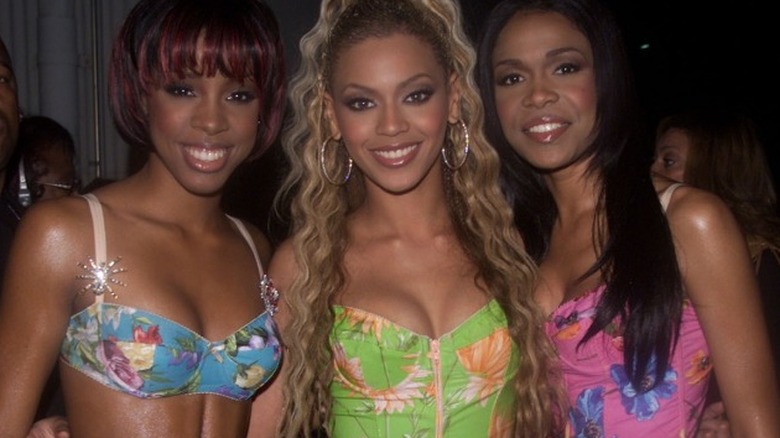 Although '90s fashion will always have our hearts, what with its jelly bracelets and chunky platforms, there's a new fashion era in town that's making a comeback. Sure, many of us wince remembering the early aughts' low-rise jeans, crystal-studded belts and fedoras, but 2000s style is becoming increasingly popular. Proving that everything old really is new again, Gen Z has co-opted Y2K style and shown that nostalgic early-Millenium fashion is the funnest era to play with.
As per L'Officiel, "Y2K trends are once again in style thanks to Gen Z — just as Millennials helped usher in the '90s nostalgia." Say so long to grunge Nirvana band tees, Doc Martens, and slip dresses — 2000s style is coming in with "butterfly clips, velour sweatsuits, and tinted sunglasses" that are all taking over TikTok. Even 2000s hair is coming back, including Lizzie McGuire-esque crimping and Christina Aguilera's infamous platinum and black highlights, and frosty blue and pink makeup looks. Prefer never to go back to the early aughts? We promise there are some trends that are too good to keep locked in storage forever. Grab your crystal-encrusted Sidekick, low-rise jeans, and Uggs — here are all the '00s era styles that deserve a comeback.
Halter tops in every shape and form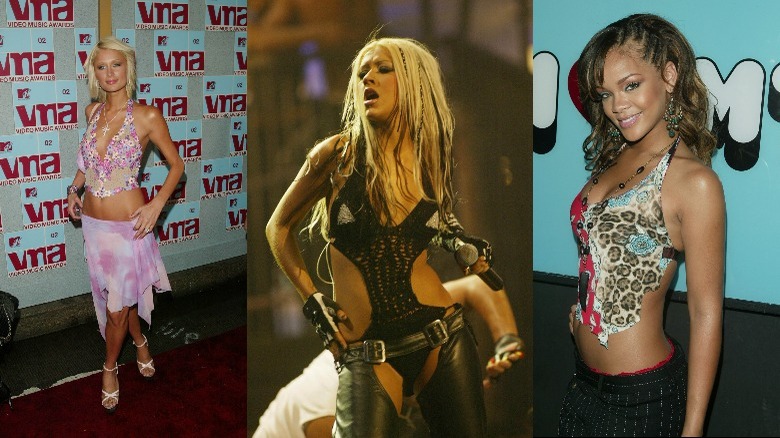 The 2000s-era halters were seriously-ubiquitous in varying prints, embellishments, and shapes that were sometimes cropped and always cute. Even if the trend makes you cringe today, the Y2K-obsessed are nabbing one in every color of the rainbow. As per Cosmopolitan, MTV's "TRL"-style halter tops are "the hero of all our summer outfits" for their versatility. Fashionista agrees: halters were what "all the pre-Instagram It Girls wore after dark" back in the day and seen as an "early aughts essential," paving the way for their comeback today. Now, leave behind costume-y pleated skirts and platform heels in favor of chic 2021-approved combinations (but keep the baguette bags and lip gloss).
In the 2000s, halter tops were sparkly, featuring cutouts, lace inserts, and a combination of floral and animal print all at once. Nowadays, try a more subtle halter top in an adorable pastel, going for lilac, pistachio, or bubblegum pink in a sumptuous satin. Other halter options? Try a full-on halter midi dress (extra points for side cutouts or a slit), or go for a halter tube top, which Bustle describes as a '00s-era "tight, strapless tube top with a skinny strap that starts at the center of the neckline and ties behind your neck." Truly chic, try high-neck halter tops for any occasion at all — from work to cocktail hour.
As the new "cold shoulder crop" (via Showpo), wear your halter tops with French girl-style straight leg jeans and thin-strap sandals, or a cute mini.
Boho chic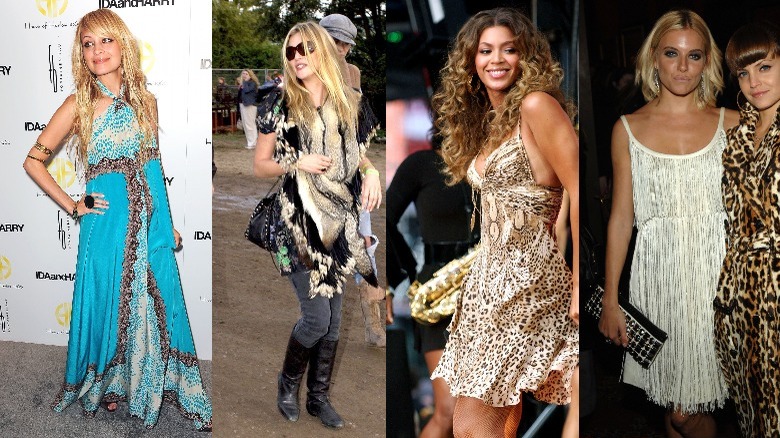 Boho fashion is a 2000s festival look we need to see back in vogue today. Flattering, chic, and evoking freedom, bohemian-hippie style is everything we want in an outfit. Take it from icons like Sienna Miller and Kate Moss, whose Glastonbury Festival style became everything anyone wanted to wear in the early aughts: this trend is timeless. Although boho gets a bad rep today, especially when thinking of the "more is more" approach of fringe everything seen on celebs like Lindsay Lohan and Britney Spears as they avoided paparazzi, there are many ways of revamping this trend for 2021.
According to Marie Claire, some 2000s fashionistas favored the glitz and glam of crystal-embellished everything, while others aimed for the "boho-meets-western" look on the other side of the spectrum. The vibes were immaculate with low-rise jeans, leather belts, peasant tops, and tons of jewelry, giving rise to a look stylist Rachel Zoe became famous for (via The Guardian). Soon enough, A-list celebs weren't seen without their '70s-style enormous sunglasses, even-bigger bags, kimonos, and flares. Whether at a festival or just grabbing Starbucks, '00s celebs loved their boho fashion — and we still love it, too.
There's no doubt Sienna Miller is the 2000s boho queen, with a "slightly hippie, suede-heavy style" that will always exude coolness (via i-D). Today, get inspired by her look and pair cowboy boots with a distressed denim mini and a T-shirt, topping it off with a fringe bag, tons of rings, and curtain bangs.
Waist-cinching wide belts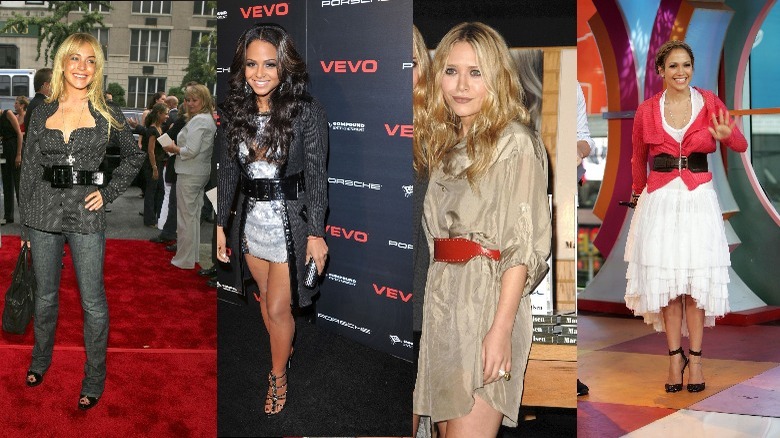 We'll always love 2000s-style accessories, including sparkly clips, tiny bags, and Carrie Bradshaw-reminiscent sandals. This era was defined by topping off looks with everything you could find — and a lot of times, it actually worked. That being said, our favorite '00s accessory is the wide waist-belt, a fashion life-saver that pulled together looks in a pinch. As Marie Claire remembers, "no top or dress was complete in the early '00s without the addition of a large wide belt." Adding oomph to crop tops, jeans, or loose dresses, wide belts were waist-defining and chic, coming in "shiny plastic options, woven patterns, and everything in between."
Sienna Miller proved how important the wide belt was to '00s-era fashion, causing a frenzy after wearing a ripped denim dress, Uggs, and an "exotic studded brown leather belt" to Glastonbury in 2004 (via i-D). Setting off tons of fast-fashion retailers to recreate her hippie look, the magic to her outfit was arguably that still gorgeous wide belt. And other celebs used wide belts to their advantage, too: J.Lo almost never left the house without one (pairing her belts with cardigans), as well as did Jessica Simpson and the Olsen twins. Even with ranging styles, wide belts worked for everyone — reason enough to bring them back!
As Elle explains, wide belts are resurfacing, but with a few changes. Dior's Fall 2019 collection featured tons of wide waist-belts, showing how well they work today with midi skirts and elegant boho maxi dresses.
Hear us out: low-rise jeans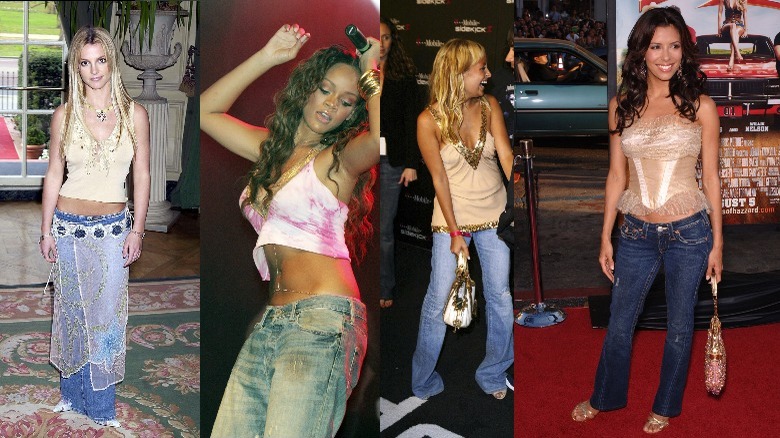 Last but not least, we have the most divisive 2000s fashion trend of them all: low-rise jeans. Before you say not a chance, these jeans can work beautifully — with a few adjustments. Rather than tossing away your treasured high-waist jeans, which are known to hold everything in, use low-rise jeans for certain Y2K looks for a touch of minimalism and an "I-don't-care" attitude. As per Maire Claire, "low-rise jeans are predicted to make a comeback" after several designers featured them on the runway in 2019 and 2020. And although many shudder at the thought of hip-grazing rises paired with shorter tops, don't fret: pair your low-rise jeans with oversized sweaters and big t-shirts for extra coverage and all the style.
The Cut also predicted the return of low-rise denim, recently adopted by celebs like Bella Hadid and Kendall Jenner. Although low-rise jeans' return has caused a "panic," with opposers citing how uncomfortable and unflattering they are, that's not necessarily true. Plus, many find high-waist bands that dig pretty agonizing, with designer Kirk Millar telling The Cut, "most people aren't comfortable with a band of non stretch material across their waist." Whether or not you agree, low-waist denim that's slung low on the hips can be comfy and cute, and don't necessarily mean an exposed thong (yeah, no thanks!). Try low-rise jeans in 2021 by pairing them with an elevated button-down shirt and cat-eyes like Hadid, or with a basic tube top and a blazer.
Source: Read Full Article