In a world where celebrities and models (see: Cardi B, the Kardashians, etc.) are getting plastic surgery every day, it's almost hard to believe that those who can afford to get work done don't. Case in point: Irina Shayk, one of the world's current top models. In the summer digital issue of Harper's Bazaar, Irina refutes claims she's ever gotten work done on her lips, but she also won't judge people who feel the need to. So no, don't cancel your 3 p.m. lip injection appointment—it's all good!
"Look, if somebody wants to inject their lips because they feel bad, god bless them. I don't judge anyone," she told the magazine. "I always promote natural beauty because I think we live in this perfect world where everyone wants to be perfect."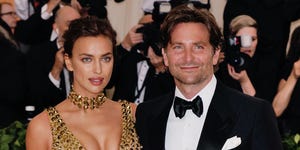 Of course, people might roll their eyes and think that embracing natural beauty is easy when you're a literal model like Irina Shayk, but Irina absolutely recognizes her flaws, accepts those flaws, and learns to live with them. "I'm going to have wrinkles and I have wrinkles," she said. "You just have to accept the idea of aging and of bodies at every stage and just celebrate it. In life, we have to let it go and understand it's a human process not to be perfect." Irina also admitted that in addition to her face wrinkles, she has a weakness for tanning and occasionally has a double chin—which is totally normal!
But when it comes to the question of if she has lip fillers, Irina just laughs it off. "If I read [a headline] and it's like, 'She had injections, her lips look like dumplings,' I just laugh because it just makes me…I don't want to say it makes me happy, but I think in this life, you have to have a sense of humor," she explained. "With everything that's going on in the world, you have to take it easy. Some people are going to love you, some people are going to hate you. It doesn't really disturb my life."
Well, there you have it—Irina's lips are 100 percent natural, so you can stop speculating now, mmmkay?


Source: Read Full Article