The former 'Smallville' star's wife Jessica Rose Lee announces the birth of their baby No. 2 Rocklin Von with an adorable photo of the little boy in a new social media post.
AceShowbiz –Tom Welling can't hide his happiness as he has become a dad for the second time. When his wife Jessica Rose Lee offered the first glimpse of their baby No. 2, the "Smallville" alum dubbed his newborn son "pure joy."
On Sunday, June 6, his wife Jessica announced the exciting news on her Instagram account with a photo of her second child. In the caption of the post, she revealed the baby's name by writing, "Rocklin Von, welcome to your family." In the comment section, the 44-year-old actor gushed over the little boy, "Pure joy." The mother of two then simply replied, "OURS."
Jessica also took to her Instagram Story to share more photos of the newborn. In one snap, she offered a closer look at the baby boy, who was seen wearing a white onesie. Over the photo, she wrote a message, exclaiming, "He's here!"
In a separate Story, Jessica went on to post an adorable picture of her 2-year-old son together with the baby boy. She captioned the photo with their names, "Thomson Wylde & Rocklin Von." She also uploaded a sweet selfie of herself as she cuddled up to her little one in the following snap. She was seen all smiles and wearing pink-and-white striped pajamas.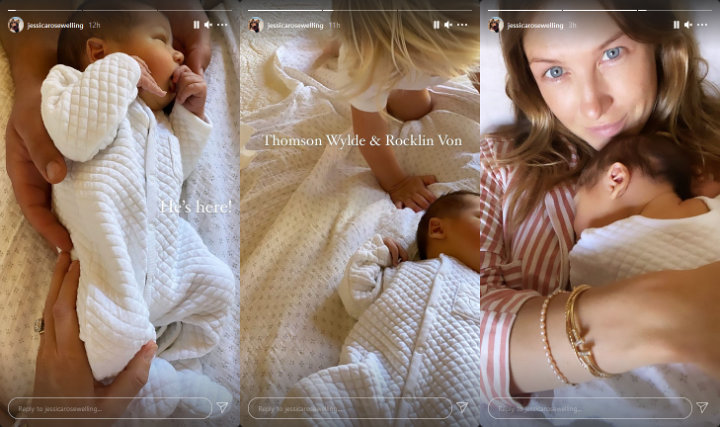 Jessica Rose Lee shared more photos of her second child via Instagram Story.
Tom confirmed his wife's second pregnancy during his guest appearance on Michael Rosenbaum's "Inside of You" podcast in January. At the time, the "Lucifer" actor initially played coy when his former "Smallville" co-star brought up the topic that he had another baby on the way.
"What? I do?" Tom asked before Michael assured him he heard the news from Jessica, and he called for his wife to confirm. "You lying b**tard!" the 48-year-old host joked to the father of two. "But you do! You have another one coming!"
Shortly after, his wife Jessica made public her second pregnancy via Instagram. Posting a photo of Tom smiling from ear-to-ear while showing off some ultrasound images, she penned in the caption, "That smile says it all [love]."
Source: Read Full Article