During Prince Harry and Meghan Markle's interview with Oprah Winfrey, Meghan wanted to clear up a rumor that suggested she had made Kate Middleton cry a few days before her own royal wedding to Prince Harry in 2018. In fact, the Duchess of Sussex said that the opposite had happened. Meghan explained she didn't tell the story to the world because she wanted to embarrass Kate, but rather, just to show that there were many internet rumors that were wrong about her time in the palace. Explaining that the Duchess of Cambridge had apologized and sent her flowers after the incident, Meghan said that she's a "good person," and if "you love me you don't have to hate her, and if you love her, you don't need to hate me," per Elle.
While no one knows exactly what goes on behind closed doors between Meghan and Kate, there have been reports suggesting that the two get along well enough for them to want to work on a new Netflix project together, despite the ongoing feud between their husbands, Prince William and Prince Harry. 
And while a lot of people have been focused on Meghan and Kate's relationship as sister-in-laws, there's another Middleton sister that might not have warmed up to the idea of having Meghan around, for better or for worse. That sister happens to be Pippa Middleton, who reportedly didn't want to share the spotlight with the Hollywood star on her own wedding day. Keep reading to find out why.
Was Meghan Markle persona non grata at Pippa Middleton's wedding ceremony?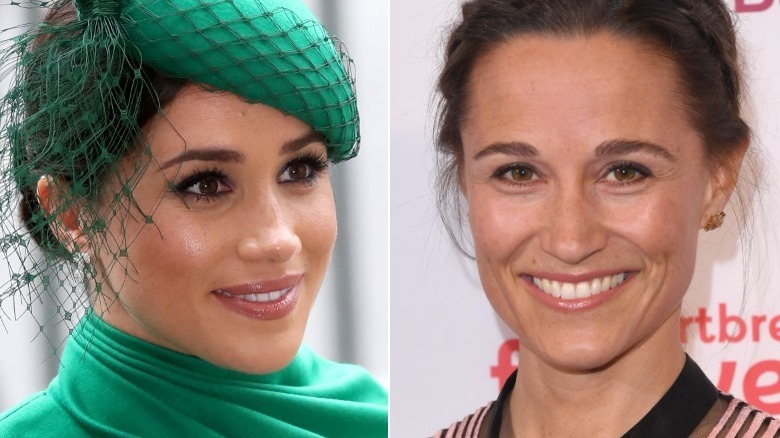 Pippa Middleton burst onto the scene as her sister's maid of honor at her wedding to Prince William in 2011. Pippa became an overnight sensation, thanks to the figure-hugging dress she wore in front of an audience of millions. And while that royal wedding helped make Pippa the household name that she is today, she didn't want another up-and-coming star to steal the thunder on her big day.
Apparently, the Middletons were hesitant to invite Meghan to Pippa's wedding to James Matthews in May 2017. According to the book "Finding Freedom," (via Elle) a source put it this way: "Both the bride and her mom, Carole, privately harbored concerns that the American actress's presence alongside Harry might overshadow the main event."
That might be the reason why Meghan was nowhere to be seen during the wedding ceremony, but photogs were able to snap her at the reception hours later. This issue may have made things a bit awkward for the Duchess of Sussex when she sat next to the Middleton sisters at a high-profile event following the wedding. Keep scrolling below to find out what happened.
Where Meghan Markle and Pippa Middleton stand today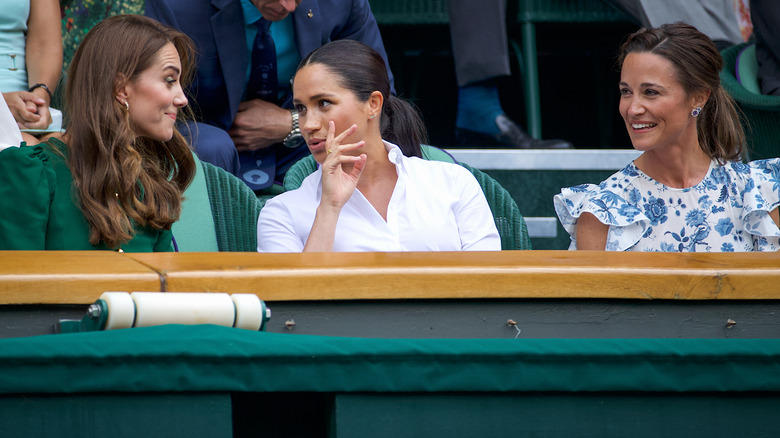 In 2019, Meghan Markle accompanied both Kate Middleton and Pippa Middleton for Wimbledon — the oldest tennis tournament in the world. Judging by the photos of the three women (seen above), their conversations were rather animated, which may show that there was no bad blood between them. Since then, though, Meghan has not been photographed together with Pippa, nor have the two women had anything to say about one another. Whether the tennis match outing was done for a photo op, we might never know. 
While it doesn't appear that Kate and Pippa are on Meghan's BFF list, at least she has plenty of celebrity figures who she remains very tight with, including her very good friend, professional tennis player Serena Williams. "I really think she's the strongest — literally, the strongest person I know and the nicest, sweetest," Williams told Access Hollywood in 2019. "I call her, text her anytime, crying, upset — she's always there. Doesn't matter what she's going through, she just sets time away, and she's just so amazing." 
Meghan might not be in the Middleton's social clique, but she clearly has some other famous friends to lean on — who aren't worried she will steal their spotlight.  
Source: Read Full Article