It appears that if Scott Disick can't be with ex Kourtney Kardashian, then he only wants to date much younger women. While the "Keeping Up With the Kardashians" star is very open about his love for the mother of his three kids on their E! show, in real life Scott is taken by influencer Amelia Hamlin, who is 18 years his junior. 
According to Us Weekly, the two were first linked in October 2020 but didn't make it Instagram official until February 2021. Last December, Hamlin addressed on her Instagram story how "extra weird and judgemental [sic]" people can be, amid criticism of her and Scott's age difference. She added, "People grow. People learn to love themselves more and more." Yet it appears Hamlin isn't letting the haters get to her and in May posted a photo of her and Scott where she gushed in the caption, "i'm so blessed to have met you. I love you."
Scott doesn't seem to be too concerned about their age gap either, even when he was called "creepy" on social media after he posted a photo on his Instagram story of Hamlin in lingerie. Hamlin isn't the first younger woman Scott has been with in recent years. He dated model Sofia Richie, with whom he has a 16-year age gap, from 2017 to 2020. But according to Scott, there's a reason why he only dates younger women — and it's apparently not by his own design.
Scott Disick says younger women are attracted to his looks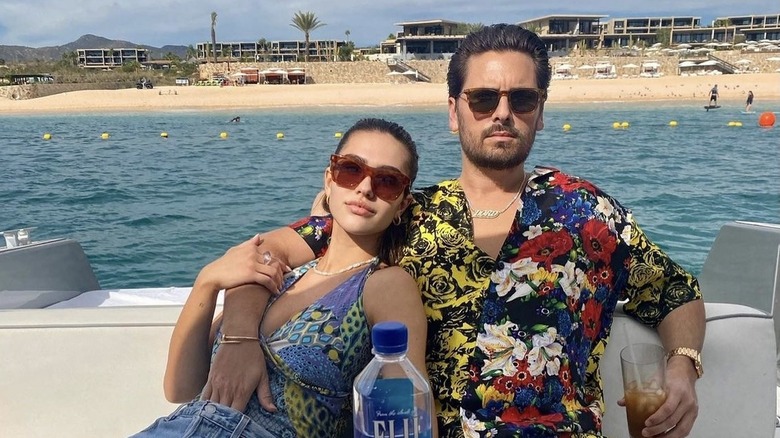 Since his split from Kourtney Kardashian, it seems that Scott Disick has only dated women who are much younger than him. Over the years, Scott has been linked to multiple famous women who he shares a substantial age gap with — including Sofia Richie, Bella Thorne, Megan Blake Irwin, and now current girlfriend Amelia Hamlin — he wanted to clear up the misconceptions about his taste in women when he appeared on the "Keeping Up With the Kardashians" reunion special.
Host Andy Cohen directly asked Scott about why he only dates younger women. Scott replied (via Us Weekly), "Everybody gets this wrong that I look for young girls." He continued, "I don't go out looking for young girls — they happen to be attracted to me because I look young. That's what I'm telling myself." Kris Jenner seemed to support Scott's answer, saying (via BuzzFeed), "You tell 'em Scott." For her part, Kris and her boyfriend Corey Gamble have a 29-year age gap.
While Scott appeared to be joking, his relationship with the much-younger Hamlin does apparently have Kourtney's blessing. She told Andy Cohen, "Whoever would make him happy, like, I would give my blessing." As for Scott, perhaps despite the age difference, he has found the real thing with Hamlin. When asked if he wants to maintain a monogamous relationship after previously cheating on Kourtney, he answered, "Yeah, now, but then I was somewhat young and I didn't really know the difference."
Source: Read Full Article