Peter Weber and Kelley Flanagan started the New Year with a breakup, and now his mom Barb is speaking out about it. Because of course! Barb, who made headlines due to doing the absolute most during Peter's After the Final Rose, hopped into the comments of her son's breakup post, musing:
"Love can be fickle and it is not for the timid. Those who have experienced it know this all too well. But it is better to have loved and lost, than never to have loved at all. Our hearts ache for you two. Kelley will always have a piece of our hearts and we wish her only the best. Mom and Dad."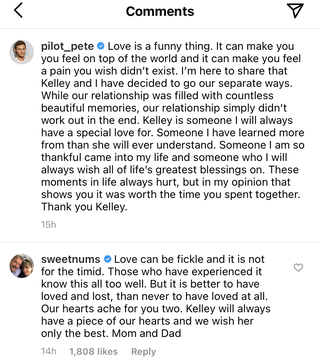 Aw, honestly this is sweet! Especially since we all know how salty Barb can be about Peter's girlfriends (ahem, hi Madison).
Anyway, according to an E! News source, Peter and Kelley "spent the holidays apart, and Peter is already back staying with his parents in L.A. for now." What's more, he's the one who ended things, with a source telling E! that "They had been fighting a lot, and the move was very stressful and put a lot of pressure on them."
Source: Read Full Article