Is Lori Loughlin in complete denial? Or does she know something we don't??
The Full House star and fashion designer hubby Mossimo Giannulli are prepping for their trial after pleading not guilty to charges of conspiracy to commit mail fraud and money laundering for their role in the college admissions scandal.
Lori allegedly bribed USC officials a shocking $500,000 to fabricate their daughters' participation in the crew team — just to score Olivia Jade and Bella conditional admission to the college.
A source tells People Lori thinks she'll get away with it.
Dozens of parents have already plead guilty, but according to the insider, the actress "still believes she did the right thing by rejecting a guilty plea." The source adds:
"She is a fighter."
Do Lori and Mossimo stand a chance though? The source says "they are both mounting a vigorous defense against the charges."
In fact, the insider says Lori's "whole life focus has changed drastically" since she's no longer able to work:
"Lori in particular has become extremely well-versed in the case. She's an active participant in her own defense, feels like she's got a valid defense, and that when all the evidence comes out, she won't be found guilty."
All the evidence??
The government's case seems pretty rock solid.
After the middle man in the scam was flipped by the feds, the parents were caught on tape admitting to the crime and agreeing to tell the government the money was for charity.
Not only that, one of the USC officials involved — former assistant soccer coach Laura Janke — plead guilty this month, admitting she created a fake athletic profile for Olivia Jade. Now she'll have to testify against Lori as part of her plea deal. (Her charges of racketeering could still get her up to 20 years.)
And she's not the only one involved who might be legally obligated to testify against Lori.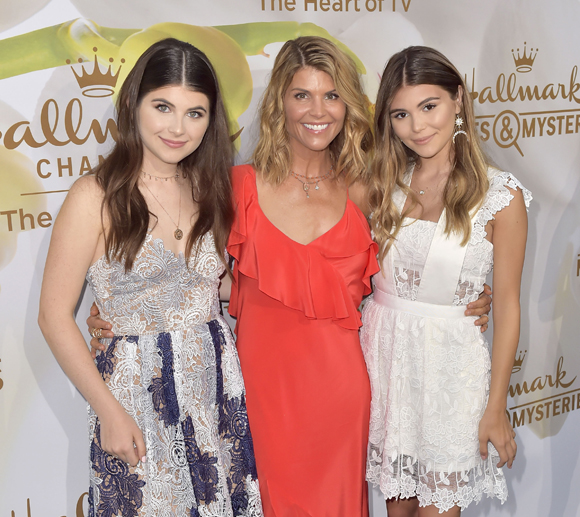 Yep.
Her own daughters, the ones for whom Lori allegedly broke the law, can be compelled to testify in court if they were aware of what was going on.
And according to a couple different sources, they totally did.
In case you were wondering, the girls can be forced to testify, even against their parents. As attorney Edward Molari explained to Hollywood Life:
"If the government has evidence establishing probable cause that the children committed a crime, bringing charges against the children is entirely within the government's discretion. That also means that if the government wants a child to testify against their parent, the government can force them to do so, whether they want to or not."
So what are they doing to prepare?
LOLz, they aren't exactly "mounting a vigorous defense."
The girls were photographed late Monday night/early Tuesday morning out partying at a nightclub in El Lay. They reportedly left around 2 a.m. — to go to a house party with Cindy Crawford's son, Presley Gerber.
Doesn't sound like they're quite so laser focused as Mom.
Source: Read Full Article