The 'Kardashians' star shares behind-the-scenes footage from the commercial to show that she did take bites of the food that she promotes in the recently-released video.
AceShowbiz –Kim Kardashian is shutting down her naysayers after she's mocked over her new Beyond Meat advertisement. After accused of taking "fake" bites in the video, the reality TV star proves that she did taste the products she advertises.
On Tuesday, May 31, the SKIMS founder shared behind-the-scenes footage from the commercial that captured her actually eating the food. In the outtakes posted on her Instagram Story, she could be seen biting into tenders, sausage and even a burger, though she ditched the top bun to cut carbs.
"I'm getting rid of some of the carbs," the 41-year-old mother of four explained, before taking a large bite of the sandwich. After chewing the small bite for a few seconds, she exclaimed, "So good." She additionally wrote alongside the clip, "Guys, come on."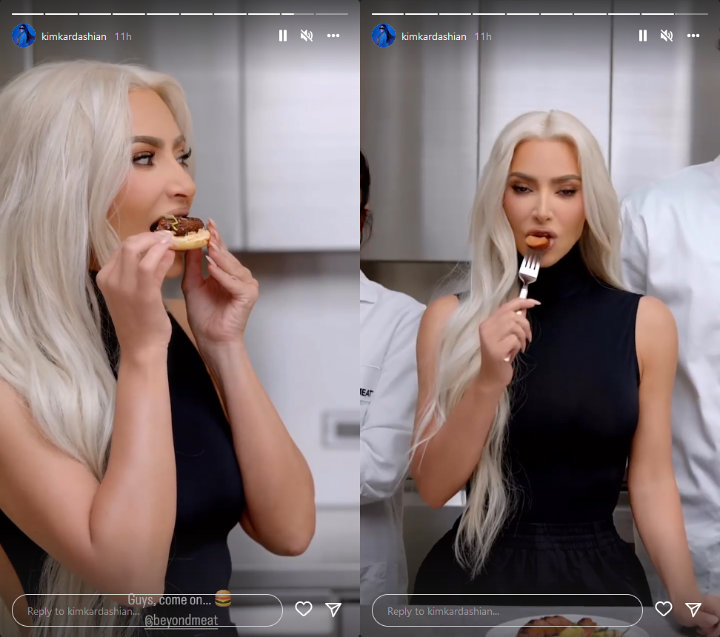 Kim Kardashian shut down critics of her Beyond Meat ad.
Last week, Kim was trolled after the new Beyond Meat ad was released. Many social media users believed that "The Kardashians" star, who appears as chief taste consultant in the vegan company's ad, pretended to eat the food in the commercial.
In the 30-second clip, the reality star says, "I believe so much in the mission of Beyond Meat that I've stepped in to help with my greatest asset, my taste." However, many social media users noticed that the food she's holding in the ad remains intact.
"This is beyoooond meat, so good you don't even have to eat it," one commenter wrote, while another user noted, "The hamburger wasn't bitten." A third critic added, "I ain't buying it cause you ain't really eating it."
"You didn't show her actually consuming the product…Did she actually eat it?" a fourth person questioned the ad. A separate person admitted that the ad actually made them not want to purchase the product, "Fake eating. This is beyoooond meat, so good you don't even have to eat it." Another alleged, "Kim didn't even eat the food lol [laughing with tears emojis]."
Beyond Meat did not respond to the fan speculation.
Source: Read Full Article