The Kardashian family has plenty of little ones running around these days, and all of the grandkids love spending time together. Every family member lives relatively close to one another, which makes it easier for the siblings to meet up and bring their kids for playdates. Kim Kardashian West recently posted photos and videos of her daughter, Chicago, bonding with Khloé Kardashian's daughter, True — and it's the cutest thing.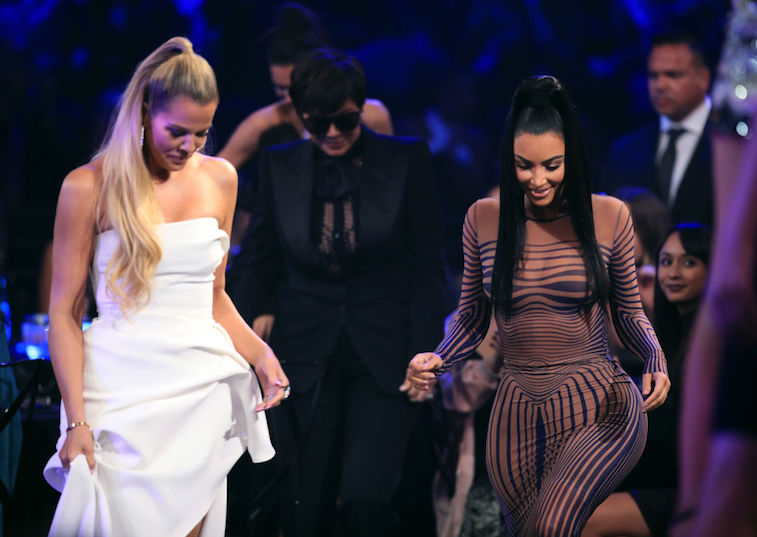 The Kardashian children have 10 grandkids altogether
Kourtney Kardashian and Scott Disick were the first couple to give Kris Jenner a grandchild. They welcomed their oldest son, Mason, in 2009. Since then, they've had two more kids (the two split up in 2015). Kim Kardashian and her husband, Kanye West, have three kids together. Khloé Kardashian, Rob Kardashian, and Kylie Jenner each have one daughter; Kylie shocked fans when she managed to hide her entire pregnancy, only informing people upon her daughter's birth.  
The siblings love raising their children so close to each other
Growing up, the Kardashians did everything together. With so many kids, life was chaos, but that's what they loved about it. Now, Kris Jenner's children are allowing their own children to form such a close bond. All of the kids live in the Los Angeles area, making it easy for their own kids to spend time together. North West and Penelope Disick go to the same school, and Kim and Kourtney often both pick their daughters up from school.
Kim's kids love bonding with Kylie and Khloé' daughters; Kim loves to post photos of the kids spending time together to her Instagram page.
Kim and Khloé's daughters just spent the day out together
The Kardashian kids love posting their own children to social media. And with all 10 kids born in the same decade, it's clear that they'll form inseparable bonds. Kim and Khloé's daughters, Chicago and True, recently spent the day out with Kim's nanny, and she captured the young girls enjoying their cousin bonding time. Kim later posted photos and videos of the girls to her Instagram; they enjoyed a shopping day (presumably at Target, based on the red shopping cart and surroundings), then ate lunch together — and Chicago even fed True. It's clear the kids are going to make a lifetime of memories together.
Despite their fame, the siblings have remained thick as thieves
The Kardashians have been revolutionizing reality televisionsince 2007. But today, they're doing much more than just that. Kim and Kylieare both cosmetics moguls; Kourtney runs her own lifestyle website; KendallJenner has a successful modeling career; Khloé hosts Revenge Body and owns her Good American clothing company. Rob isstill running his sock line, but despite everyone's busy careers, they have alwaysremained close.
Like any siblings, the Kardashians do get into argumentsfrom time to time. But at the end of the day, they always have each other'sbacks, and it's nice to see that they're making sure their kids develop the sameclose connection.
Source: Read Full Article