Kelly Clarkson is incredibly dedicated to her hosting duties!
As we reported, the Stronger (What Doesn't Kill You) songstress hosted the Billboard Music Awards in Las Vegas for the second consecutive year on Wednesday. She was her usual fun, bubbly self on stage as she introduced guests and performed multiple musical numbers.
But off stage… gurl was apparently in tears from intense appendicitis pain!
Thankfully, Kelly underwent surgery to get her appendix removed Thursday morning — mere hours after she finished serving as Billboard's Master of Ceremonies.
In a tweet later Thursday, the 37-year-old confirmed that she immediately flew back home once the awards show wrapped on Wednesday night and had the surgery at Cedars-Sinai Medical Center in Los Angeles first thing in the morning.
Now, The Voice judge is feeling "awesome"! She wrote: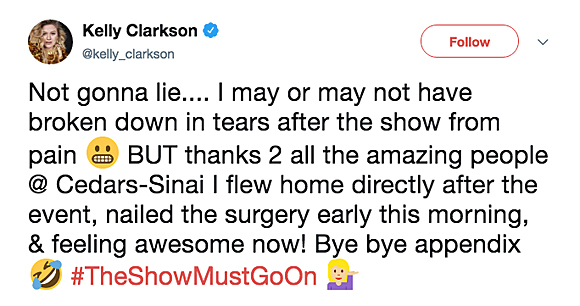 OMG, what a trooper!
The surgery did not appear to be an emergency procedure, according to Entertainment Weekly, as the American Idol winner had been experiencing the pain for the last week.
Still, this really shows how committed she is to putting on a great show!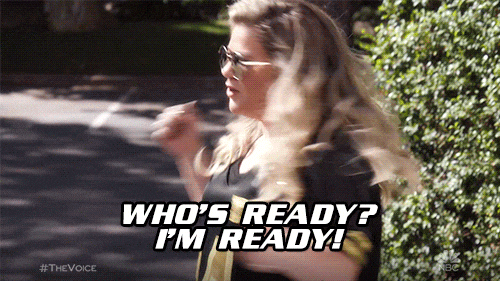 The news comes months after K-Clark admitted she was slightly nervous about hosting her own syndicated talk show, which NBC had previously announced has been set for 99% of the country and sold at over 200 stations.
Speaking to ET at the time, the future Kelly Clarkson Show host revealed she had been practicing her interviewing skills during her last tour by incorporating a "live part" where she interviewed fans. She explained:
"I'm, like, really excited about , but I'm slightly terrified that people have that much confidence in me. I'm like, 'God, I hope I don't let people down!' But no, I'm pretty stoked about it. This whole tour that I just finished up, we did this whole live part during it and I did, I interviewed people here and there and have been working on my listening skills. It's going to be fun and also it's very serious. In the pilot, we did a lot of serious conversations that I feel are important, especially as a mom."
Despite her lack of confidence, execs seem to have a lot of faith that Kelly will rule daytime TV. As we reported, the songstress is rumored to take over Ellen DeGeneres' time slot when the veteran host exits her longtime show later this year.
It's still unclear whether she'll actually be the next daytime queen, but we'd say Clarkson is working hard to prove herself worthy of that title!
Source: Read Full Article