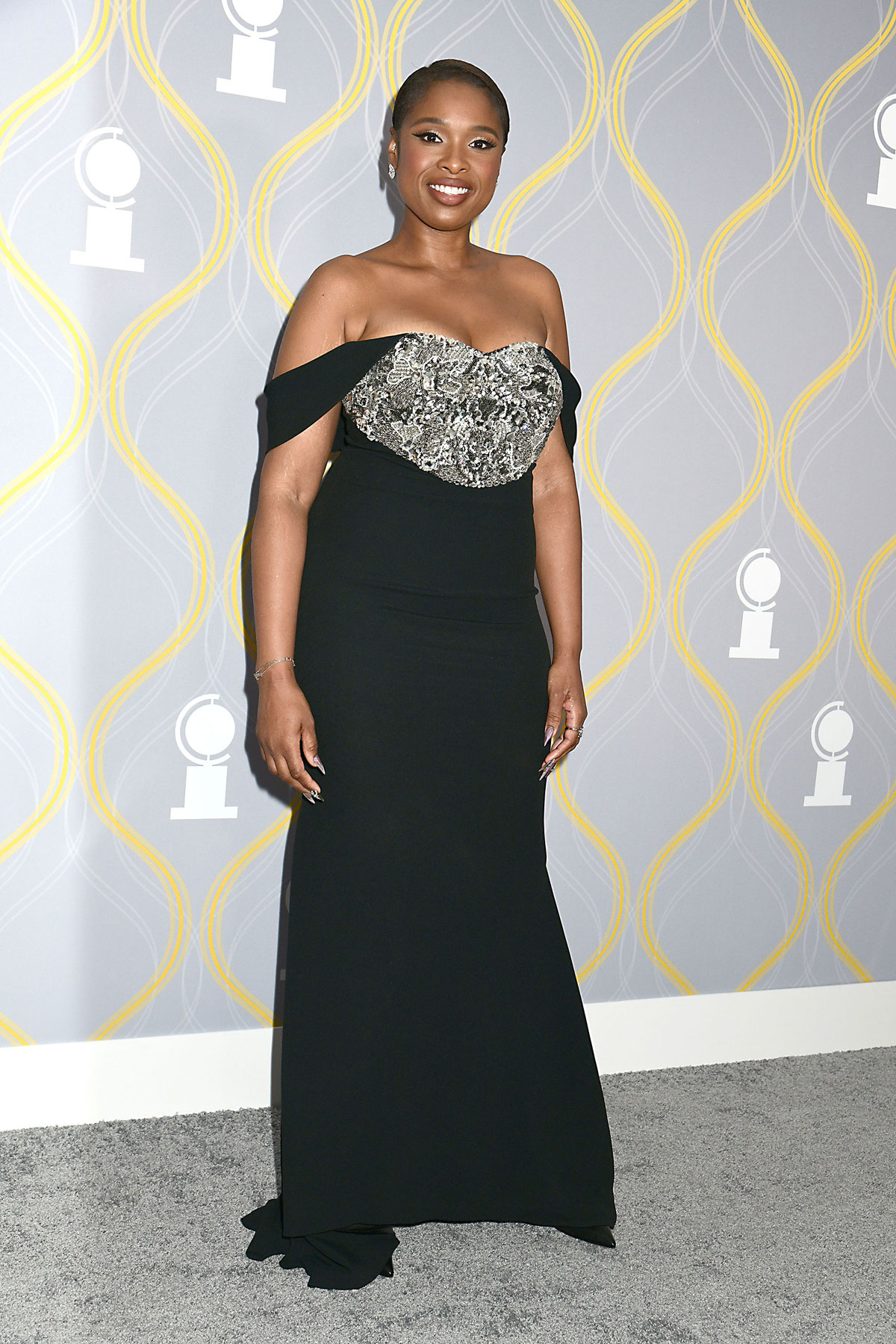 Jennifer Hudson recently earned herself a rarified title: EGOT. That means she has won an Emmy, Grammy, Oscar, and Tony, joining a group of only 16 other people to earn each of the entertainment awards. Jennifer hit EGOT status this year when she won a Tony award for the musical, A Strange Loop. In a CBS Mornings interview, Jennifer told Gayle King that she got herself a little '17' charm to celebrate becoming the 17th EGOT.
Jennifer Hudson has earned a few different nicknames throughout her career, but her latest, "17," is one she proudly gave to herself.

As J. Hud explained in a Thursday CBS Mornings interview preview with co-host, Gayle King, her new nickname represents the artist being only the 17th person to earn EGOT status, as an Emmy, Grammy, Oscar and Tony Award winner. She earned the rare title after the musical A Strange Loop, on which she worked as a producer, won a Tony in June.

"Now I have a charm that says '17,'" Hudson told King during a preview of her Friday interview. "So when you see 17, that represents the 17th EGOT."

During the discussion, Hudson opened up about the moment she walked on stage at the Tony Awards, only to hear the crowd remind her of the extra importance of the victory.

"It came as a surprise," Hudson said. "I did not fully see it coming. I went there to celebrate the cast for getting 11 nominations, and I don't feel like I've been present. And then when they said, 'Strange Loop, best musical,' I was cheering for them. And once we get on the stage, everybody started chanting, 'EGOT, EGOT,' and I was like, 'Wait what?'"

Hudson posed with her impressive assortment of awards in a new photo and joked on Twitter Wednesday that while her 41st birthday is fast approaching, she'll "always be 17." She first posed with her trophies in August when her Tony finally arrived, but it doesn't hurt to let fans know she's taking care of them.
[From People]
Before Jennifer got her Tony this year, the EGOT buzz had started picking up in 2021 when she won an Emmy for Baba Yaga. For that win, she showed off an "EGO" ring that she already had. Now she has the T! And of course, Jennifer has two Grammys from her debut album (2009) and The Color Purple soundtrack (2017), and the Oscar from Dreamgirls (2007). So this EGOT has been 15 years in the making. Jennifer is the second Black woman and the third Black person to achieve EGOT status, the others being Whoopi Goldberg and John Legend. I think she's being a little humble/coy in her interview when she says that she didn't see it coming and just went to the Tonys to celebrate the nominations. She was thinking about it the year earlier and it was covered then, so surely it was at the back of her mind that if they musical won anything she would have an EGOT. She probably didn't forget about it until the chanting started. But I buy that she's still processing it! Jennifer has a new weekday talk show coming out on FOX on Monday so maybe another Emmy is in her future.
https://www.instagram.com/p/ChutSRzuDMp/
https://www.instagram.com/p/Ch8tpLuOtP-/
https://www.instagram.com/p/CiNiNCxutau/
photos credit: Avalon.red, Cover Images and via Instagram
Source: Read Full Article