Today in wild and WTF Teen Mom news, Jenelle Evans' husband David Eason, man who allegedly killed their family dog, Nugget, got into a heated confrontation with her ex-boyfriend Nathan Griffith outside the courthouse. You know, the courthouse where they're dealing with their ongoing custody battles? Yeah. Not a great look!
According to TMZ, who had reporters at the scene, David "rolled up on" Nathan to "talk some smack" in the Columbus County Courthouse parking lot in North Carolina, right after David and Jenelle's Tuesday custody hearing. The incident went down while Nathan was chatting to TMZ and Jenelle happened to drive by with her husband.
In TMZ's audio, David asks Nathan, "You hanging out with the paparazzi?" and eventually flips him off. Nathan then claims that he'll be filing a restraining order.
This incident follows yet another iffy parking lot confrontation between Jenelle and her mother Barbara Evans, who implied that Jenelle was only interacting with her daughter because cameras were rolling. It's honestly all very sad and messy.
As of now, Jenelle doesn't have custody of her three children (her older son Jace and daughter Ensley are with Barbara, while her son Kaiser is with Nathan) and TMZ reports that she and David have enrolled in couples therapy in an attempt to get them back.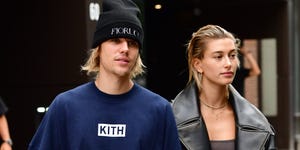 Source: Read Full Article