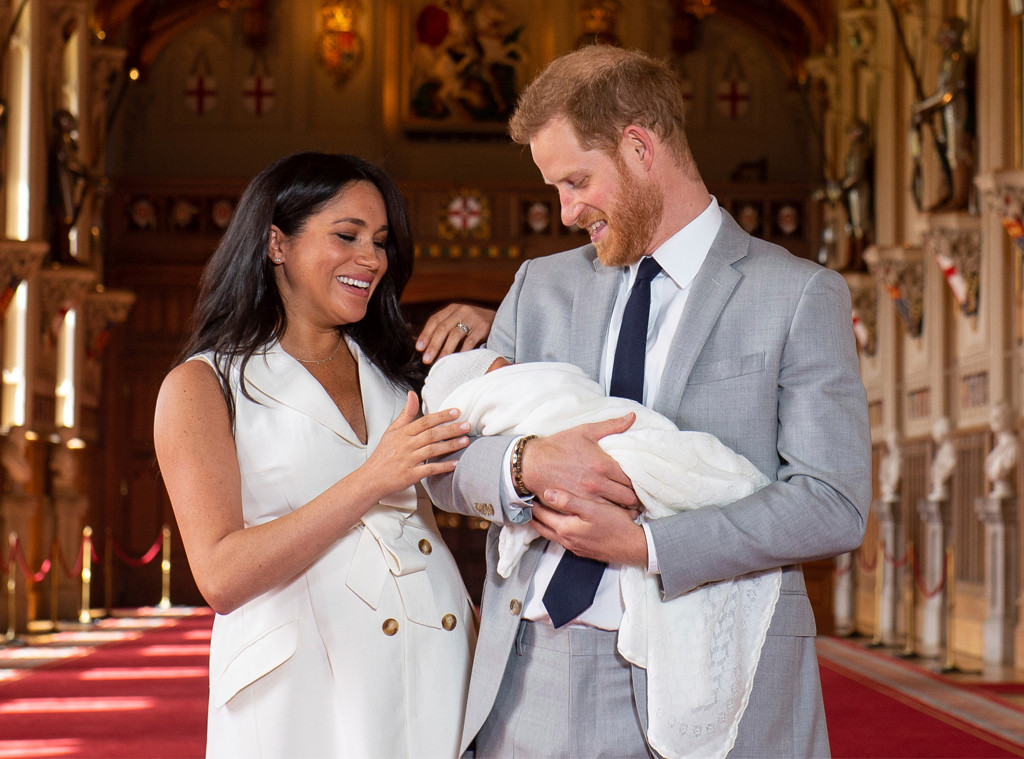 Dominic Lipinski/PA Wire
For Meghan Markle, it was a non-negotiable.
Yes, she was well aware of how things had unfolded each of the three times sister-in-law Kate Middleton gave birth, from the moment it was announced she had been admitted to London's St. Mary's Hospital "in the early stages of labor" until she made her appearance atop those steps—fresh blowout and high heels in place—mere hours after she was safely delivered of her sons and daughter.
But some three-plus decades of protocol, Prince Harry's late mom Princess Diana being the first to submit to the postpartum photo call, weren't enough to convince Meghan that she need gussy herself up mere hours after bringing life into the world. (In fact a source told The New York Post she "felt sorry" for Kate having to endure such a public moment at such a vulnerable time.)
Nor was she interested in releasing such personal details as the names of her doctors or even the place in which she labored, though the release of the birth certificate reinforced the popular assumption she was taken to London's Portland Hospital in the dead of night mere hours before Archie Harrison Mountbatten-Windsor's May 6 arrival after attempting a home birth at Frogmore Cottage, their newly refurbished Windsor flat.
Keeping such details close to the vest has been an intentional decision for the pair. "They want to be in control when it comes to managing the media," a source told Vanity Fair. "They have also agreed they want their son to have an ordinary childhood, not one lived out in the public spotlight."
For the couple, celebrating the one year anniversary of their groundbreaking nuptials today, that meant keeping the world waiting just a few extra days, until their pre-arranged May 8 press call with a handful of select outlets. And while the new mom, 37, looked no less radiant than Kate, she made it a point to wear a knotted Grace Wales Bonner trench dress that accented her still-deflating bump as if to remind everyone that this is what normal looks like mere days after creating a human. (Minus the fact that she wasn't in sweats and appeared to have been tended to by a team of skilled makeup and hair professionals.)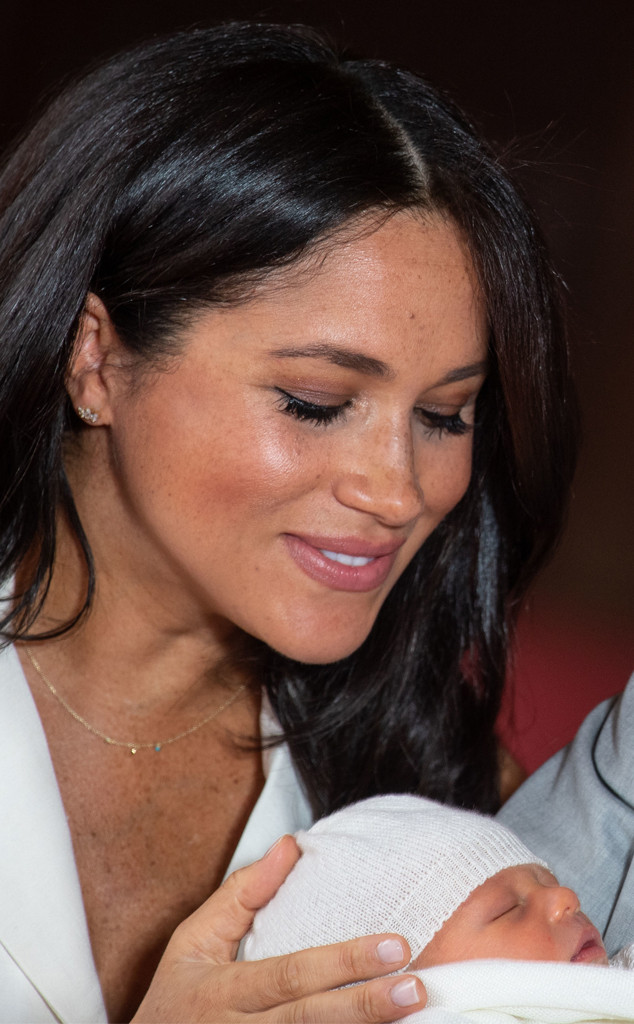 Dominic Lipinski/PA Wire
Of course there's very little that's normal about being wed to a prince sixth in line for the British throne. The Duke and Duchess of Sussex are destined for a life in the most glaring of spotlights where every move they make is celebrated and dissected in equal parts and it's not as if either of them has the option of holding down a standard 9-to-5.
But unlike his big brother Prince William, whose future as the presumptive King of England has been laid out since birth, "spare heir" Harry has always been afforded a bit of flexibility. For the 34-year-old and his bride that has translated into some boundary-pushing, finding ways they can mold their roles to suit their own sensibilities.
And while a Sunday Times story about the couple moving overseas to Africa for several years, combining their charitable interests on the continent with their roles as Commonwealth ambassadors, proved to be exaggerated, subsequent reports suggest the two very much intend to spend a large chunk of their time out of the country.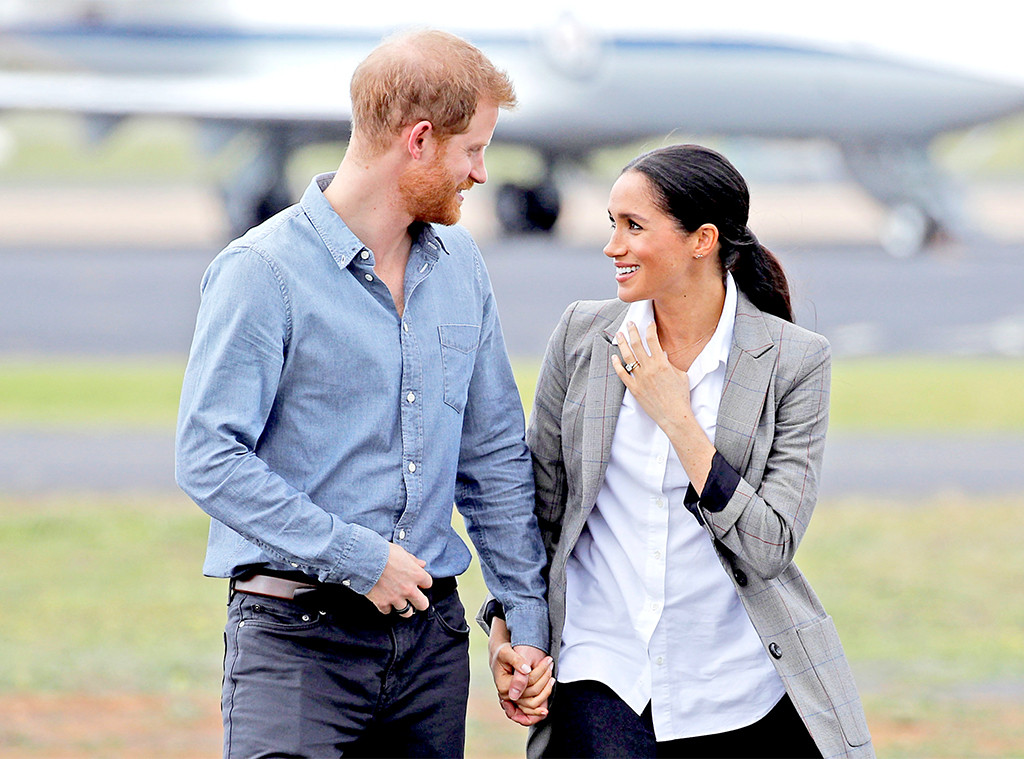 Getty Images
"They are thinking about the future," one source told Vanity Fair. "Harry was always referred to as the spare, but he's not the spare any more. This is about him and Meghan finding meaningful roles for the future. It's about Harry redefining his role and him and Meghan finding a new role in the Royal Family and creating their own place in the institution."
For the past several months, they've been working to carve out their own slice of The Firm, starting their own Sussex Instagram account, along with their own office, to be based miles away from William and Kate's Kensington Palace outpost. They even made a play for full autonomy, until Queen Elizabeth II determined it'd be better to have them folded under her Buckingham Palace jurisdiction.
Though interest is nowhere close to waning for Harry and his bride, he seems well aware that there's always other royal stars on the horizon. As he put it to biographer Angela Levin in a 2017 interview with Newsweek, "I feel there is just a smallish window when people are interested in me before [William's kids] take over, and I've got to make the most of it."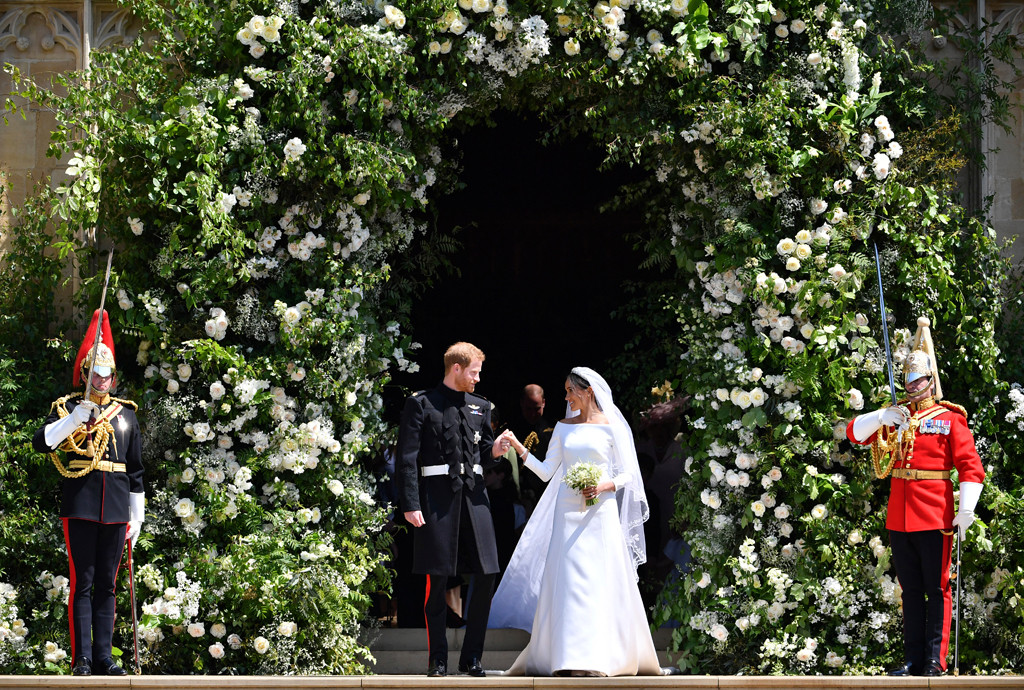 Ben Birchhall/pool photo via AP
Markle and her man haven't let up since. Whether avowing himself as a feminist during an engagement in Birkenhead or penning motivational words onto bananas set to be delivered to sex workers and women dealing with addiction and homelessness, the couple continue to bump up right along the border of views that royals are permitted to publicly hold. (The Queen, for example, made it a point to be behind the wheel of her Land Rover when the Crown Prince of Saudi Arabia visited her Balmoral estate in 1998, nearly two decades before women in his country would be permitted to drive, but would never express her opinions on political matters such as abortion or Brexit.)
They lean over barriers to dole out hugs to the hordes that gather for their walkabouts everywhere from Nottingham to Australia's Bondi Beach and, on occasion, fly directly in the face of the unspoken no selfie rule.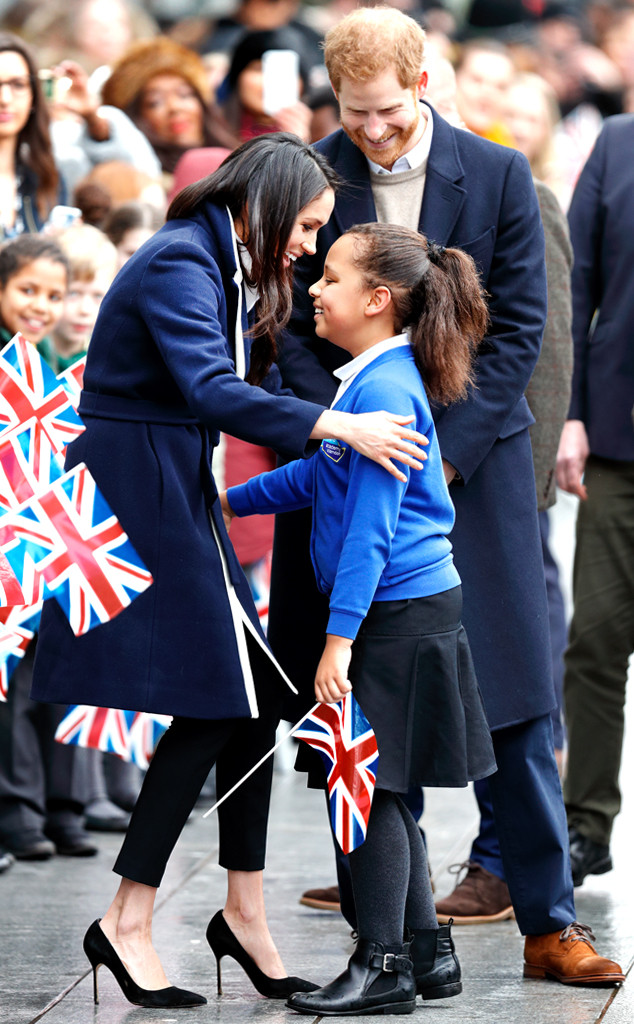 Max Mumby/Indigo/Getty Images
Like Diana, who went a long ways in changing views towards AIDS patients when she reached her ungloved hand out to a man stricken with the disease in the late 80s, they trend toward issues that are largely stigmatized. At an International Women's Day panel put together by the Queen's Commonwealth Trust in March, Meghan spoke about the lack of access to sanitary pads for young women in certain developing countries.
"At the end of the day, we're doing our part just to normalize the conversation," she said, per The New York Times. "That's the first step. This is 50 percent of the population that's affected by something, that can also end up creating the most beautiful thing in the world. So it's a strange one that it's ended up becoming so stigmatized."
Her thoroughly modern take, left those at the gathering impressed. "I can say, growing up in Britain, if a member of the royal family had talked about periods 10 years ago, I think I would have fallen off my chair," journalist and panel chairwoman Anne McElvoy told the paper. "I think she has kind of moved the dial. I think the rewards now very clearly outweigh the risks."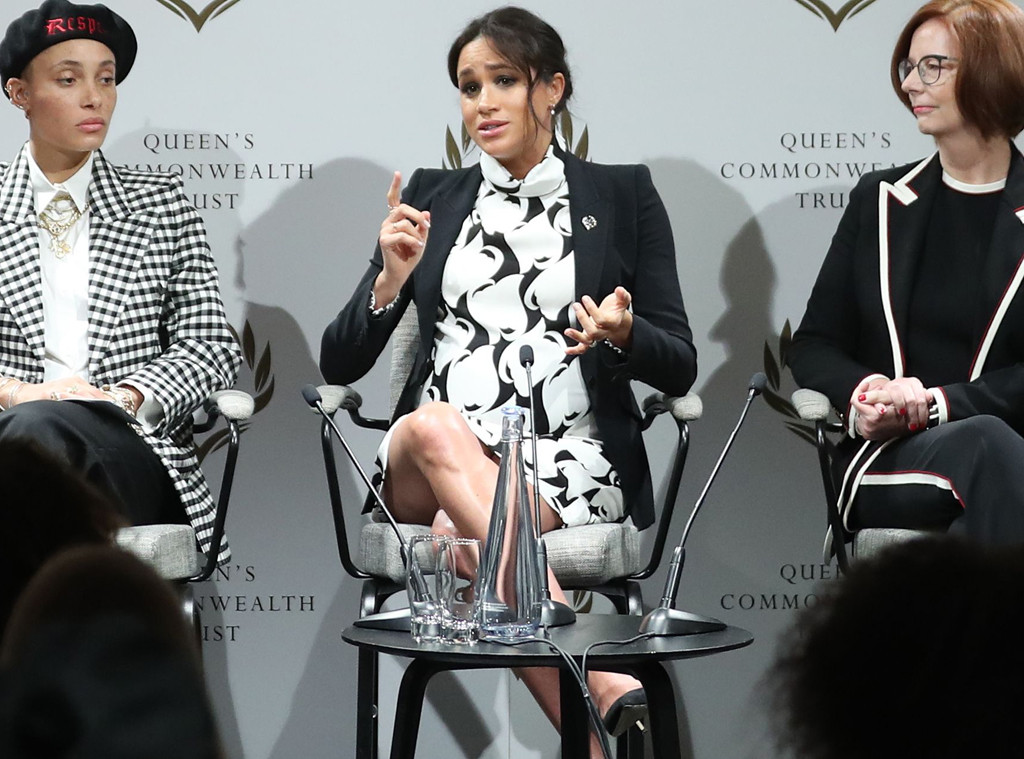 DANIEL LEAL-OLIVAS/AFP/Getty Images
Together, she and Harry have also highlighted organizations that, as they put it on their Instagram, "promote mental well-being, mental fitness, body positivity, self-care, and the importance of human connection."
Africa represents another shared interest. Harry, who based his HIV charity Sentebale in Lesotho and Botswana, spent some two months doing conservation projects in the southern part of the continent. He also followed in his mom's literal footsteps, touring the minefields of Angola with Halo Trust, for which he's served as patron since 2013, while Meghan was part of a clean water initiative in Rwanda in 2016.
As such it seems entirely likely the couple will plan an extended stay or multiple visits to various countries in the continent.
"It was always Meghan's dream to spend time in Africa because of her roots. She has always wanted to be a humanitarian who travels around the world and she's loved for that in the States," an insider told Vanity Fair. "My experience of her was that being a respected humanitarian really mattered to her. She's got her pick of where to go now and which charities to work with, she didn't have that platform as much when she was a celebrity."
Source: Read Full Article