The Lords of HBO have handled that rogue coffee cup the same way Game of Thrones has been handling all its problems lately: by giving it a quick, untimely death.
As we reported, fans couldn't help but laugh during a scene in Sunday's episode when a disposable coffee cup was seen resting on a table next to Daenerys Targaryen. 
The unexpected beverage — which, according to GoT Art Director Hauke Richter, was from a local coffee shop in Banbridge, Northern Ireland — appeared for just a second during the beginning moments of The Last of The Starks, as the heroes of Winterfell were celebrating their victory against the Night King's army.
It was an unfortunately timed cameo, too, as the modern drink was seen in the middle of an important sequence of shots hinting at at the long-feared possibility that Dany will go mad like her father. But instead of fearing for Dany's mental state, fans were driven mad over the fact that the acclaimed series would make such a lame mistake.
The premium cable network went on to acknowledge the infamous cup with an extra pump of humor, writing on Twitter that "latte that appeared in the episode was a mistake… #Daenerys had ordered an herbal tea."
When it came to handling the unplanned prop, however, HBO did not joke around. The network confirmed that the cup has now been edited out in the current episode available on HBO Go, and will not be seen in any encore presentations or streaming/DVD versions of the ep in the future.
So… R.I.P., Ser Latte of House Oh Sh*t, Who Left That There?. You caffeinated your Queen with honor.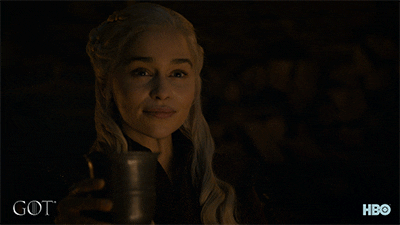 Sadly, Ser Latte's appearance was one just one of the issues fans had with The Last of The Starks. Many took to social media following the episode to vent about the twists and turns that took place in setting up #TeamDany against #TeamCersei in the final battle.
Directing their anger towards show-runners David Benioff and Dan Weiss, fans couldn't believe how poorly Dany, Jon Snow, and their advisors planned the storming of King's Landing. As viewers remember, this led to their ships getting ambushed by Euron Greyjoy's fleet — resulting in the arguably preventable deaths of two beloved characters.
Seeing as this is the actual FINAL battle of the series, fans argued that Dany's advisors (which includes the supernaturally clever Tyrion Lannister) would have definitely taken the Iron Fleet into consideration — but, as Benioff said in the "Inside the Episode" clip, Dany and co. "forgot" about Euron.
Really? They just… forgot!?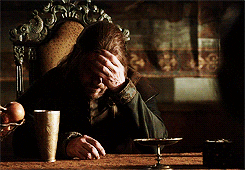 We wonder how George R.R. Martin feels about that plot device?
There were many more issues fans had with the episode… ironically, that coffee cup was pretty low on the list.
Source: Read Full Article