Minimalism is taking over the world. From tiny homes to capsulewardrobes, it seems like everyone wants to own less and enjoy life more.Even tattoo artist and entrepreneur Katherine Von Drachenberg, better known asKat Von D, is embracing the minimalistlook. It's just not in the way you might expect.
Read on to find out why Kat Von D has gone minimal withtattoos and why her fans have mixed reactions about it.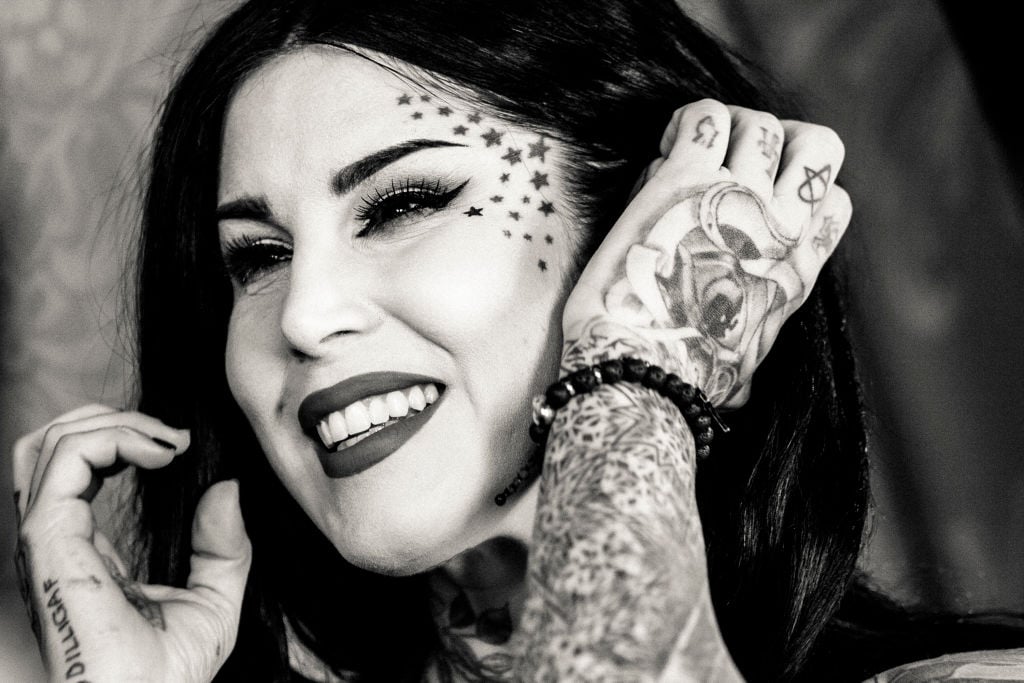 Kat Von D is known for her body art
Most fans are familiar with Kat Von D from her hit TLC reality show, LA Ink, which ran for four seasons beginning in 2007. Von D is also famous for her cosmetics line that launched in 2008.
But perhaps the most distinctive feature on this stunning Mexican born model and television personality is her extensive canvas of tattoos all over her body. Over the years, Von D has acquired hundreds of different designs. But her latest tattoo is getting lots of negative press.
She just acquired a controversial 'blackout tattoo'
A blackout tattoo is just what it sounds like. Usually usedto cover old art, they cover large portions of the body in solid black ink.Tattoo lovers praise the minimalistic design and unique look. Plus, they appreciatehow it's much easier and cheaper to get a blackout tattoothan it is to go through painful laser procedures to have old ink removed.
Kat Von D covered old tattoos on her arm with a blackout tattooand shared the result on Instagram. "I'm so inlove with my new blacked out arm tattooed by @hoode215!" she said. "Can'tbelieve it only took him 1.5 hours – and it's the most consistent, true black Ihave ever seen!"
Fans didn't love the new look on Kat Von D
Assoon as Kat Von D shared the photo of her new ink, fans flocked to the commentsto express their opinions. "Why would you do that your skin is so pretty why would you coverit up with black ink like that?" one user asked. "No hate though I'mjust curious."
Another agreed, saying:"That is horrid, but to each their own."
But it wasn't just haters sharing their thoughts on blackout tattoos. Von D also had plenty of support from her tattoo-loving followers. "Looks amazing what did you have covered. I am thinking about doing this too love it," one tattoo enthusiast said.
She doesn'tcare what you think
Ultimately,it's Kat Von D who has to live with the artwork on her arm and she doesn't haveany sympathy for all the hater comments.
"I do love sharing and giving the world a window into aspects of my life — especially when it involves something/someone that inspires me," Von D shared in a follow-up post. "But just because I choose to share my experiences, it shouldn't be an invitation for such negativity."
"Yes, I did decide to black out a large portion of old, crappy tattoos on my arm that I posted yesterday, and regardless of what people might think about it, I absolutely LOVE how simple and clean it looks now."
She concluded: "So, to respond to a lot of the noise that clogged up my comment section in my last post: No, it doesn't matter that you don't like the way my arm looks. To each their own."
Well said, Kat Von D!
Source: Read Full Article