Miley Cyrus, Ariana Grande, and Lana Del Rey just dropped their new "Don't Call Me Angel" video for the upcoming Charlie's Angels soundtrack, and obviously you should stop what you're doing and watch it. Mostly because a) LANA DEL REY IS AN ACTUAL ANGEL, and b) people are *convinced* it's full of Liam Hemsworth shade.
Ya see, here's the thing. As we've already established, the name of this song happens to be "Don't Call Me Angel," and fans just made the !!!!!!! realization that Liam Hemsworth's nickname for Miley Cyrus was, in fact, angel.
Like, dude has called her this multiple times on Instagram. It's a thing.
Miley and Liam separated because he calls her angel all the damn time #DontCallmeAngel pic.twitter.com/GwlbWWqxft
Liam Hemsworth used to call Miley Cyrus his "little angel". OMG #DontCallmeAngel pic.twitter.com/tpw2DkMe95
Of course, it seems like a reach to assume Miley planned the name of a three-person collaboration all in the name of shade, but crazier things have happened. Please see: Miley and Liam's entire breakup narrative thus far. And on top of the whole angel nickname thing, fans also think the guy in the video with Miley is a Liam lookalike:
For a second I thought miley was beating up liam lmaoo #DontCallmeAngel pic.twitter.com/9owwlbXhb4
lol why i feel miley part is for liam hemsworth 😂 #DontCallmeAngel pic.twitter.com/K3jKINYV3l
In case you need some context here, Miley and Liam split up just a few weeks ago—on the same day that photos of Miley and Kaitlynn making out in Italy were published online. Since then, Liam has filed for divorce, Miley's come out with an extremely pointed breakup song called "Slide Away," and she and Kaitlynn are literally living together. It's been a lot!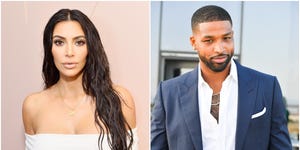 Source: Read Full Article