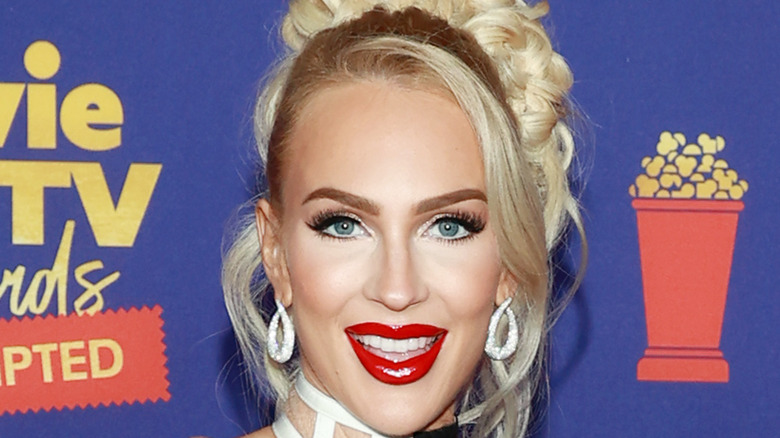 Matt Winkelmeyer/2021 Mtv Movie And Tv Awards/Getty Images
By Angela Andaloro/Aug. 24, 2021 12:55 pm EDT
Christine Quinn is on Netflix's "Selling Sunset" to do two things: serve fashion and serve drama. She dishes both up deliciously, making her the personality everyone loves to hate. Quinn emerged as the show's strongest personality from the very beginning and offers few (if any) apologies for her over-the-top antics.
Quinn admitted she wasn't thrilled with getting the villain edit in the show's first season. "As I was watching season one, there were a lot of surprises. There were a lot of fed lines. One of the lines that I didn't want to say was, 'Bitch doesn't even cook!' That became a really popular line," she told Nylon. "I guess I'm glad I said it, but I don't want people to think that's the way I talk to my clients because I don't. I was really, really surprised going back watching things because they really did me dirty."
Here are some of Christine Quinn's most memorable moments on "Selling Sunset."
In Season 1, there was drama between Christine Quinn and Chrishell Stause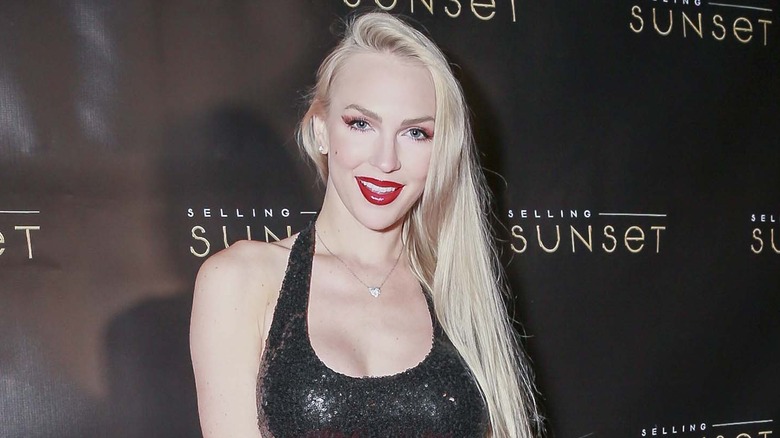 Chrishell Stause's entrance into the Oppenheim Group definitely shook things up. It wasn't long until Stause and Christine Quinn found themselves at odds. Stause made a joke about Mary Fitzgerald's upcoming nuptials, which she was told were out of nowhere (per Radio Times). She suggested that Fitzgerald should get a prenup, a joke which was immediately taken back to Fitzgerald as some serious, pointed commentary. 
Quinn found Stause "fake," and Stause found Quinn's sharp tongue to be particularly unfriendly where she was concerned. Quinn was hurt, however, to see her one-time bestie, Fitzgerald, ready to comfort Stause time and time again, even though she was the original subject the two fell out over. 
This set the scene for Quinn and Stause's constant conflict, which really drives the action in the following seasons of the show. Season 1 also set the stage for Quinn as the show's style icon, with fashion choices that have left fans wanting more.
Christine Quinn cemented her GOAT status during Season 2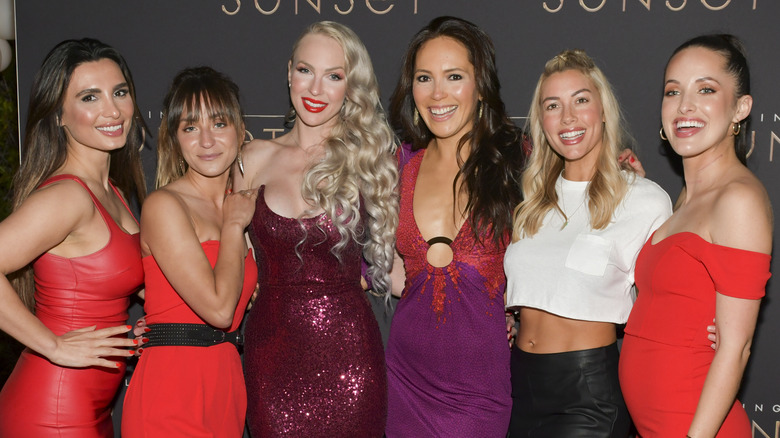 Season 2 of "Selling Sunset" saw the ladies of the Oppenheim Group return from a little time apart. Christine Quinn returned in a relationship as fabulous as her wardrobe after being swept off her feet by Christian Richard. A former tech entrepreneur, Richard is dedicated to as decadent a lifestyle as Quinn, so it's no surprise the two were traveling the world together (per Refinery29). They got engaged along the way, but this season is all about Mary Fitzgerald and Romain Bonnet's nuptials.
The drama between Quinn and Chrishell Stause picks right back up. Stause tells Quinn she wants to interact with her as little as possible, rehashing the past season's drama and getting a hint of an apology from Quinn (per Cosmopolitan ME). Stause opts out of Quinn's opulent engagement party, deciding to send flowers instead. 
Quinn finds herself fighting over and trying to repair her friendship with Fitzgerald, which blows up into one of the season's biggest fights. Quinn and some of the other ladies attended a bachelorette party for Fitzgerald, but things get messy when they see photos of what appears to be a second bachelorette they weren't invited to. This exposes all the problems Quinn and Fitzgerald have had through Seasons 1 and 2, but they're able to move past it.
Season 3 features Christine Quinn's wedding front and center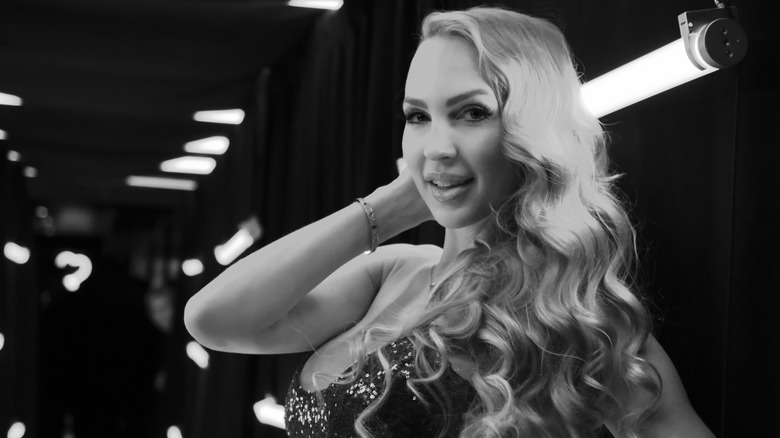 Christine Quinn's star status was cemented in "Selling Sunset" Season 3, which followed the build-up to her breathtaking gothic-style wedding. The season begins with Quinn's birthday party, during which she proclaims that she "doesn't like drama" (per Cosmopolitan ME).
The show goes on to highlight perhaps her most brilliant professional moment, a burgers-and-Botox-themed open house where she had hamburgers served in "Quinn N Out" boxes (per Refinery29). During the same episode, Quinn steps on co-star Davina Potratz's toes when she jumps on her $75 million listing, even bringing her mega-money fiance to come see it without giving Potratz a word's notice. Potratz does call her out, but Quinn is relatively unbothered and only mildly apologetic.
As Quinn got ready for her gothic winter-wonderland nuptials, she also commented on the dissolution of co-star Chrishell Stause's marriage. She and Potratz speculated on what Justin Hartley's reasons for divorcing Stause were, suspecting she wasn't as blindsided by the move as she let on. This all came to a head when Potratz confronted Stause about it at Quinn's wedding, but she was too busy being a chillingly beautiful bride to be involved.
In Season 4, Christine Quinn became a mom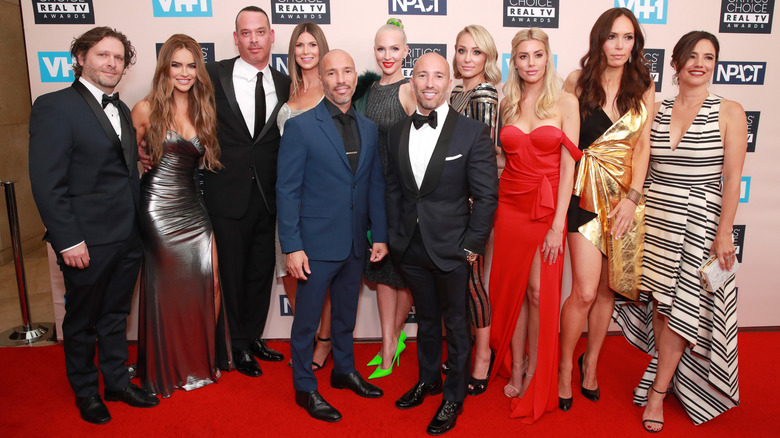 Christine Quinn has a lot to share with fans in Season 4 of "Selling Sunset." In May 2021, Quinn became a mom, welcoming her first child with husband Christian Richard, a baby boy named Christian Georges Dumontet (per People).
Quinn is also opening up about her life and success in an upcoming book, "How To Be A Boss Bitch" (per House Beautiful). "Something super exciting is coming and I've been holding it in forever. I can finally announce that it's official. I'm a writing a book!" Quinn announced on her Instagram. The book is set to be "part memoir, part manifesto calling for women to stop apologizing for who they are, what they want and how they look."
Professionally, Quinn is seeing some big changes, too. There will be two new ladies joining the Oppenheim Group for Season 4, which is sure to shift the office dynamics. Oh, and did we mention that Quinn's in-office enemy, Chrishell Stause, is now dating boss Jason Oppenheim? Looks like it'll be a juicy season!
Source: Read Full Article