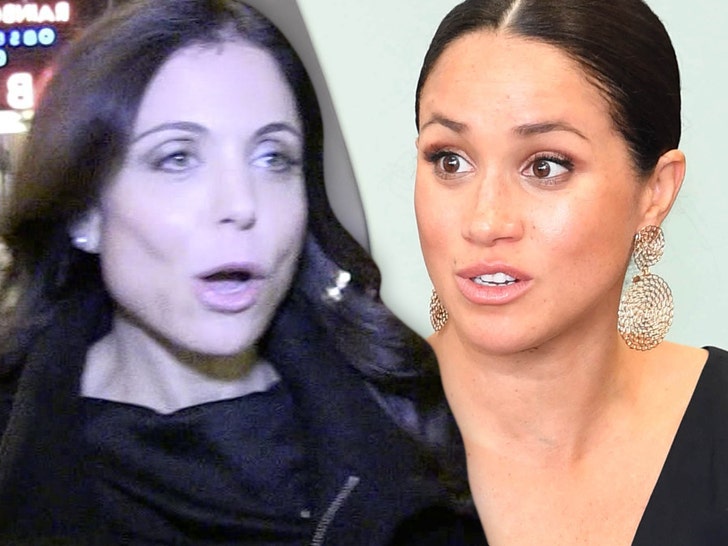 Meghan Markle's struggles adjusting to Royal life are getting ZERO sympathy from someone in the 'Real Housewives' world … that'd be Bethenny Frankel, who's got choice words for the Duchess.
The 'RHONY' star absolutely shredded Meghan Sunday just hours before her tell-all interview with Oprah was set to air on CBS … invoking Justin Timberlake in telling her to take her woe-is-me moment and basically shove it.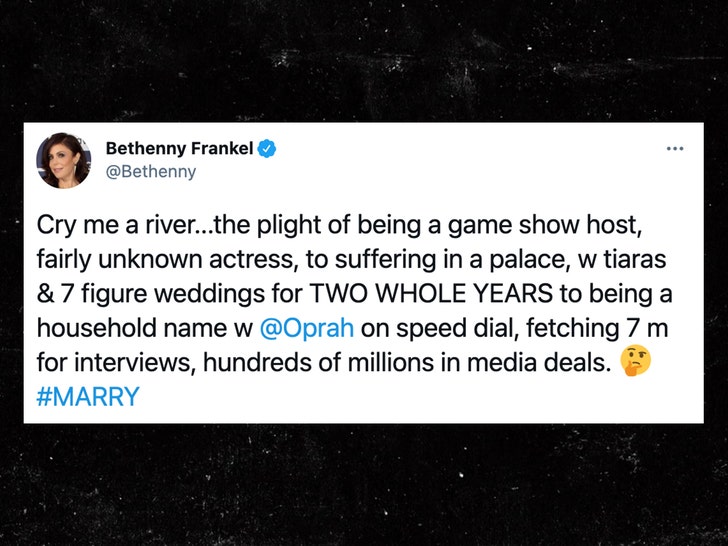 Bethenny writes, "Cry me a river…the plight of being a game show host, fairly unknown actress, to suffering in a palace, w tiaras & 7 figure weddings for TWO WHOLE YEARS to being a household name w @Oprah on speed dial, fetching 7 m for interviews, hundreds of millions in media deals. Thinking face #MARRY"
On Saturday, Bethenny aired out even more of her grievances over the coverage the interview was getting … saying, "Not since @MonicaLewinsky interview, have people been obsessed with a young female interview like this #MARRY interview. Remember the famous lip gloss?"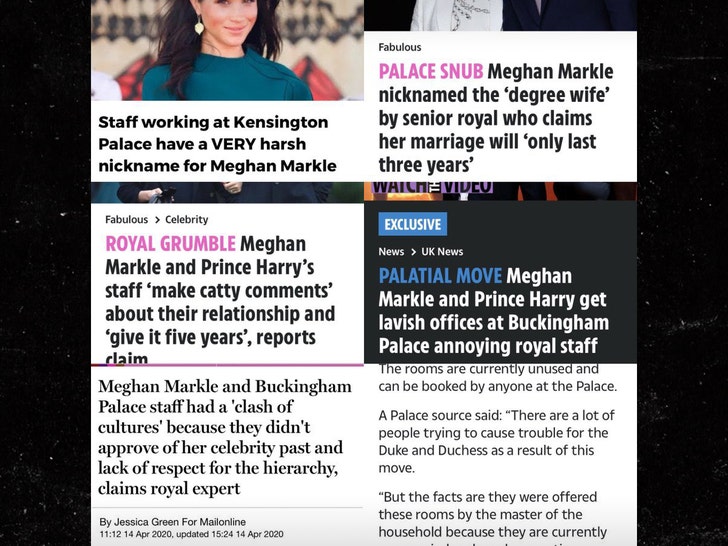 Someone replied to her with a collage of headlines past about how her staff had reportedly been catty towards her right out the gate … and that's what set Bethenny off anew.
She continued with her tirade, going on to say she gives Harry a break here — as she doesn't feel he's the one pulling the strings for all this press the couple is now receiving … something he's repeatedly said he's not a big fan of in light of what happened to his mother, Diana.
BF ended her thoughts with one last apparent shot at Meghan, writing … "I chose reality tv, to work towards making $, to be scrutinized & criticized. I took the trappings & the beatings along with it. It's a rose w petals & thorns. People beg to enter the often toxic institution I signed up for. That WAS the life I chose. You can't play stupid & smart."
Tell us how you really feel, Beth.
Source: Read Full Article