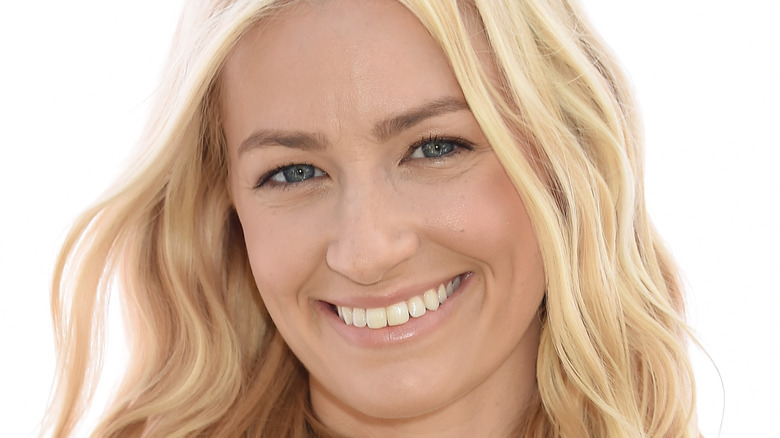 Audiences first fell in love with Beth Behrs when she was cast on "2 Broke Girls" as heiress-turned waitress-Caroline Channing. On the highly adored sitcom, which aired for six seasons, she captured our hearts for her sweet, yet spunky demeanor alongside her equally lovable partner in crime, Kat Dennings. (And in case you were wondering, the dynamic duo is just as close in real life and gives us major friendship goals.)
After getting her start on that fan-favorite series, which saddened us all when it ended abruptly in 2017, Behrs went on to work on another now-hit sitcom. On "The Neighborhood," which will be airing its fourth season this fall, the versatile actress has come a long way from her days playing a single twentysomething, and now dazzles on screen as Gemma Johnson, a doting mom with a second baby on the way.
We sat down with Behrs over Zoom to discuss her latest project, a partnership with Woodbridge Wines and Major League Baseball, which combines her two loves: baseball and vino. The blonde beauty also regaled us with behind-the-scenes on-set stories, dished on whether or not she'd do a "2 Broke Girls" reboot, and gushed about how she met her husband, actor Michael Gladis. 
When she's not acting, Behrs, now 35, devotes her time to meaningful side projects. Besides her new wine-baseball collaboration, she hosts a podcast, just sold her first screenplay, and oversees the nonprofit she founded that helps survivors of abuse through equine therapy. 
Beth Behrs is a huge fan of baseball and wine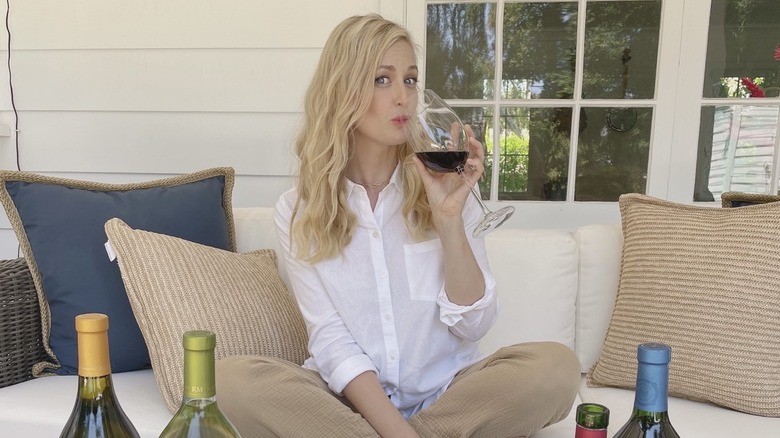 So how did your partnership with Woodbridge come about?
Well, it's because two of my favorite things are coming together: wine and baseball. Woodbridge Wines is now the official wine of Major League Baseball, which is so huge. I'm so excited that I can now go to a game and crack open a Sauvignon Blanc and we're also celebrating firsts this summer. So, it's the first time we're all going to be back together, being able to see a baseball game live, or if you're not comfortable going live, you can have gatherings again and watch parties. And so, Woodbridge Wines is really about the excitement behind the fact that we can all celebrate these firsts together again. And I'm also teaming with them to curate some incredible giveaways, like what I would want … wine accessories meets baseball accessories in these giveaway packages. So coming up in the next month, keep an eye on my Instagram and Woodbridge Wines, because there's going to be some incredible giveaways.
What can you tell us about the giveaways so far?
Well, they're also doing giveaways to be able to meet your favorite players, meet-and-greet favorite players and win tickets to the All-Star Game, which will be the first All-Star Game back as well. And then mine is going to be … curated wine accessories with sort of your team swag's logo and things that you can bring with you to a gathering or to the baseball game to enjoy. And the cool thing about Woodbridge that I love, because I'm an equal-opportunity wino, I love all wine, but I was just thinking, I have this Sauvignon Blanc next to me and I was just thinking…
What's your favorite type of wine to drink?
Well, that's what I was going to say, is usually I'm a red girl, like a Pinot or a Cab, kind of my vibe. But for this, now that Woodbridge is going to have these Sauvignon Blancs and Chardonnays and white wine at the game, I am thinking that when I go to a baseball game, I think I'm going to be a white wine drinker. It's crisp. It's summer. Change it up. Feels bougie and exciting to be drinking wine and also watching baseball. [Laughs]
The Neighborhood actress is proud of the show's message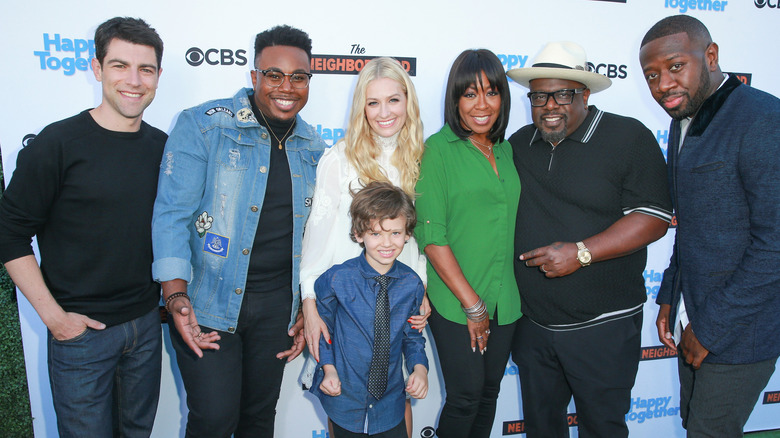 I read that you were from Pennsylvania and then you lived in California. So how did you become an Orioles fan?
Yeah, so I grew up actually … We moved a lot. I was born in Pennsylvania, but really my whole childhood was mostly spent in Virginia. And my grandparents lived outside of Baltimore and my aunt and uncle and cousins. So every summer we were up there. So Camden Yards is where I grew up. My dad took me to Camden Yards, because we lived outside of Washington, D.C. and Camden Yards was close, and I grew up in the era of Cal Ripken Jr., Brady Anderson, Mike Messina. It was such … the '90s Orioles are still my favorite. I mean, I like the new Orioles as well, the current Orioles … that's kind of been my team since I was a kid.
Oh, interesting. My sister went to college at Loyola in Maryland.
Oh, I'm very familiar. My uncle went there.
Oh, really? We're from New York. So I'm here now on the Upper West Side doing this interview.
Oh, nice. So you still stayed East Coast. Yeah, we moved to California when I was 15. So most of my childhood, though, was in Virginia.
So, let's shift to "The Neighborhood." So when did you have to stop filming that because of the pandemic?
We went down the day before we shot our finale last year for lockdown. So, I don't even remember, March something, when L.A. had gone full lockdown. So we didn't get to finish our finale episode last year, which was a bummer because we had already rehearsed and [were] ready to shoot it. But I got to say coming back was … I felt so safe. The crew had to adjust their jobs times 100. They worked so hard this year and kept all of us so safe and it was actually one of my most special, I think, years of being an actress, because I'll never forget working during this together. We just became so close as a cast and crew. It was very interesting to do comedy with a mask on all the time until you say, "Action." You're like, "Oh yeah, that's what Cedric the Entertainer's face looks like. I haven't seen you all week doing this scene and now …" So it was really … definitely an experience. And I'm just grateful that we get to come back again. I'm so lucky we're going to Season 4 and it's such an incredible group of people and I'm so proud of the message the show puts out and I'm just really excited to go back.
This is how Beth Behrs felt when 2 Broke Girls was canceled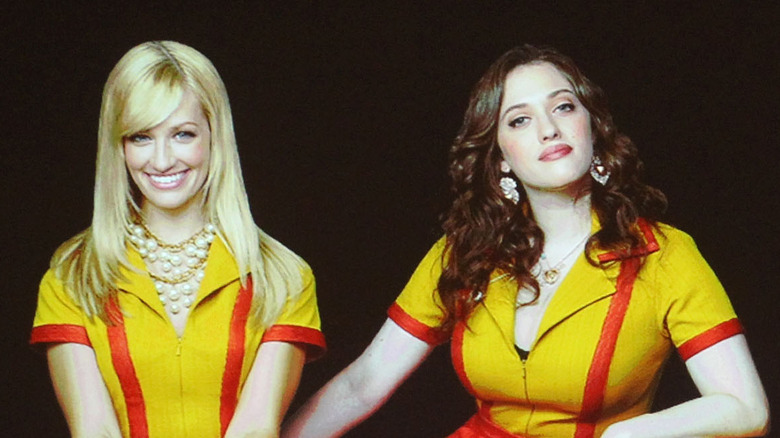 What can you tell us about Season 4?
Season 4 is very exciting. My character Gemma already has a child,­­ Grover, on the show, but her and Dave are pregnant with their second baby. So it's going to be really silly and fun to watch the Butlers and the Johnsons sort of deal with Gemma being pregnant and that whole new world is going to be really fun. And just getting to tell these stories. I hope we continue to do stories that have social impact, but also bring people together through laughter. I think it's really important. I'm proud of our show that we're able to address these very important issues, but then also do it in a way that doesn't feel preachy — that feels like it's about all of us coming together.
With COVID, you're not filming in front of an audience, right?
We're not filming in front of an audience, but they did hire a set group of 10 people that are sort of our audience every week, because we shoot with four cameras and we still perform it like a play. And so it is still nice to have this sort of audience reaction in real time and fun, because we really miss the energy, obviously … That's a bummer this year that we missed, but we got to go home earlier.
So going to "2 Broke Girls," since it never really officially ended … How did you feel when it was canceled and would you do a reboot of it?
Yes, of course! I mean, it was really sad. We were shocked, obviously, everyone was. Because you saw the season finale was not a series finale and I was recently watching the "Friends" reunion, and when you've been on a show that many years — and for Kat [Dennings] and I, it was pretty much our whole 20s and changed both of our lives in such a beautiful way. And there was something about not getting to thank the crew and say goodbye to those people who were with you during one of the most important times of your life, that watching that "Friends" reunion, I was crying the whole time, just thinking about how much I love the cast and crew of "2 Broke Girls" and how I wished we had had that way of… saying goodbye to the characters, being able to see what happened to Max and Caroline. But I still keep in touch with everybody. And actually half the camera crew is on "The Neighborhood." So I've worked with some of the same camera people since I was 24 years old and they've seen me grow up and they're sort of all uncles at this point and yeah, it's so nice.
Beth Behrs' husband is also an actor and was on this hit TV series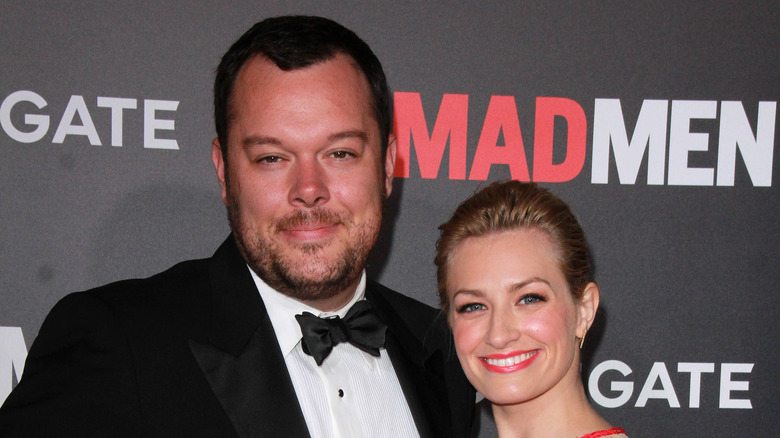 How often do you talk to Kat Dennings and keep in touch?
Pretty often! Through the pandemic, we haven't really been able to hang out, but through text, yeah. I was just talking to her the other day about our gardens, because she's the gardening expert. So she's been my go-to with trying to figure out issues in my own garden. I was like, "How do you sow a seed? What do I do?" [Laughs]
So do you have any funny on-set stories from your career that stand out?
Oh my goodness. There was one moment in "2 Broke Girls" where Lindsay Lohan was playing a bride or there was some … I feel like it was Lindsay Lohan's episode where there was a bridal dress and I was supposed to run after Kat in her dress, and I genuinely tripped in real life. Fell flat on my face and was trying to grab onto the end like that, and that ended up staying in the show. A lot of my clumsiness as Caroline was really just Beth in front of a live audience.
And same with "The Neighborhood," too. Especially with Tichina Arnold, my co-star on "The Neighborhood," she is such … We like to jump off the comedy cliff with each other and surprise each other. So there's definitely been times where I break. Jennifer Coolidge always used to make me break, laughing. Because I work with some of the funniest people in our business. So it's very difficult to keep a straight face, but basically a lot of the clumsiness that has stayed into the show, that's been pretty funny. [Laughs]
So your husband's an actor and was on "Mad Men." I read that you first met him at a party for the show, right?
Yeah, for "Mad Men." This was before … I think maybe "Mad Men" had only aired one episode. I had seen the pilot or something, but … I met him, yeah, through friends and have been with him ever since.
That's so nice. And I also saw in that same article that you got engaged in New York.
We did! We got engaged, yeah, in New York. It was awesome, because I was there doing a play for the whole summer and Michael knew how much we both love New York City. It's such a big part of our relationship as well. We spend a lot of time in New York, so it was very romantic.
When she's not acting, Beth Behrs devotes time to these projects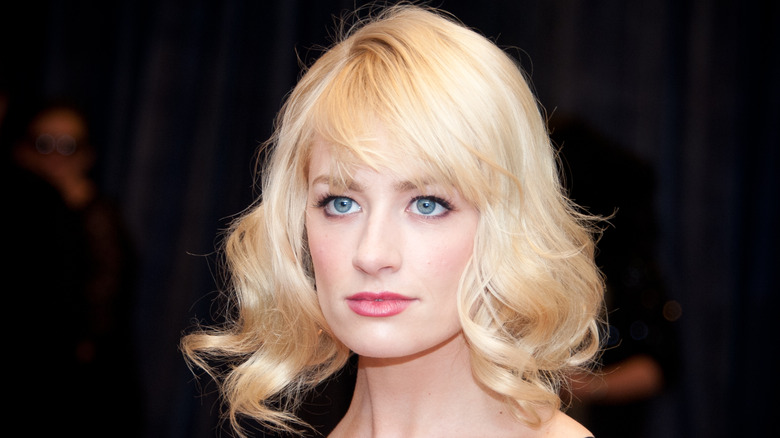 Tell us about your first writing project with "Wine & Crime."
Yeah, so, this has been a project that's been in the works for years. I met Cassie [Daniels] and Mark [Bartosic], my writing partners, actually through an audition I had and Cassie was like, "Have you ever tried to write?" Because I had improv'd a bunch of jokes at the audition and she was like, "We should write together." And it was just born from there and we thought it'd be really funny to watch a group of women that have a true crime and wine. Woodbridge Wine would go well with "Wine & Crime," this movie that we wrote, because it's about a true crime and [a] wine club, but then there actually is a murder in the town … So hopefully you'll see that in the near future. It's sold to Lionsgate and we're really excited. It's my first time selling a screenplay so it was a really big deal and I'm very proud of that.
And I also saw that you started a podcast [Harmonics] during the quarantine. So who have been some of your favorite guests on there?
Well, the best ever, Carol Burnett. That was a bucket-list moment for me. She's my comedy hero, always has been. So I got to have Carol Burnett to myself for a full hour and a half and talk to her and ask her all the questions I wanted to know. Brandi Carlile, Jewel, Abby Wambach, Glennon Doyle. I've gotten to talk to, mostly, creatives about their mental health and how creativity informs their healing. It was really important for me to do a show that wasn't just a normal interview format like we've seen, but that really got people to be vulnerable. And I realized in doing the podcast, that in order to get your guests to be vulnerable, I have to be vulnerable myself.
And so it's been a really cool, also, process for me exploring how creativity and healing have come together, even with the podcast, for me, and how I've been more open than I ever have been about my personal life on the show, in order to make my guests feel safe as well. And it's honestly been a passion project. It's selfish. I get to ask all my heroes like Abby Wambach … I grew up as a soccer player. So to be able to talk to Abby Wambach was just so cool, you know? I haven't had any baseball players yet, because it's all been women. But maybe Trey Mancini, because he's so incredible on the Orioles and everything he's been through with colon cancer and coming back, I would love to … Maybe he'd want to have a glass of Woodbridge Wine and come on the podcast.
Great idea!
Right? I know.
Beth Behrs is a fan of this television show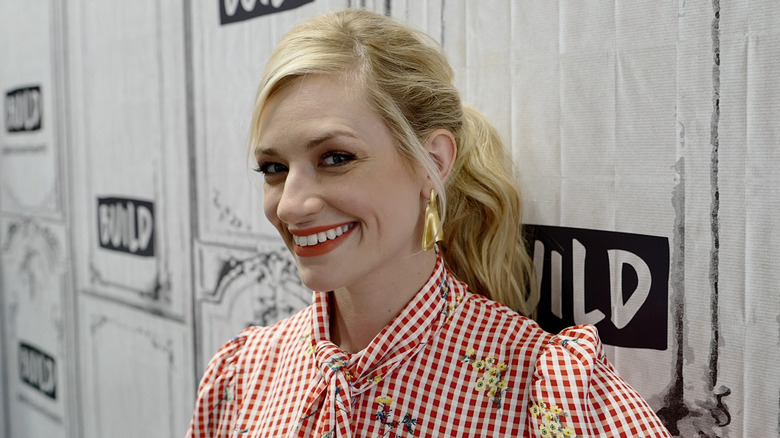 I heard on an interview that you're a "Bachelor" fan. I guess "The Bachelorette" too that means. Have you been watching Katie's season?
Okay, I'm very, very sad to say that I have not watched yet. It's all on my DVR. What do we think of it? Is it a good season? I haven't even …
Well, I like her. She has some good people to select from, so …
Oh, good. Okay, I'm excited. I haven't watched it yet, but I'm excited.
I actually interviewed Ben Higgins.
He was my favorite. I love Ben Higgins. He's so cute.
He's a really nice person. He actually wrote a book, so it was kind of a tie-in for the book. I mean, they called him "the Perfect Ben," but he really does seem pretty …
He is kind of "Perfect Ben." Seemed. On television. You never know. But, yeah.
I follow him on Instagram and from the interview, he seems really sweet.
I like that he has a lot of … I'm very passionate about nonprofits and charities and I just feel he does a lot of work for … He uses his platform for good.
Beth Behrs started this nonprofit because of her 2 Broke Girls character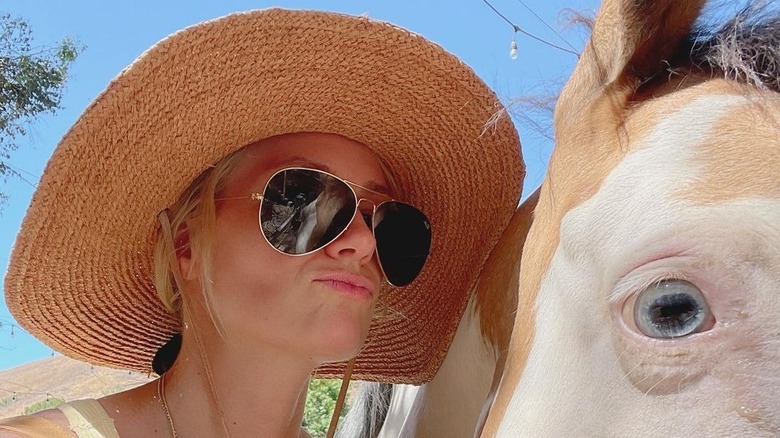 I was going to ask you about your nonprofit [She Herd Power] that started because you had a horse on "2 Broke Girls."
Yeah. I'm super passionate about … thanks to "2 Broke Girls," I just realized how healing horses were by being around them on set. I noticed I felt grounded and calm and so I really started exploring equine therapy. And then my sister and I partnered with this incredible equine therapist and we created a program for survivors of sexual assault and equine therapy. But the pandemic, it's been a little tricky to get people together again, but I hope in the future to continue that work. And however it happens, because I think pairing together survivors and animals, particularly horses, is a really beautiful way of healing that's not the traditional talk therapy, which can be really difficult. You get the healing by being in the presence of these huge beings and you don't have to do anything. It's a natural sort of healing and being in nature, as well.
So if you did come back to New York to do a show, what would be your dream role?
Oh, God! Oh man. This is super nerdy, but I love "The Sound of Music." I've always wanted to play Maria on Broadway. I know that Carrie Underwood did it on screen recently. They're doing a new "Annie Live!," and one of my dream roles has always been the Bernadette Peters role that she played, Lily St. Regis. So NBC, if you're listening to this interview, I'd love to be Lily in your "Annie Live!" But yeah, any musical, any Broadway show. I love the theater. So I'll come back to New York for pretty much anything.
Alright, good. So we'll see you in New York.
Yes.
Beth Behrs and Woodbridge Wines — the first official wine of Major League Baseball — are inviting fans to revel in the many "Celebratory Firsts" they'll experience again this summer. Be sure to check out WoodbridgeWines.com and follow @WoodbridgeWines on Instagram and @Woodbridge_Wine on Twitter to learn more about the "Celebratory Firsts" campaign and giveaway, and more.
Source: Read Full Article