The following article includes allegations of domestic violence, sexual assault, and murder.
When Kobe Bryant and eight others suddenly perished in a helicopter crash in 2020, the shock was proportional to the presumed immortality of the man. The Laker legend and five-time NBA champion's very name, "Kobe!" is, itself, a shorthand for taking and making any metaphorically difficult shot. But of course, it wasn't just Bryant's generational physicality that leveled him up to lionized status. It was the "Black Mamba's" so-called "mamba mentality" that set him above the rest. His personal philosophy was simple: Win at all costs. No fear. No hesitation. Take the shot.
Great athletes tend to have this personality trait in common. Where mere mortals doubt and falter under the glare of the eyes of the world — or even just a single bleacher half-filled with a smattering of high school peers — all-time greats shine when it matters most. Superstars like Bryant, and others on this list, have seemingly sought every opportunity to live out their legend ("Give ME the ball!"). But there's a catch: fearlessness and recklessness are two sides of the same coin, and it may sometimes be hard for the extraordinary to set limits. 
These legendary athletes awed us, but they also each caught a case of mortality, too. These sports stars found a moment where they couldn't rise above the laws or norms or expectations that can come for us all. The public gawked and gasped, but of course, most of them just kept shooting their shots. Here are some admired athletes who have done awful things.
Kobe Bryant's sexual assault case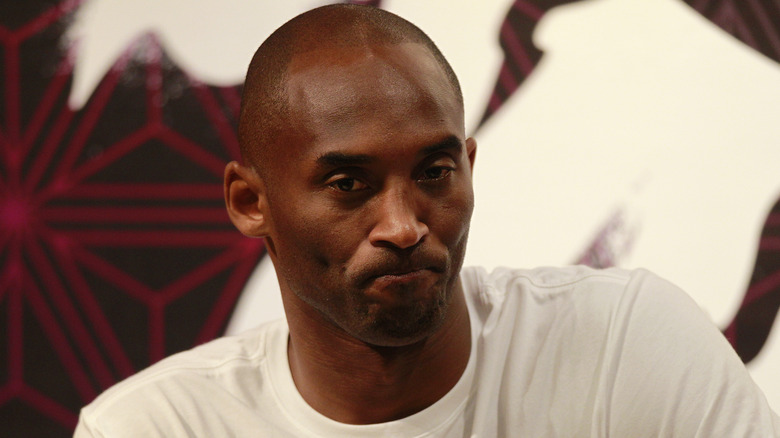 Perhaps the oddest thing about Kobe Bryant's 2003 rape case is that the NBA icon's own words seemed to be the most damning evidence against him. Police were called to his hotel room around 11:30 p.m., and Bryant initially said nothing happened — then described the encounter as "totally consensual," recaps The Daily Beast. His accuser claimed he'd choked her while forcing himself on her, and Bryant reportedly told cops that he'd had similar (albeit consensual) encounters while cheating on his wife. Referring to a "frequent" mistress named "Michelle," Bryant said, "She could actually testify I do that … I do the same thing, I hold her from the back." He even claimed he didn't complete the act.
Bryant had checked into a high-end resort in Colorado under a pseudonym. He was in town undergoing knee surgery, and his accuser was a 19-year-old who worked the front desk and stayed late when she found out Kobe was the mystery guest. She alleged that Bryant asked for a tour and, once in his room, became sexually aggressive, while whispering, "You're not gonna tell anybody right."
Prosecutors dropped the charges against Bryant in 2004, when his accuser refused to testify. With experts noting that her "credibility was hurt," the accuser's conditional agreement to dismiss the charges was a public apology from Bryant. He obliged, and the case was settled in civil court for an undisclosed sum in 2005.
If you or anyone you know has been a victim of sexual assault, help is available. Visit the Rape, Abuse & Incest National Network website or contact RAINN's National Helpline at 1-800-656-HOPE (4673).
Ben Roethlisberger was twice accused of sexual assault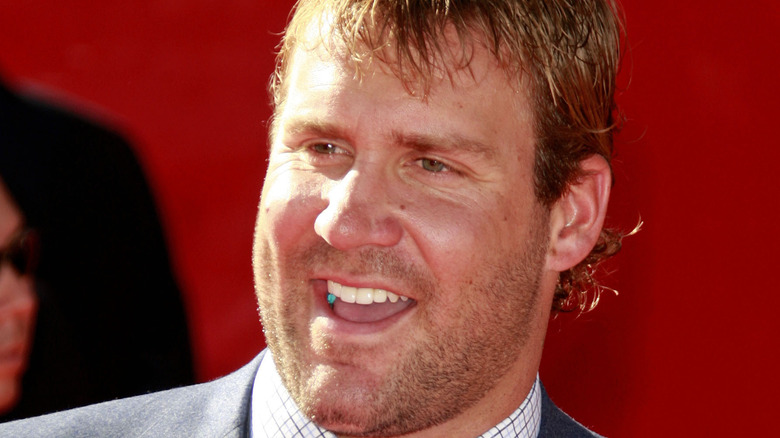 "Big" Ben Roethlisberger will never have to buy drinks in "Steel Town" as long as he lives. But Pittsburg's hall-of-fame bound quarterback also has as many sexual assault allegations as Super Bowl wins.
In 2009, a woman named Andrea McNutty claimed the star forced himself on her at a Harrah's hotel in Lake Tahoe, Nevada, and filed a civil suit in response. McNutty worked at the hotel and said Roethlisberger asked her to come to his room to fix his TV. That's when he allegedly grabbed her. Roethlisberger has maintained his innocence, and a co-worker of McNutty claimed she bragged about sleeping with him. However, McNutty alleged eight fellow employees were involved in a cover-up and asked for nearly half a million in the civil suit that was settled out of court in 2012. 
The following year, Big Ben met a college student at a club in Milledgeville, Georgia. Her statement to police alleged that the QB bought shots for her and her friends. His bodyguard then led her to a back room, where he allegedly entered, privates exposed. The anonymous women's friends also gave statements backing the allegations. However, the victim's attorney wrote the district attorney, asking him not to prosecute on grounds that a high-profile public trial would be a "very intrusive personal experience." Roethlisberger was suspended for four games, but was able to keep his Nike sponsorship. In 2015, the NFL star signed a record-breaking contract and was, says Forbes, the 11th highest-paid athlete on earth.
If you or anyone you know has been a victim of sexual assault, help is available. Visit the Rape, Abuse & Incest National Network website or contact RAINN's National Helpline at 1-800-656-HOPE (4673).
Jim Brown was accused of attempted murder and sexual assault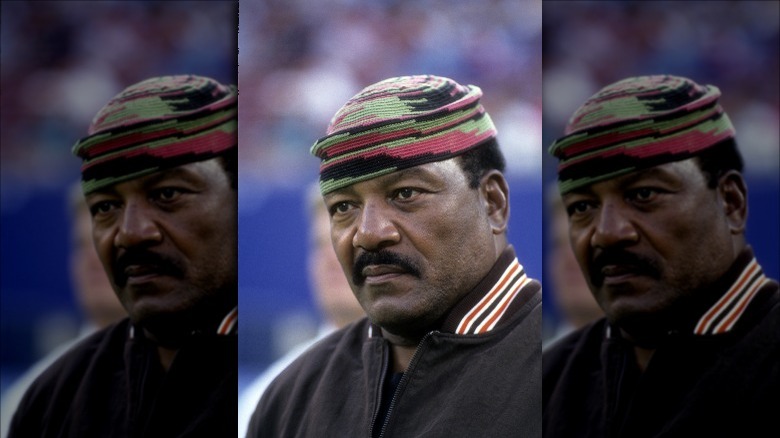 Jim Brown is among the greatest football players to ever live and parlayed that fame into a respectable film career. But he's also said the violence of the NFL is something he didn't quite leave in his past, admitting in 1981 (via Deadspin), "You got to have something, goin' out dealing with 270-pound lineman for a living. You quit playing, but that doesn't just go away."
In 1999, Brown's wife accused him of threatening to murder her. He refused court-mandated counseling and served four months in jail. But his voluminous rap tells the tale (via CNN): In 1965, he was found not guilty of beating an 18-year-old woman at a hotel; in 1970, another alleged assault went to trial; in 1978, he "chok[ed] his golfing partner" and got two years' probation; in 1985, he was charged with rape at his home; in 1986, he was "arrested for assaulting [his] live-in girlfriend."
Perhaps Brown's worst incident was in 1968. He was charged with attempted murder when a woman was found unconscious below his second-floor balcony. He then struck a sheriff who responded. The bedraggled woman refused to cooperate with police, and Brown got away with a mere fine of $300. Of his half-century of allegations of violence against women, Brown comes across in his memoir as regretful but not exactly repentant. "I have also slapped other women," he wrote (via the Los Angeles Times). "And I never should have … I don't start fights, but sometimes I don't walk away from them."
If you or anyone you know has been a victim of sexual assault, help is available. Visit the Rape, Abuse & Incest National Network website or contact RAINN's National Helpline at 1-800-656-HOPE (4673).
If you or someone you know is dealing with domestic abuse, you can call the National Domestic Violence Hotline at 1−800−799−7233. You can also find more information, resources, and support at their website.

Alex Rodriguez went from A-Rod to 'A-Roid'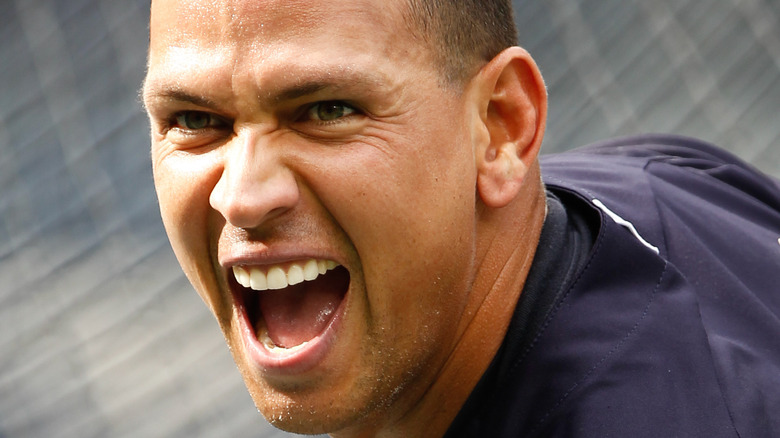 In retrospect, maybe everyone was a little hard on Alex Rodriguez. Steroids in baseball aren't exactly novel — roughly half of fans just assume juicing is an epidemic. But A-Rod didn't make it easier on himself. At the height of his steroid scandal, the Yankee great was widely dubbed "A-Roid." Part of this fall from grace was tied to his reputation as a "diva" in the clubhouse, who was reportedly deemed a "phony and hypocrite" by his teammates (via the New York Daily News) as the notoriously amorous slugger "tried to project an All-American public image while pursuing a swinger's lifestyle."
When the outspoken Rodriguez tested positive for steroids in 2003 and was later linked to a larger performance enhancing drugs (PED) conspiracy, baseball's highest-paid player's haters finally had something to latch on to. "What a hypocrite @Arod," tweeted former Met Jerry Blevins. "Take your steroids and make your millions THEN tell the players they need to change. What a joke."
Also not helping matters? A-Rod, like other PED cheats, spent a lot of energy lying about his use. Per NJ.com, he did this repeatedly, vehemently, and seemingly quite self-righteously, while even invoking his children. He finally came clean to the DEA in 2014, and then more publicly on "Undeniable" with Joe Buck three years later, (via USA Today). His regret was palatable: "How stupid can you be? … This thing cost me over $40 million. And it cost me my reputation, and it may have cost me the Hall of Fame and a number of other things."
Muhammed Ali was greatly unfaithful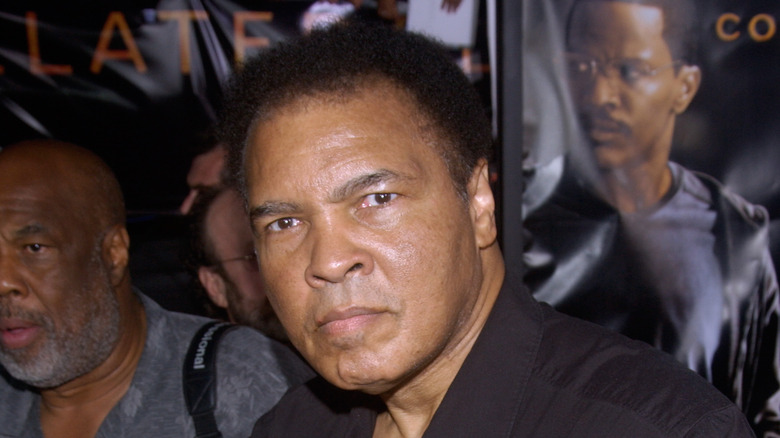 It seems as though "The Greatest" wasn't always the best husband. The NZHerald describes the four-times' wed heavyweight champ as a "serial adulterer whose private life was a train wreck."
Muhammed Ali certainly suffered the indignities of his era. He fought for basic civil rights and was banned from boxing for three years over his Vietnam War protest. But one benefit of the time was the press simply didn't harp on his sexual exploits. This topic was usually journalistically taboo, and Ali apparently  knew it, brazenly telling The New York Times, which did print his comments in the early 1970s, "I got three or four lady friends here. I can see some controversy if she was white, but she's not … They got me for the draft. They got on me for my religion. They got on me for all sorts of things. But they shouldn't be able to get on me for having a girlfriend."
Ali didn't hide his womanizing from his second wife, Khalilah Ali, either. She even knew when he got other women pregnant. Muhammed and Khalilah had children of their own, but she also took charge of running her husband's groupie caravan, who accompanied him to his biggest bouts. "I had to find women locked in my closets in my house," Khalilah told NBC Miami in 2019. "He had girlfriends, they had babies by him. I even brought them all to Africa. I had a briefcase with passports of everybody. I ran the whole show."
Ray Lewis was accused of murder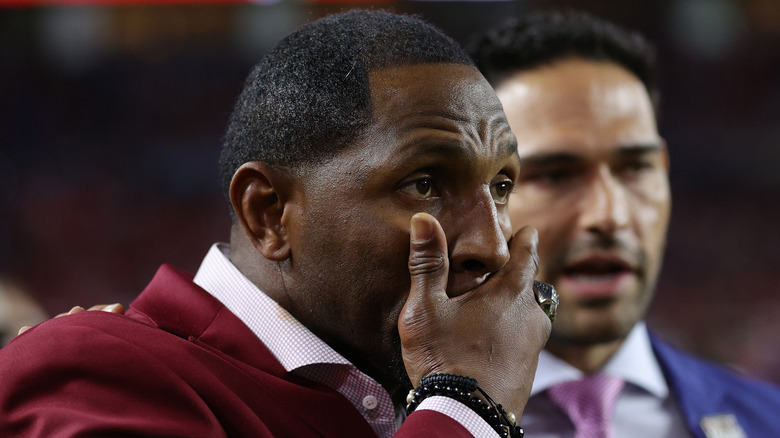 Maybe people were ready to believe Ray Lewis was a killer, partly because of the pure ferocity of his play. Even his in-game hype dances had a terrifying fast-twitch explosiveness: part war dance, part message to the other team that his hair-trigger energy was aimed at them.
In 2000, during his second NFL MVP year, then-24-year-old Lewis was charged with the fatal stabbing of two men outside an Atlanta nightclub, according to the New York Daily News. Around 4 a.m., a verbal beef started between Lewis' crew and another group. Per Grantland, a friend of the Baltimore Ravens star was struck with a bottle, and a brawl broke out. Lewis was reportedly seen exiting the club "very intoxicated." Some claimed Lewis had a knife, others were unsure. What is certain is two men were left dead, while Lewis' entourage made a speedy getaway as bullets screamed towards their fleeing limo. 
Lewis also allegedly lied to investigators and would be discovered with a receipt for the knife alleged to be the murder weapon. The trial was contentious and full of conflicting testimony. In the end, the linebacker struck a plea deal and testified against the two other men. The victims' families sued Lewis for $10 million, and the case was settled out of court for an undisclosed sum. Lewis was also fined by the NFL but would return to action for another decade of on-field excellence and retire in 2013, winning two Super Bowls and becoming a respected host of Showtime's "Inside the NFL."
Floyd Mayweather's history of repeated domestic abuse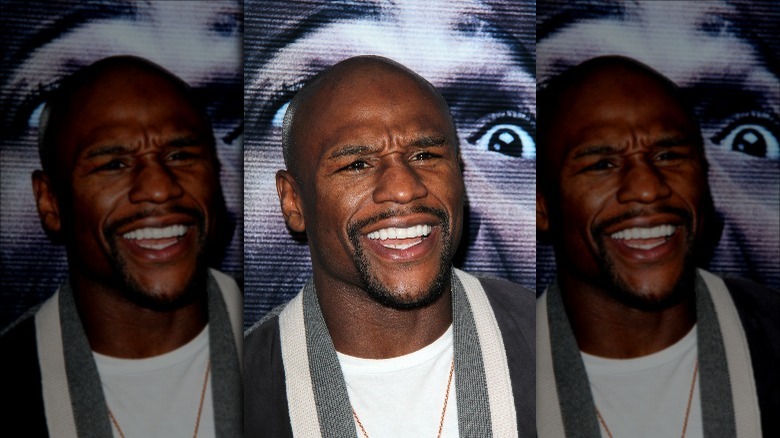 Floyd Mayweather is widely considered the best boxer to ever live. He never lost a fight. He never got knocked down. He was only even stunned a handful of times in his 50-fight career. "Money" Mayweather also employed an odd style that made him nearly impossible to hit, and when opponents missed, he used his legendary speed to make them pay. This defensive mindset slowed down fights and enraged fans, but Floyd embraced the role of heel. He seemingly didn't care if you tuned in to see him win or lose, just as long as you plunked down that sweet PPV cash.
Mayweather's personal life also made him a target of fan ire. In 2002, "He pleaded guilty to battery against the mother of one of his children … and received a suspended sentence," according to The New York Times. In 2004, he hit "two women … in a casino" — and again, no consequences. But 2012 saw his most serious charge. Per the outlet, "He beat the mother of three of his children, Josie Harris," and spent two months behind bars for "domestic violence and harassment" — after pleading down from more serious charges. 
During the incident, Harris claimed Mayweather "grabbed [her] hair and punched her" repeatedly. "I had bruises on my body and contusions and [a] concussion because the hits were to the back of my head," Harris told Yahoo! Sports. "I believe it was planned to do that … because the bruises don't show."
If you or someone you know is dealing with domestic abuse, you can call the National Domestic Violence Hotline at 1−800−799−7233. You can also find more information, resources, and support at their website.
Tiger Woods crashed and burned … again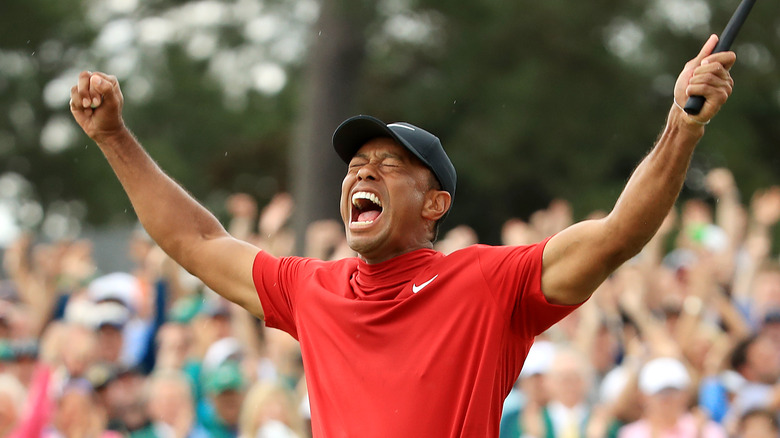 Tiger Woods hits golf balls so long and with such torque that it's taken a serious toll on his body. In 2004, he rebuilt his swing for the first of at least three major stylistic reconstructions. Unfortunately though, biomechanics can't be applied to his personal life, which has been publicly crumbling nearly as long as his aching lower back.
In April 2021, Woods got in his third major car crash — certainly not what the doctor ordered. Woods was doing 87 MPH — 45 MPH over the speed limit — when he crashed a 2021 Genesis SUV into a tree and rolled over. He severely injured his leg, but investigators said there was "no evidence" of intoxication and no charges were filed, despite his unsafe driving. 
However, Woods' most infamous crash and burn was in 2009, when then-wife Elin Nordegren discovered missives from other women on his phone as he slept, recounts the New York Post. Nordegren later reportedly assaulted Woods and chased him from their home with a golf club. The golfer jumped into his luxury SUV to escape, but immediately crashed and was left "bloody" and "unconscious" as neighbors witnessed Nordegren "smash[ing]" the car's windows with her club. The reason for her rage would soon come out: a long list of loves came forward, a supposed 121 different women. Woods would check into a Mississippi clinic that treats sex addiction, according to Us Weekly, but the divorce that followed still cost him $100 million, per TMZ.
Oscar Pistorius was convicted of murder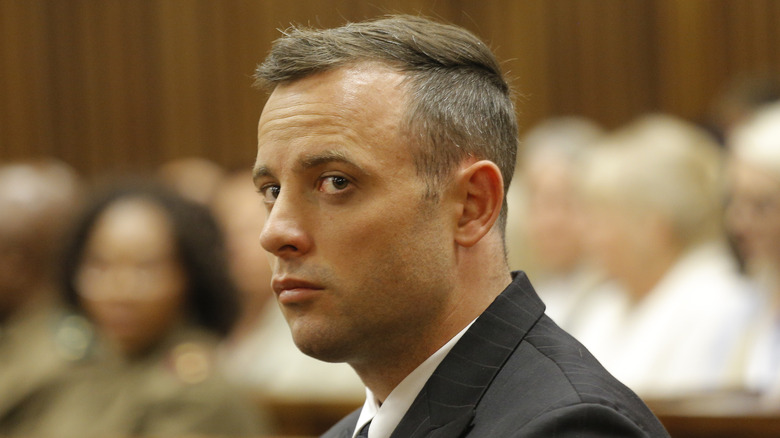 Dry-witted comic Norm Macdonald sat down with Conan O'Brien in 2014 and explained his issue with convicted murderer Oscar Pistorius. "I don't like him … never did … I don't have problems with the murder," Norm joked. "I feel one of the basic requirements of being a sprinter is having legs!" Um, yikes. The crowd and O'Brien both, sensing something politically incorrect afoot, pulled back. "It's still him running!" sidekick Andy Richter chimed in, before Macdonald retorted, with a twinkle in his eye, "Well, guys, I agree with you then: Oscar Pistorius is a scholar and a gentleman!"
This wry exchange spoke to how some felt about the once-inspiring "blade runner," born without lower legs, who in 2012 became the first double-amputee to compete in the Olympic games. On one hand, it's a triumph. On the other, it kicked off a debate as to whether the advanced technology attached to his amputated legs might actually be an advantage. 
The public would have to decide an even harder question when Pistorius shot and killed his model girlfriend, Reeva Steenkamp, on Valentine's Day 2013. Pistorius claimed he awoke vulnerable, prosthetic legs unattached, and mistook Steenkamp for an intruder, before firing four shots through a locked bathroom door, per NPR. A jury called this murder, and the trial and appeals process eventually ended with a 15-year prison sentence. Leaked messages between the couple revealed Steenkamp was "scared of [Pistorius] sometimes," but the missives were mostly "normal and loving," according to police (via Business Insider). As of this writing, a sensible motive remains elusive.
Kareem Hunt assaulted a woman on camera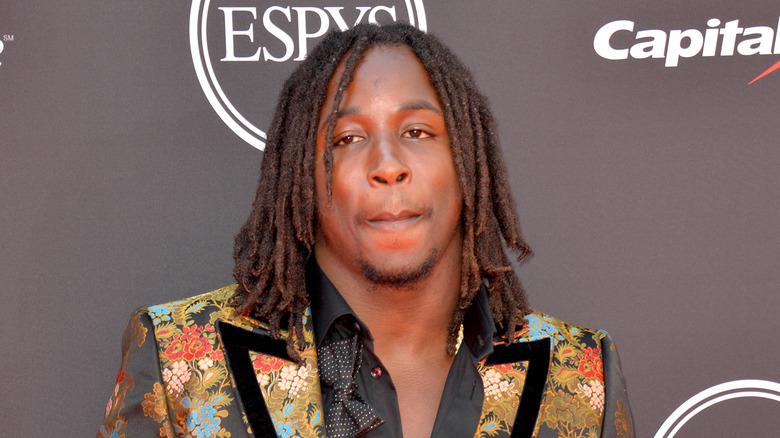 Kareem Hunt was one of the more dangerous metaphorical weapons in what became among the most potent NFL offenses of all time. Alongside human blur Tyreek Hill, all-time great tight end Travis Kelce, and young GOAT Patrick Mahomes under center, Hunt's powerful running style was set to help Kansas City build a new football dynasty in the City of Fountains.
However, all of that would be wiped out in an instant in November 2018, when a security video emerged of Hunt arguing with a woman at a hotel in Cleveland, Ohio. According to TMZ, who released the footage, a man tried to restrain a highly agitated Hunt, but the running back tossed him aside and could then be seen "shoving, bull-rushing and kicking a woman."
The Chiefs quickly cut Hunt and claimed he'd lied to the team about the incident — only possible because, supposedly, no one had yet seen the video, including NFL investigators. Hunt issued a statement via ESPN's Adam Schefter: "I want to apologize for my actions. I deeply regret what I did. I hope to move on from this." The talented back, who led the league in rushing in 2017, would not be banished for good … despite two other alleged incidents of violence. He served an eight-game suspension and signed with the Cleveland Browns in 2019, according to ESPN. The following year, Hunt landed a two-year extension worth over $13 million, with $8.5 million in guaranteed cash.
If you or someone you know is dealing with domestic abuse, you can call the National Domestic Violence Hotline at 1−800−799−7233. You can also find more information, resources, and support at their website.
Ray Rice knocked his fiancee out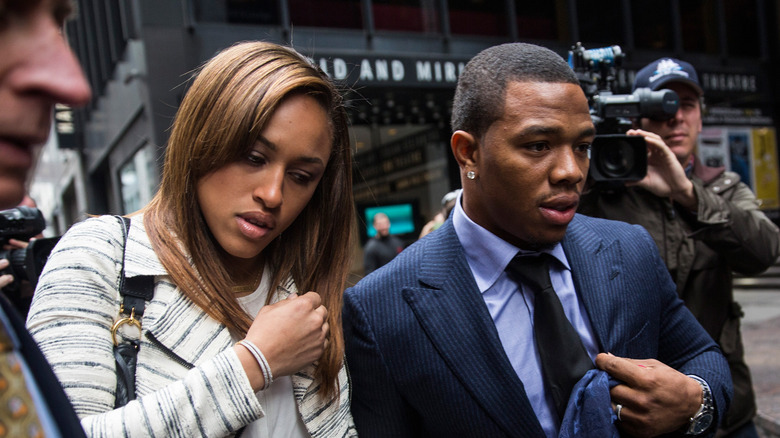 Four years before footage of Kareem Hunt's attack on a woman went viral, Ray Rice was what CBS' Gayle King called "a poster boy for domestic violence caught in a very graphic way on tape" (via CBS Sports).
Rice was another elite NFL running back who, despite a key fumble in the big game, helped lead the Baltimore Ravens to a Super Bowl win in 2013. All that changed in 2014, when a shocking video emerged of Rice punching fiancée Janay Palmer in the face and "knocking her out cold," per TMZ. Despite the horrific incident, the couple wed one month later and remain married. 
The Ravens released Rice later that year, and the NFL followed up with an indefinite suspension. Initially, Rice wasn't ready to give up on football, but eventually realized his playing days were done. In 2018, a reflective Rice and wife Janay sat down with CBS This Morning. "I hate that person [on the video]" he admitted. "… During my darkest moments, I used to ask myself, 'How could [Janay] want to support me?'" Interestingly, while defending his relationship with his still-supportive wife, Rice also remarked on the Kareem Hunt video. "I think what's misunderstood about us is that we [Janay and Rice] were friends before the incident. That's why, when I look at Kareem Hunt, I want to know what his life was like. I want to know what happened in life. I know Kareem has apologized."
If you or someone you know is dealing with domestic abuse, you can call the National Domestic Violence Hotline at 1−800−799−7233. You can also find more information, resources, and support at their website.
Lionel Messi juked his taxes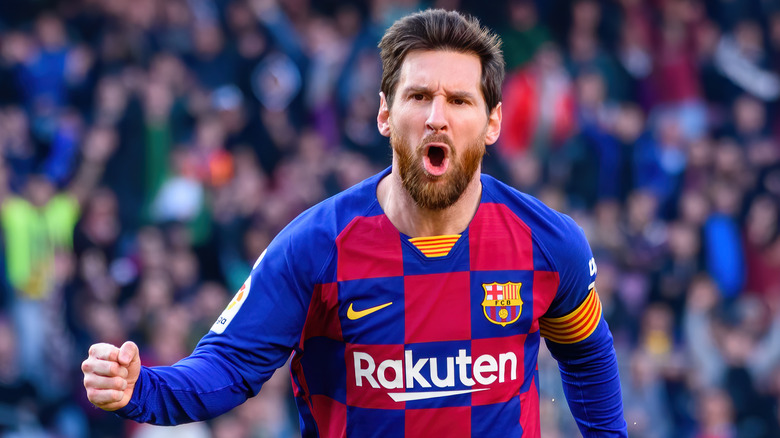 Maybe no athlete has demonstrated more virtuosic fancy footwork than Argentine soccer prodigy Lionel Messi. But he hasn't exactly been as nimble when it comes to eluding the tax man. Messi makes his millions in Spain, Forbes naming team FC Barcelona's scoring sensation as the second-highest-paid athlete in the world in 2021. He raked in a whopping $130 million, leaked contracts revealing he makes so much money that his soccer club is reportedly under some financial duress. Messi also earns his cash from the likes of Adidas and a Hilfiger-associated brand, bringing his incredible estimated net worth to somewhere between $400 million and $600 million. 
Being richer than Croesus also means a heavy tax burden in Europe's semi-socialist system, and in 2016, Messi and his dad (who's in charge of his unfathomable earnings), were found guilty by Spanish courts of shirking some $4.6 million in taxes. Shockingly, the soccer star was actually sentenced to prison. Messi maintained he had no idea he owed the cash, claiming via the BBC, "I only worried about playing football." One would think a half-billionaire would look under a couch cushion and resolve the situation, but a legal battle of appeals ensued, which initially upheld Messi's sentence. 
Unsurprisingly, however, by 2017, the star and his well-paid papa were able to buy their way out of trouble, per the BBC, thanks to a Spanish law that says prison sentences that are less than two years may be reduced to fines and probation.
Conor McGregor attacked a bus in a violent rampage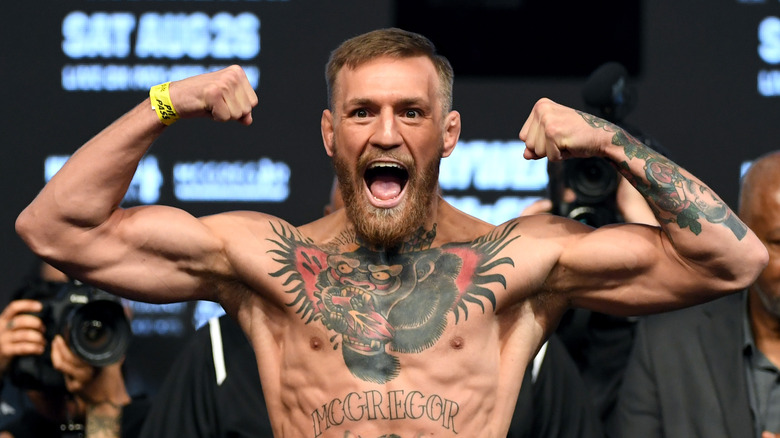 The only athlete who made more money than Lionel Messi in 2021 was Conor McGregor, raking in an astounding $180 million — mostly from selling his Proper No. 12 Whiskey brand. But the "The Notorious" Irish fighting sensation didn't get his fame, or his iconic nickname, without getting into some trouble of his own.
McGregor has twice been accused of sexual assault, but the pugilist's most high-profile implosion was caught on camera. In 2018, the UFC star and two-weight world champion was angling for a bout against unanimous all-time lightweight GOAT Khabib Nurmagomedov. Per ESPN, McGregor and his entourage snuck into a back entrance at the Barclays Center in Brooklyn, New York. That's when an agitated McGregor "threw a steel dolly through the window of a bus" packed with fellow UFC fighters, including Nurmagomedov. An explosion of glass injured multiple fighters and even caused one of them to be pulled from their bout. 
McGregor would ultimately reach a plea deal to avoid jail time, according to Rolling Stone. But the provocation also had the desired result — at least partially. McGregor and Nurmagomedov's fight at UFC 229 shattered all previous records for MMA pay-per-view buys. However, the bravado couldn't help McGregor in the cage, as he was choked out in round four. Meanwhile, Nurmagomedov would "officially" retire — announced UFC president Dana White via Twitter in 2021 — before McGregor could get a second shot at his arch-nemesis.
If you or anyone you know has been a victim of sexual assault, help is available. Visit the Rape, Abuse & Incest National Network website or contact RAINN's National Helpline at 1-800-656-HOPE (4673).
Michael Phelps got caught drunk driving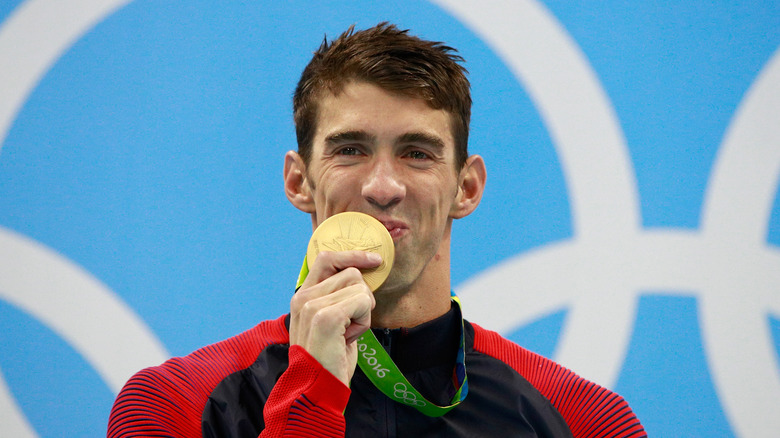 Michael Phelps has a legendary appetite. At the peak of his Olympic powers, the 23-time gold medalist was eating somewhere around 8-10,000 calories every day to fuel his legendary eight-gold run through the 2008 summer games. The swimmer clarified this figure to USA Today, debunking the widely reported rumor he was eating 12,000 a day. Whatever the incredible real figure, all that food fueled his true hunger: to be the greatest.
Sometimes though, such cravings can't be contained to above-board activities. "I was in a really dark place," Phelps told SI in 2015. "Not wanting to be alive anymore." The swimming sensation explained he had been "liv[ing] in a bubble" of his fame and fortune and had welcomed too many new friends, too many hangers-on. It's the same old story of success turned to excess, and his personal crisis culminated in September 2014, when a heavily-intoxicated Phelps was pulled over for speeding at around 2 a.m.
Phelps' father was a state trooper in Maryland for 28 years, so surely Michael knows that drunk driving kills — reliably around 10,000 souls a year, per the CDC. The Olympian was arrested, charged with a DUI, and suspended by USA Swimming for six months. The troubled swimmer denied alcoholism, but checked himself into a rehab clinic anyway and stayed the full 45 days. "I would say binged more than anything else," he told NBC's "Today" in 2016. "… I checked myself in, because I think I was at a point in my life where something needed to change."
If you or anyone you know is struggling with addiction issues, help is available. Visit the Substance Abuse and Mental Health Services Administration website or contact SAMHSA's National Helpline at 1-800-662-HELP (4357).
Manny Pacquiao's awful anti-LGBTQ+ remarks sent sponsors running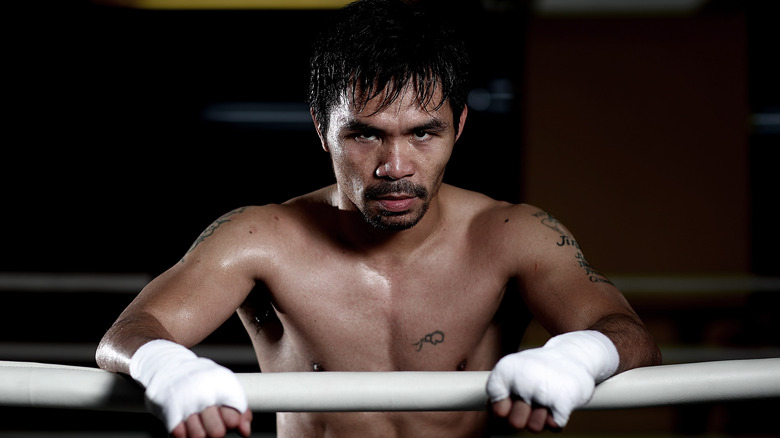 To say Manny "PacMan" Pacquiao is among the best fighters to ever lace up a pair of gloves doesn't quite capture the brilliance of this Filipino wrecking machine. The man has defined "anytime, anywhere" in his 7-fight pro career (and counting), capturing too many world titles to list through a staggering 12 weight classes. Even in his 40s, he's continuing his quest against much younger and bigger boxers.
Pacquiao is also a senator in his native Philippines, where he represents a largely Catholic population, holding traditional views on sex and sexuality. His brand, however, is global, and the world took notice in 2016 when he called couples in same-sex relationships "worse than animals" during an interview with local television (via The New York Times). "It's common sense," the fighter claimed of the anti-LGBTQ+ sentiment. "Do you see animals mating with the same sex? Animals are better because they can distinguish male from female."
Pacquiao's longtime partner, Nike, instantly dropped him. "We find Manny Pacquiao's comments abhorrent," the shoe-giant said in a statement. The fighter, a born-again Christian, quickly issued an apology amid the swift backlash while wearing a visible swoosh logo on Instagram: "Please forgive me for those I've hurt. I still stand on my belief that I'm against same-sex marriage because of what the Bible says, but I'm not condemning L.G.B.T. I love you all with the love of the Lord."
Philippine LGBTQ+ rights group, Ladlad, called for Pacquiao to "not be voted into office," but the controversy ultimately didn't impact his run for Senate.
Source: Read Full Article