ICYMI, lilac hair—aka purple's cooler younger sister—is having a big freaking moment right now. Everyone on your Insta feed has endorsed the perfectly bold shade, and now celebs are jumping on board, too. Yup, Dove Cameron just traded her signature blonde hair for a ridiculously pretty lilac hue that you'll no doubt be obsessed with.
Dove took to Instagram this week to show off her new color, and by the looks of the video she posted, it seems like her new hair is a true dye job (which, I'll just say, is kinda rare for a celeb, since extensions and wigs are usually the go-to for bolder cuts and colors). The actress coordinated her fresh hair color with a subtle wash of lilac shadow on her lids (CUTE!), giving off some major Euphoria vibes.
The day before her hair reveal, Dove Instagrammed a video of her getting a seemingly super-painful ear piercing. It was definitely worth the pain, though, cause her cutely curated ear looks pretty damn perfect with her new hair color. Two summer beauty trends in two days? Dove is having, like, a really good week.
😈
A post shared by ♡DOVE♡ (@dovecameron) on
🧚🏻‍♀️
A post shared by ♡DOVE♡ (@dovecameron) on
So, if you needed any more proof that lilac hair is a ~thing~ right now, Dove's cute new look will definitely convince you. And if you, like me, are considering going lilac too, you officially have the perfect example to show your hairstylist. BRB while I go print this out.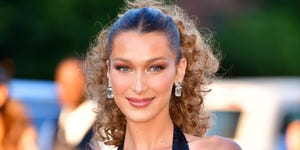 Source: Read Full Article