TV favorites Kelly Ripa and her husband Mark Consuelos have the most exciting and eventful family life with their three children Michael Joseph, 25, Lola, 21, and Joaquin, 18. Fans have gleaned some incredible insights from their personal snaps which you may have missed…
When Kelly isn't busy presenting Live with Kelly and Ryan alongside Keeping Up with the Kardashians executive producer Ryan Seacrest, the 52-year-old pops up on her three million strong fan bases' Instagram feed and surprises them with her candor. It's the rare glimpses of Kelly and Mark's home, children, pets, and oh-so-romantic moments that send fans wild. From never-before-seen baby photos to shocking hospitalizations, cheeky semi-clothed snaps and picture-perfect moments – here are the most loved photos from Kelly Ripa's family album.
WATCH: Kelly Ripa shares look at her unbelievable library inside her $27million townhouse
Kelly Ripa and Mark Consuelos's lookalike son
https://www.instagram.com/p/CEH-6yxD4HI/
A post shared by Kelly Ripa (@kellyripa)
Kelly's 'before and after' photos showed the family changing before our ours
When Kelly Ripa shared these never-before-seen before and after snaps of her with her children fans did a double take! Not only has the 52-year-old mom-of-three barely changed since the first photo was taken in 2003, but fans could have been forgiven for mistaking Mark for his son Michael at first glance.
The star captioned the image: "#TBT 2003 vs. 2020 *Objects may appear larger," and fans couldn't help but gush: "Wow!" and: "Grew up too fast, just so sweet."
SEE: Inside Kelly Ripa and Mark Consuelos' stunning $27m New York townhouse
Kelly Ripa and Mark Consuelos' romantic moments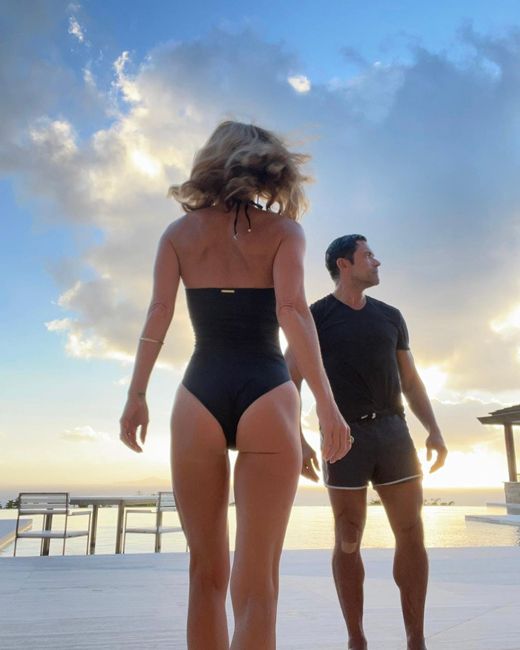 Kelly and Mark's couples getaway attire turned heads
After sharing joyful Christmas photos of the family over the holidays, the ever-romantic couple took to the beach for some private time – Kelly's G-string bathing suit stopped fans in their tracks on social media though!
Kelly posted a beach snap and cheekily captioned it: "#tbt 2020 Threw backside and had a cheeky new year #throwbackthursday," and her celebrity friends like Demi Moore and Jenna Dewan were among the first fans to drop flame emojis in response.
"I love your swimsuit Kelly! What brand is that? I want to get one like that. You look incredible!" One enthusiastic fan added. Mark could only be seen in the background of the photo but he received compliments too: "You look fantastic!! Both of you," added another fan. And a third fan crowned them: "The most beautiful couple in the world."
SEE: Kelly Ripa and Mark Consuelos share incredible wedding photo for special reason
Photos of Michael Joseph, Joaquin Antonio, and Lola grown up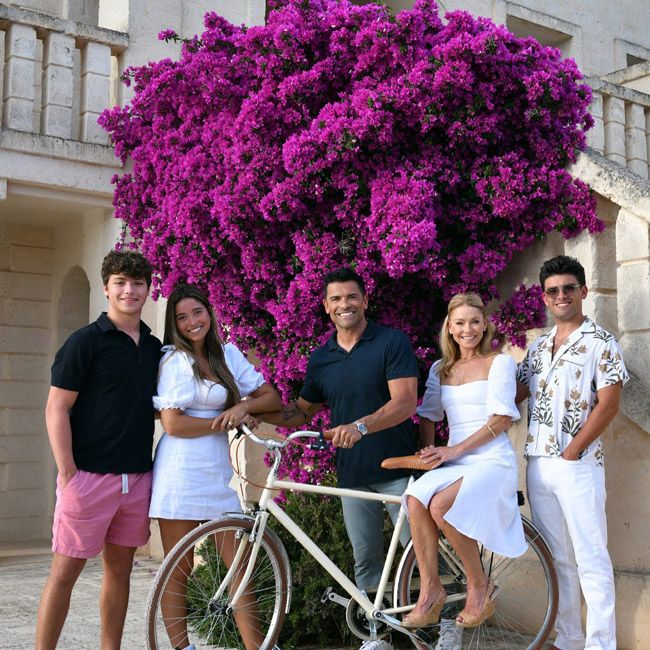 This beautiful moment was captioned with an even sweeter message…
There was even more to this picture-perfect photo of Kelly, Mark and her three teenage children than initially met the eye. Kelly used the opportunity to pay tribute to her loved ones and she shared that they were the inspiration behind her popular book Live Wire: Long-Winded Short Stories.
Kelly captioned the striking bougainvillea-filled image: "A #tbt thank you to the most important characters in Live Wire, who inspire/thrill/enthrall and intrigue me every single day. I love you you turkeys."
The star's three million Instagram fan following were in love with the photo and exclaimed that the Consueloses were "the sweetest family!!!" and a handful of fans agreed that this was their "all time best photo."
Kelly Ripa and Mark Consuelos' shocking injury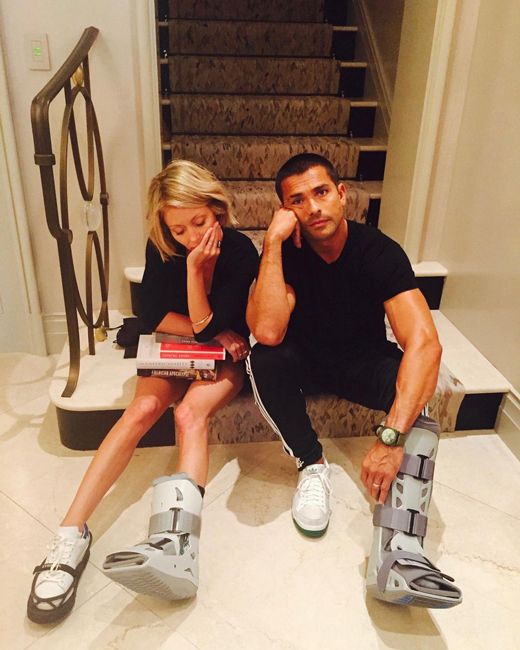 Kelly and Mark even captured a woeful moment
When Kelly and her Riverdale actor husband Mark shared this shocking image, concerned fans rushed to find out: "What happened??" They quickly learned that the couple's injuries were unrelated – a total coincidence!
First, Kelly broke her foot at a dance class. Speaking to her then co-host, Michael Strahan, on Live, she said: "It sounded like bubble wrap," as she discussed the moment she stepped on a hand weight and broke four bones in her foot.
Then in a freak accident, Mark went on to tear his calf muscle on the same leg. However, the couple saw the funny side of things and captured a snap of themselves keeping each other company which they jokingly captioned: "#tbt 2015 You should have seen the other couple."
MORE: Goldie Hawn's private son Wyatt to expand family with famous wife? – All we know
Kelly Ripa's adorable baby photo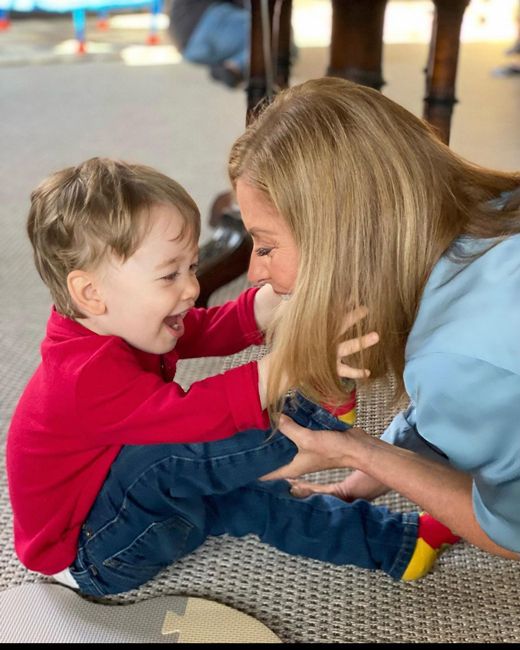 The heat melting baby photo that set the internet ablaze
When Kelly posted an adorable baby photo fans were momentarily dumbstruck but then realized that the mother-of-three was doting on her BFF Anderson Cooper's son Wyatt Morgan.
The Instagram post captioned: "Happy 2nd birthday Wyatt! I love you soooooo much!" garnered so much attention and fans rushed to reply that it was: "Too cute!!!!" Dozens joined in with the birthday wishes and one wrote a heartfelt message: "Blessed little guy with Anderson as your dad and Kelly & Mark as your MeeMaw and PawPaw!!!!!!!"
Last year Kelly and Mark's youngest, Joaquin, moved out of the family home in New York ahead of embarking on his studies at the University of Michigan. The proud parents have recently enjoyed a sneak peek into their son's dorm room, so it's likely that the family's photo album with be expanding soon.
Read more HELLO! US stories here
Source: Read Full Article