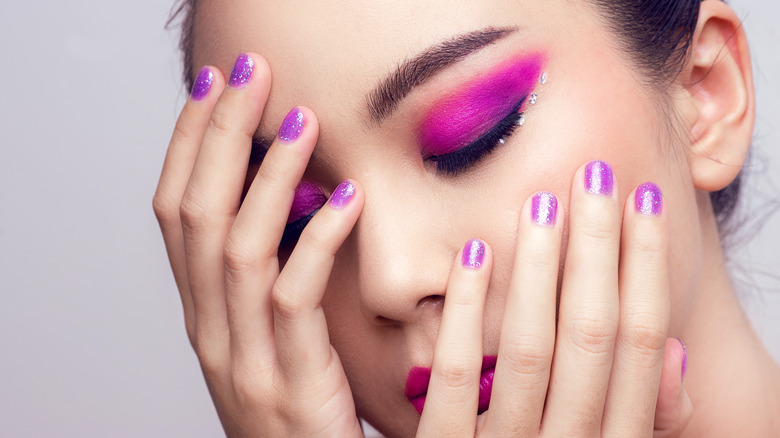 If you search for beauty trends on Instagram or TikTok, you'll likely see plenty of people showing off some bold eyeshadow. That's because bright colors and daring applications are on trend this summer. Cosmopolitan noted that eyes are a prime spot where people are making creative choices in 2021. Colors like lilac, dramatic liner applications, and glittery details are all the rage. If you've ever wanted to try anything other than a neutral eye look, then now is the time. But there are some things to keep in mind before you sit down at your vanity and start playing.
Like any art form, the old adage about practice making perfect also applies where makeup is concerned. It's rare to pick up an eyeshadow brush and have a perfect application on the first attempt. It takes time to perfect your skills, but, with a little patience and practice, you can easily pull off even the most daring eye looks. If you need evidence of that and some inspiration to keep going, check out these makeup progression pics from BuzzFeed.
If you're looking for more than inspiration, have no fear. There are also some tips and tricks that will make the whole process easier.
Keep this advice in mind when attempting bold eyeshadow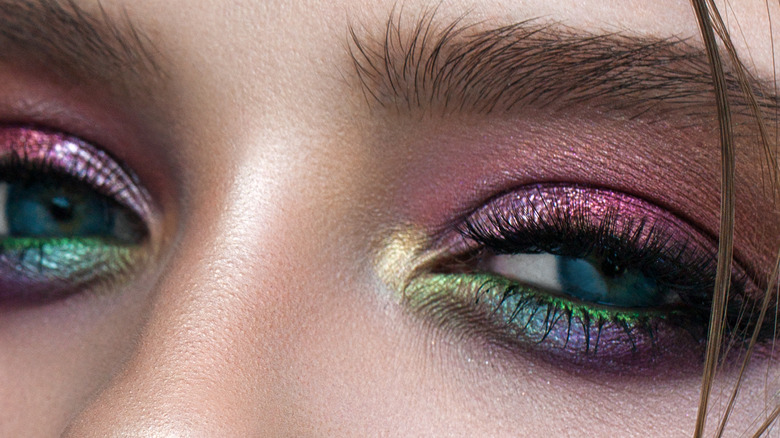 There are some common rules of thumb and techniques that are guaranteed to help improve your eyeshadow application. Teen Vogue recommends choosing shades that contrast with your skin tone. Once you select a color, make sure you prime your eyes with a good primer so they're ready to accept the product. Think of it like a painter prepping their canvas, and then paint away.
When it's time to apply shadow, remember to blend. "Don't get discouraged if you apply a color that seems too bright — you can always blur it out with a blending brush," according to FabFitFun. There is a caveat to this rule, though. Teen Vogue encourages gurus-in-training to own their bold shadow choices and avoid blending to the point that the color is almost completely sheered out. This will also help your bold choices look purposeful and avoid leaving you with a washed-out final look.
If you're looking to ease into bolder looks, there are simple ways to start. For example, your lower lash line is prime real estate. If you keep your lid neutral, go vampy down low (via L'Oreal Paris). No matter where you're applying your shadow, remember that a little product goes a long way. So start slow, and build from there. Universally, experts also recommend keeping the rest of your makeup relatively simple so that your bold eyes can really stand out.
Look to brands and creators for inspiration for bold eyeshadow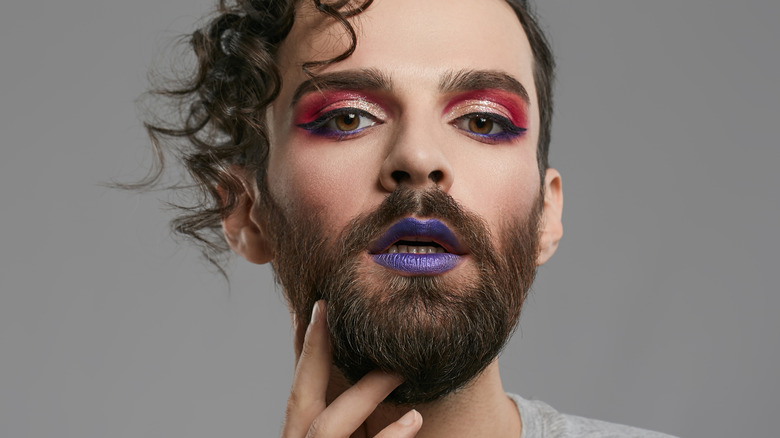 The internet is full of ideas if you're looking to play with bold eyeshadow. For starters, online is the perfect place to go for new brands and products. If you need to add more color to your eyeshadow collection, you could always check out TikTok creator Mikayla Nogueira's new palette created in partnership with Glamlite. The 30-pan palette expertly bridges the gap between color and neutrals, making it a perfect gateway to pulling off bolder eyeshadow looks. You could also pull inspiration from drag queens (they're responsible for some of the boldest trends in the beauty game, after all) and check out products from their own brands.
Sometimes, it may help to recreate an existing dramatic look instead of making one up on the fly. That's where YouTube, Instagram, TikTok, and other platforms come into play. Makeup Tutorials pulled together a collection of bold looks with helpful tutorials you can easily follow. If you have a favorite beauty influencer, search their pages for tutorials, tips, and tricks. Beauty guru Tammi Clarke has a video dedicated to introducing color to your eyeshadow routine (via YouTube). Meanwhile, creator Angelica Nyqvist curated a playlist with dozens of tutorials she's uploaded (via YouTube). That's a literal treasure trove for anyone who is looking to experiment with more advanced and creative makeup routines.
There are no hard and fast rules for bold eyeshadow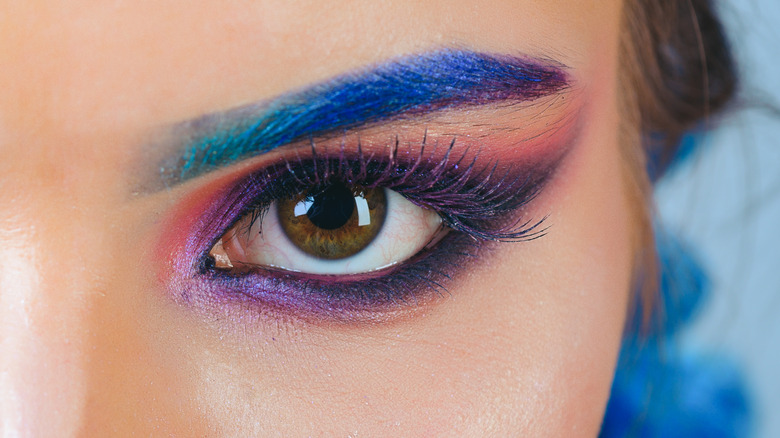 Remember that what constitutes bold eyeshadow varies from person to person. Getting daring on your eyes doesn't have to mean putting on every color of the rainbow at once (even though it totally can mean that). For you, it could mean something as simple as rocking green eyeshadow. (If so, you'll want to check out this story to find some ideal lipsticks to pair with your emerald eyes.) Or it could be about pulling off a particularly glamorous smokey eye or a glossy, editorial look.
Keep in mind that makeup should be more about self-expression than following hard and fast rules. And, whatever it is, your idea of bold makeup is totally valid. What matters most is that you are confident with the final result. Of course, you should also try not to hurt your eyes with dangerous application methods. That's obviously important, too. 
All of these tips and tricks will help you pull off a look that expresses yourself, looks incredible, and makes you feel like a true diva. Keep them in mind, and have a fantastic time creating!
Source: Read Full Article